Powell to Trump: Now it's your turn
By Howard Schneider WASHINGTON (Reuters) - Tucked into Fed Chair Jerome Powell's news conference on Wednesday was a not-so-subtle message for President Donald Trump: the economy is holding up because the U.S.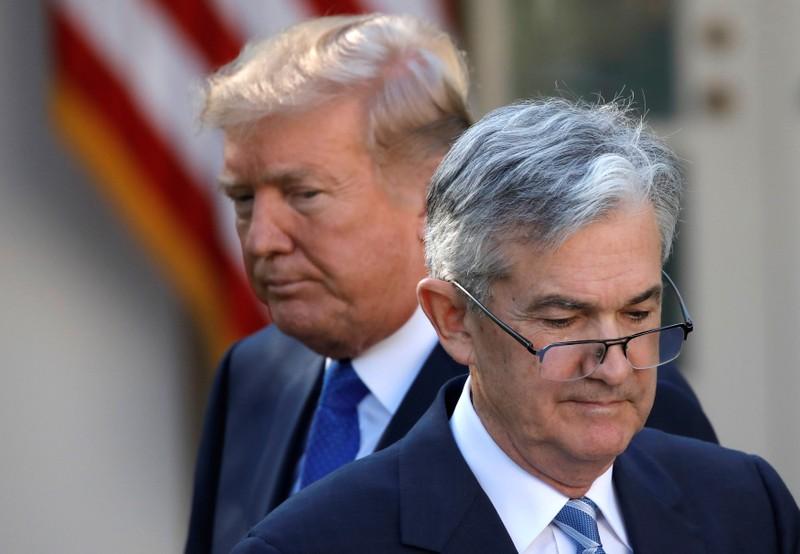 By Howard Schneider
WASHINGTON (Reuters) - Tucked into Fed Chair Jerome Powell's news conference on Wednesday was a not-so-subtle message for President Donald Trump: the economy is holding up because the U.S. central bank has acted to support it through a volatile patch, and whether that continues is now in the president's lap.
In a buck-stops-over-there-now performance, Powell indicated that the Fed's two rate cuts this year are likely adequate as insurance against the rising global risks posed by Trump's whipsaw trade negotiations with China, and that going forward the Fed sees little need to move unless those risks materialize in the form of weaker U.S. economic data.
"Trade developments have been up and down and then up, I guess, back up perhaps over the course of this interview," Powell said in a reference to Trump's sometimes unpredictable trade war with China and, on occasion, other countries.
"I do believe our shifting to a more accommodative stance over the course of the year has been one of the reasons why the outlook has remained favourable," Powell said, citing reasonably strong U.S. data. Going forward "we are going to be highly data-dependent" in deciding on further rate moves.
The Fed cut its benchmark overnight lending rate by a quarter of a percentage point on Wednesday, the second such move this year, but new policymaker projections showed no further cuts were anticipated in 2019.
The comments continue a subtle push back by Powell against a chief executive who has used personal insults and a steady stream of Twitter invective to demand the Fed slash rates to recession levels and take other out-of-the-norm steps to boost the economy.
At a keynote speech at a central bankers conference in Jackson Hole, Wyoming, last month, Powell said the U.S. central bank had "no recent precedents" to set monetary policy when the rules of global trade had become so unpredictable and begun to sap business confidence and depress global growth.
The United States, the world's largest importer, has been locked in often contentious negotiations with its top trading partners since the Trump administration imposed tariffs on steel and aluminium imports in March, 2018. The escalating U.S. tariff war with China has shut down Chinese imports of petroleum and many agricultural products, and uncertainty about when trade talks could be resolved is dampening capital expenditure.
The International Monetary Fund said in July that global trade slowed in the first quarter of 2019 to the lowest level since 2012. Tariffs applied in the U.S.-China trade war could shave 0.5% off global economic growth in 2020, the IMF said.
Whether that starts to effect a still-relatively optimistic Fed outlook will depend mightily on whether Trump's trade talks with China end on a note that restores what the Fed said is "weakened" business investment, or leave the world stalled and guessing.
"It is an unusual situation," Powell said. "The U.S. economy in itself is strong. ... The difference here is we have significant risks" that elected officials will have to manage.
(Reporting by Howard Schneider; Additional reporting by Heather Timmons; Editing by Paul Simao)
This story has not been edited by Firstpost staff and is generated by auto-feed.
Find latest and upcoming tech gadgets online on Tech2 Gadgets. Get technology news, gadgets reviews & ratings. Popular gadgets including laptop, tablet and mobile specifications, features, prices, comparison.
World
By Tim Hepher and David Ljunggren PARIS/OTTAWA (Reuters) - France said on Friday it would download the black boxes from a Ukrainian airliner downed by an Iranian missile in January, easing a stand-off over where they should be read. France's BEA crash investigation agency said it was acting at the request of Iran, which remains responsible under global rules for conducting a formal accident probe after acknowledging that the Boeing 737 was downed by its forces
World
By Brad Brooks LUBBOCK, Texas (Reuters) - With new coronavirus cases surging in Texas and Florida, officials in both states on Friday ordered bars to close again and imposed tighter restrictions on restaurants, setting back efforts to reopen their economies. Governor Greg Abbott gave bars in Texas until midday Friday to shut, while Florida's Department of Business and Professional Regulation told bars to immediately stop serving alcohol on their premises
World
By Patricia Zengerle WASHINGTON (Reuters) - The U.S. Senate passed legislation on Thursday that would impose mandatory sanctions on people or companies that back efforts by China to restrict Hong Kong's autonomy, pushing back against Beijing's new security law for the city. The measure also includes secondary sanctions on banks that do business with anyone found to be backing any crackdown on the territory's autonomy, potentially cutting them off from American counterparts and limiting access to U.S.