PNB scam: I-T notice to Abhishek Singhvi over unaccounted pay of Rs 4.5 crore; Nirav Modi's Alibaug bungalow searched
PNB scam took a new turn when Congress leader Abhishek Manu Singhvi's received a notice from the Income Tax dept over unaccounted payment of Rs 4.5 crores.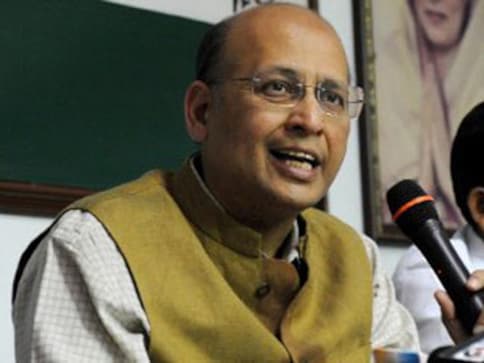 As Nirav Modi's lawyer claimed that agencies will not be able to prove the charges against him, the Punjab National Bank (PNB) scam took a new turn on Tuesday when Congress spokesperson Abhishek Manu Singhvi received a notice from the Income Tax department over unaccounted payment of Rs 4.5 crore. Singhvi's wife Anita was also served notice for a transaction of Rs six crores with the Nirav Modi firm. While Nirav Modi's bungalow at Alibaug was searched, 10 Punjab National Bank's top officials were questioned by the CBI on Tuesday. Gitanjali Gems employees were handed relieving letters and refused gratuity after which they took to the streets protesting February salary.
Singhvi under scanner
While the Congress defended Singhvi and asked how long will the government remain helpless, party president Rahul Gandhi said Nirav sold dreams to many people including the government. Congress spokesperson Manish Tewari said the question does not stop at Nirav and Vikram Kothari but extends to the credibility of the entire banking sector. While denying the charges, Singhvi went onto say that his wife had purchased jewellery from different vendors but "there was no cash transaction with Nirav".
Later the Congress leader slammed a news channel that had procured a copy of the transactions, saying "harassment, innuendo, insinuation must have its limits". NCP leader Majeed Memon also defended Singhvi and said it is inappropriate to assume that Congress is involved in this matter.
On 17 February, Singhvi had rubbished accusations that he and his family had links with Nirav Modi's companies and said Defence Minister Nirmala Sitharaman "was liable to civil and criminal defamation". The Congress leader said he reserved the right to take appropriate legal action against Sitharaman and a section of the media "which carry such false and maliciously defamatory allegations".
CBI continues questioning
The CBI questioned 10 top officials of the Punjab National Bank including the executive director on Tuesday. Earlier on Tuesday, the Enforcement Directorate (ED) raided Gitanjali Jewels in Jabalpur of Madhya Pradesh. The Central Bureau of Investigation (CBI) also continued questioning 10 PNB officials including those of general manager rank and four employees of Nirav Modi group of companies in the Rs 11,300 crore bank fraud case, IANS reported.
According to the officials, Nirav's two chief financing officers — Ravi Gupta and Vipul Ambani — along with Saurabh Sharma, president foreign finance division and Subhash Parab, finance executive, were questioned on Tuesday. They were also questioned for over eight hours on Monday.
In Mumbai, 30 employees of Gitanjali and PNB reached the CBI headquarters for interrogation on Tuesday morning.
SC to hear plea on Friday
The Supreme Court on Tuesday agreed to hear on Friday a plea seeking a SIT probe and other reliefs in the over Rs 11,000 crore PNB fraud. Two separate petitions were filed before the apex court on Monday seeking its direction to the Centre to initiate the process of deportation of Nirav, who is abroad, and others allegedly involved in the case as soon as possible, preferably within two months.
Meanwhile, private sector lender IndusInd Bank said it has no direct or indirect exposures to firms floated by scam-tainted Nirav. The bank, one of the most active lenders in the gems and jewellery sector, however, has a "small" exposure to Gitanjali Gems, promoted by Nirav's uncle Mehul Choksi who is also an accused in the Rs 11,400-crore fraud. "IndusInd Bank has no direct credit exposures to Nirav nor any indirect credit exposures on the basis of the letters of undertaking (LOUs) issued by Punjab National Bank (PNB)," the lender said in a statement.
One of the petitions was mentioned on Tuesday before a bench of Chief Justice Dipak Misra and Justices AM Khanwilkar and DY Chandrachud. The bench posted the matter for hearing on 23 February. The other plea, filed by advocate ML Sharma, had said that the SIT should consist of retired judges of the apex court while claiming that the banking fraud has caused serious injury to the general public and the state's treasury.
Opposition seeks discussion on PNB case
Uttar Pradesh chief minister Yogi Adityanath said that the PNB scam was a sin committed during UPA tenure and the government would take all actions to "unearth" it.
In West Bengal, the Opposition Congress and CPM on Tuesday demanded a discussion on the Punjab National Bank fraud case in the ongoing session of the state Assembly. The ruling Trinamool Congress is yet to take a call on the issue and mocked Congress and CPM for staging a walkout from the house during most of the discussions.
"We want a discussion on the PNB fraud case in the ongoing session of the state Assembly. We hope the ruling party won't have any objection. We will submit it very soon," Leader of Opposition and Congress MLA Abdul Mannan said.
Moody's places PNB under review for downgrade
International rating agencies Moody's Investor Service and Fitch Ratings on Tuesday warned the scam-hit Punjab National Bank (PNB) of rating downgrades, citing net-worth erosion and widening losses at the second largest state-run lender.
The Rs 11,400-crore fraud — the biggest in the country's banking history — has raised questions on both internal and external risk controls at PNB as well as the quality of management supervision at the regulatory level considering that the fraud went undetected for several years, the agencies said.
With inputs from agencies
India
The court extended Raut's ED custody till 8 August. The ED had arrested the Sena MP on Sunday midnight in connection with the alleged financial irregularities in the redevelopment of Patra Chawl
Politics
The court noted that the ED has made "remarkable progress" in the investigation. The ED had arrested Raut on Sunday midnight in connection with alleged financial irregularities in the redevelopment of Patra Chawl
India
A bench headed by Chief Justice of India NV Ramana issued the notice to the centre on various pleas challenging the govt decision and listed the matter after 10 days