PMGSY: Now, CAG report shows several flaws in rural roads scheme
Ineligible habitations were covered under the programme while eligible habitations were either left out or incorrectly shown as connected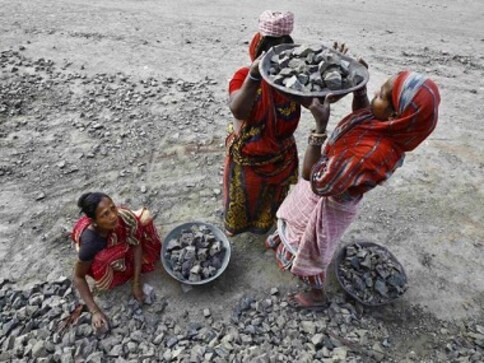 New Delhi: In the book 'A Feast of Vultures', there is a poignant story of Mohammad Anwer Hussain and his quest for getting a road sanctioned to his remote village in Bihar in 2006. This village has no road connectivity, with the nearest road at least three km away on foot.
An incredulous Hussain is told by government officials after repeated enquiries that a road has been already sanctioned under the Pradhan Mantri Grameen Sadak Yojana (PMGSY) scheme. On further probing, he finds that this road would require a journey of about 18 km before one reaches the highway from his village, when the distance is just about three km on foot. This sanctioned road was finally built in 2008, without any consultation with the local population and without its existence doing anything for the villagers' need for road connectivity.
A similarly callous approach to road building has been pointed out by the Comptroller & Auditor General (CAG) in its 23rd report tabled in Parliament last week. This report is an audit of the Ministry of Rural development on the PMGSY for the period April 2010 to March 2015 covering 4,417 packages in 176 districts of 29 states and involving expenditure of Rs 7,735 crore.
In its report, the national auditor has given umpteen instances of poor planning, lack of discussions with local population and funds' diversion which have resulted in roads which do not connect human habitations, roads which were not required or more than one all-weather road when only one was enough!
It must be pointed out here that not all wrongs under PMGSY have been committed in the last two years of the NDA government at the Centre. And Prime Minister Narendra Modi has himself said on many occasions that this scheme, started by the Vajpayee government, suffered under the decade long UPA rule due to paucity of funds, before his government rectified the situation. He has also rightfully claimed that benefits under PMSGY reach a larger part of the poor and those residing in the hinterland compared to the benefits which accrue to the same people under the UPA's MNREGA scheme for offering work and wages.
But having said that, the CAG audit has still found numerous instances of discrepancies in PMGSY. For example, in a case study based in Tripura, the CAG report shows how a road was built when no human habitation could be found along the entire stretch. "In district Dhalai, construction of road from AA road to Sikaribari was taken up (May 2011) at a contract value of Rs 0.72 crore for providing connectivity to six habitations (Khagendra Roaja Para, Tilak Kr Para, Brinda Kr Roaja Para, Budhiram Para, Dhansing Para and Sambhunath Para) with total population of 1,815. The work was completed at a cost of Rs 0.50 crore in April 2014. Joint physical verification showed that there was no habitation at the entire stretch of road. This indicated that project was finalised without survey of the site."
Many other such case studies are provided to show how poor planning and implementation of norms already defined under PMGSY lead to these farcical situations. The CAG found that in seven states (Bihar, Gujarat, Jharkhand, Madhya Pradesh, Tamil Nadu, Tripura and West Bengal), 73 road works were executed and shown as completed without providing complete connectivity to the targeted habitations. Out of this, 72 road works were executed at a cost of Rs 120.03 crore. This seems to be akin to the Bihar resident Hussain's case where a road was built but was of little use to inhabitants of his village.
In five states (Assam, Himachal Pradesh, Jammu & Kashmir, Jharkhand and Madhya Pradesh), Rs 132.20 crore spent on 68 works remained unfruitful as targeted habitations were not provided with all weather road connectivity due to land disputes, non-clearance from forest department, damage by flood, contractors' defaults, etc.
The most surprising part is faulty planning meant nine states (Arunachal Pradesh, Gujarat, Jammu & Kashmir, Jharkhand, Karnataka, Nagaland, Rajasthan, Uttar Pradesh and West Bengal) had 36 habitations that were provided with more than one connectivity. Out of this, 31 habitations were provided multiple connectivity at a cost of Rs 29.49 crore. So some had no roads and some, more than one!
The PMGSY is a centrally sponsored flagship scheme since year 2000 aimed at providing all-weather rural road connectivity and to access eligible unconnected habitations. It has been used as a strategy for poverty alleviation and to overcome deficiencies in rural road planning, inadequacy and unpredictability of funds and lack of maintenance of rural roads. Of the over 1.78 lakh eligible habitations under PMSGY, more than 1.08 lakh have already been connected by a road till March 2015 and the rural development ministry plans to connect the remaining nearly 70,000 habitations by March 2019.
Meanwhile, the CAG audit has disclosed instances of non-adherence to planning procedure. Ineligible habitations were covered under the programme while eligible habitations were either left out or incorrectly shown as connected. The Ministry sanctioned project proposals of some states beyond the admissible indicative allocation limits.
Execution of works was deficient as instances of inefficient contract management, non-recovery of liquidated damages and mobilisation/machinery advances, etc., were observed. Works were abandoned or remained incomplete due to incorrect alignment, land disputes, etc. States did not provide and utilise the maintenance fund as required. 'Programme' funds and 'administrative expenses' funds were diverted towards inadmissible items. Monitoring was not effective despite an elaborate mechanism prescribed at all the levels under the programme. The concept of social audit was not incorporated in the programme guidelines.
The CAG has now suggested a social audit of PMGSY, asking the ministry of rural development to review the systemic flaws in the scheme. "Ministry may review the systemic flaws in the quality control system to address deficiencies. A mechanism may be devised to fix responsibility and accountability on the erring agencies and individuals and corrective action taken. The concept of social audit may be incorporated in the programme guidelines."
In a written reply earlier this month in Lok Sabha, MoS Ram Kripal Yadav has promised an accelerated execution of PMGSY through enhanced financial allocation to the states and modified funding pattern in the scheme. The fund sharing pattern of PMGSY has been made in the ratio of 60:40 between the centre and states for all states except for eight North-Eastern and three Himalayan States for which it will be 90:10. All the States have also been advised to get approval for sanctions of balance works under PMGSY-I/II as per the mandate of the scheme and to substantially complete them by March, 2019, so as to provide connectivity to target habitations.
The minister also said in his reply that there has been a substantial increase in allocation for PMGSY. During 2015-16, the total annual allocation of states was Rs 23,806 crore (Rs 15,175.71 crore central share and Rs 8,631 crore states' share). The Budget Estimate (BE) for 2016-17 is Rs 19,000 crore and together with states' share, about Rs 27,000 crore will be spent on PMGSY in 2016-17. This is a marked improvement over the allocation and spends that the UPA incurred in building roads during the last few years of its regime.
Explainers
The accuracy of exit polls has been the subject of much debate from experts, politicos and academics. Their nadir arguably came in 2004 when the then Atal Bihari Vajpayee-led NDA dispensation was predicted to return to power with a majority
Photos
The second and final phase of polling for the Gujarat Assembly elections saw big names from across the state come out to exercise their democratic duty. From Prime Minister Narendra Modi to former cricketers Irfan and Yusuf Pathan, the heavyweight voters were all smiles as they cast their vote
World
The 18th G20 Summit will be held from September 9-10 next year in New Delhi. Together, the member nations of the G20 comprise over than 80% of global GDP, 75% of global trade and 60% of the world's population