Photoshop maker Adobe beats revenue, profit estimates
(Reuters) - Adobe Inc beat analysts' estimates for quarterly profit and revenue on Tuesday, driven by growth in its digital media business that houses its flagship product Creative Cloud. Shares of the company, known for its image-editing software Photoshop, rose 2.7% in after-hours trading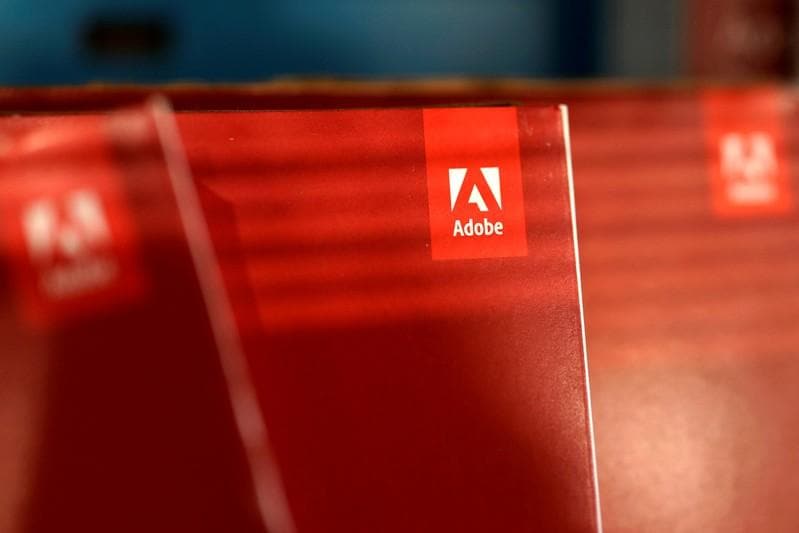 (Reuters) - Adobe Inc beat analysts' estimates for quarterly profit and revenue on Tuesday, driven by growth in its digital media business that houses its flagship product Creative Cloud.
Shares of the company, known for its image-editing software Photoshop, rose 2.7% in after-hours trading.
Adobe is sharpening its focus on the fast-growing cloud business, a fiercely competitive market dominated by Microsoft Corp, Oracle Corp and Salesforce.
The shift to a cloud-based subscription has brought a more predictable revenue stream for Adobe by selling its software through web-based subscriptions, and not through the sale of packaged-licensed software.
The company expects to report revenue of about $2.80 billion in the third quarter, below analysts' estimates of $2.83 billion, according to IBES data from Refinitiv.
The San Jose, California-based company's revenue jumped 25% to $2.74 billion in the second quarter ended May 31.
Net income fell to $632.6 million, or $1.29 per share, in the quarter, from $663.2 million, or $1.33 per share, from a year earlier.
Excluding items, Adobe earned $1.83 per share, beating the average analyst estimate of $1.78.
(Reporting by Sayanti Chakraborty in Bengaluru; Editing by Maju Samuel)
This story has not been edited by Firstpost staff and is generated by auto-feed.
Find latest and upcoming tech gadgets online on Tech2 Gadgets. Get technology news, gadgets reviews & ratings. Popular gadgets including laptop, tablet and mobile specifications, features, prices, comparison.
World
By Jeff Mason WASHINGTON (Reuters) - U.S. President Donald Trump, facing the possibility of a cash crunch, said on Tuesday he would spend "whatever it takes" of his own money to finance his 2020 presidential campaign against Democrat Joe Biden if he had to
World
By Lisandra Paraguassu BRASILIA (Reuters) - Brazilian House Speaker Rodrigo Maia said on Tuesday that lawmakers are currently finalizing the text of a bill targeting those that finance "fake news" attacks on social media sites, adding that it could be voted on by the end of this year. The draft of the Brazilian bill was approved in the Senate on June 30, but the lower house created a working group to suggest modifications. Those changes will be finalized in two weeks, Maia said
World
DUBLIN (Reuters) - Ireland plans to allow the reopening of all pubs on Sept. 21, dropping a ban on bars that do not serve food, a senior minister said on Tuesday.