Petrol, diesel rates: More pain as a Rs 4 hike in fuel prices is in the offing, says Kotak report
A Rs 4 per litre increase in petrol and diesel prices is in the offing if state-owned fuel retailers are to return to pre-Karnataka poll hiatus margin levels, brokerage firms said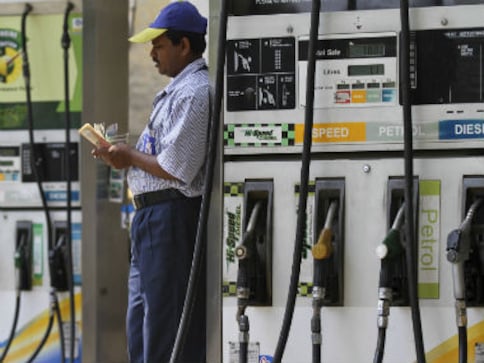 A Rs 4 per litre increase in petrol and diesel prices is in the offing if state-owned fuel retailers are to return to the pre-Karnataka poll hiatus margin levels, brokerage firms said.
No sooner had Karnataka voted to elect a new state government, state-owned Indian Oil Corp (IOC), Hindustan Petroleum Corp Ltd (HPCL) and Bharat Petroleum Corp Ltd (BPCL) ended a 19-day pause in revising petrol and diesel prices and reverted to the practice of changing rates on a daily basis.
Since then, the petrol price has risen by 69 paisa a litre, including a 22 paisa hike effected on Thursday that took the rate in Delhi to Rs 75.32, the highest in almost five years. Diesel prices have gone up by 86 paisa a litre, including a 22 paisa increase on Thursday that took the rate to their highest ever of Rs 66.79 a litre in Delhi. In Mumbai, petrol now retails at Rs 83.16 a litre while diesel sells at Rs 71.12 a litre, according to Indian Oil data.
"Our computation suggests that downstream oil marketing companies (OMCs) are required to increase retail prices of diesel by a steep Rs 3.5-4 a litre and gasoline (petrol) by Rs 4-4.55 per litre in the coming weeks to earn normative gross marketing margins of Rs 2.7/litre," Kotak Institutional Equities said in a report published on Thursday.
The increase is based on the assumption that the global price of diesel and petrol and the rupee-US dollar exchange rate remain stable hereon. "We note that the lack of price hikes over the past three weeks, before Karnataka elections amid a sharp increase in global crude/product prices, has resulted in sharp moderation in gross marketing margins to around Rs 0.5-0.7 a liter," it said.
Last week, ICICI Securities said that auto fuel net marketing margins were weak at Rs 0.31 a litre owing to the pause in price hikes after 24 April. OMCs returned to daily price revision from 14 May.
OMCs are estimated to have lost about Rs 500 crore on absorbing higher costs resulting from the spike in international crude oil rates and the fall in the rupee against the US dollar.
The benchmark international rate for petrol, used for revising the rate on 24 April, had gone up from $78.84 per barrel to $82.98 on 14 May. It has further risen to $83.30, indicating more daily hikes would be needed to level retail prices with costs.
Similarly, benchmark international diesel rates during this period have climbed from $84.68 per barrel to $88.93. The rupee has weakened to Rs 67.06 per US dollar from Rs 66.62, making imports costlier.
Mumbai highs
Fuel costs the most in the financial capital. Earlier, in the six days to 24 April, petrol prices were hiked by 61 paise per litre while diesel rates were hiked by 79 paise a litre, all in Mumbai, according to Indian oil data. Mumbai-traded Indian Oil Corporation (IOC) is the country's largest fuel retailer.
On 24 April, petrol retailed at Rs 82.48 a litre in Mumbai - the highest level since the BJP-led government assumed power - while diesel prices hit a record high of Rs 70.20 a litre. Rising fuel prices renew calls for a cut in excise duty, to ease the burden on consumers, but the government won't budge.
The finance ministry does not want to cut the excise duty on fuel because a reduction in duty will negatively impact the fiscal deficit glide path. A duty cut will result in a Rs 13,000 crore loss to the exchequer. Instead, New Delhi wants states to cut the sales tax or VAT on fuel, PTI reported on 23 April.
With inputs from PTI
World
India's Commerce Secretary Sunil Barthwal said New Delhi is interested on settling international trade with more countries in Indian rupees
World
Egypt needs another six ship loads of rice, which could weigh over 1.5 lakh tonnes, it has sought to make the payment in INR
World
E-Fuels, electrofuels, or synthetic fuels, have proven to be vital in saving ICE cars from extinction. But at $40 a gallon, they are almost 10X the price of regular petrol and diesel. We take a look at what are E-Fuels and how are they made.