Petrol, diesel prices at record high: Here's why there no easy escape for the Narendra Modi govt from the crude scare
For the Modi government, on the economic front, the real joker in the pack has always been crude oil prices.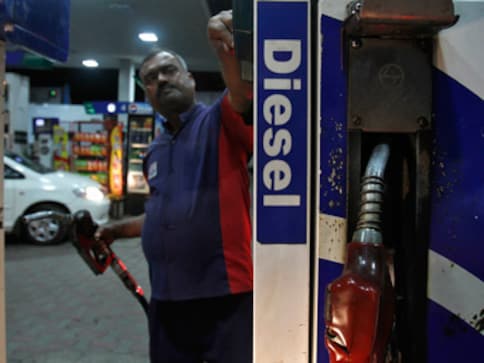 For an embattled Narendra Modi government, on the economic-front, the real joker in the pack is crude oil. It has always been. But the joker had that deceiving benign smile on his face since Modi assumed office in 2014. Undoubtedly, that smile is vanishing now. Oil prices have kissed a high of $80 per barrel -- the highest since November 2014 -- and it doesn't seem like they're letting off any steam.
Domestic oil retailers have begun passing on the hike to offset their losses, which translated into the petrol price touching a record high of Rs 76.24 per litre on 20 May and diesel racing to its highest ever level of Rs 67.57 per litre. The Modi-led government is watching the situation but doesn't seem to have a plan at hand, beyond tweaking the excise duty a bit. But even there the government has largely remained non-committal thus far.
Make no mistake, there isn't an easy escape from this round of the crude puzzle. The government, fiscally constrained on account of revenue shortages and a tight fiscal deficit target, won't be able to do a lot in the immediate future to control high prices.
"The government can counter the impact of rising fuel prices by excise duty cuts but that may not happen in the first-quarter at least. They need a better sense of GST tax collections and overall revenue buoyancy to decide how much fiscal space is there to counter the upward pressure," said Gaurav Kapur, chief economist at IndusInd Bank. "Alternatively oil companies can continue to absorb some pressure by delaying price hikes, but that is a temporary solution. Free market pricing of fuel is essential for curbing fuel subsidy and keeping oil imports and the current account deficit (CAD) in check," Kapur said.
The better way, according to Kapur, is to to let petrol and diesel pricing continue to reflect global oil price movements. Petroleum products are still a tricky subject for the economy since it is outside the ambit of the GST and the final price is decided only after factoring in state-level levies. According to a PTI report, "petrol is the costliest in Mumbai where high local taxes have led to a price of Rs 84.07 per litre. Petrol has breached the Rs 80 mark in Bhopal (Rs 81.83 a litre), Patna (Rs 81.73), Hyderabad (Rs 80.76) and Srinagar (Rs 80.35), according to the price notification. Petrol in Kolkata costs Rs 78.91 per litre while it is priced at Rs 79.13 in Chennai." Similarly, diesel is the costliest in Hyderabad were it is priced at Rs 73.45 a litre owing to high local taxes.
Despite what economists say, one needs to wait and watch whether New Delhi can afford to do this ahead of crucial state elections and 2019's general elections. Because, rising fuel prices don't just make it costlier for the middle classes to operate private vehicles, but have an imminent impact on the prices of goods across the board. The movement of goods also becomes costlier and ultimately everything become expensive leading to a spike in inflation. High inflation means a tight monetary policy and possible increase interest rates. This, in turn, means a slowdown in economic activity as borrowing become costlier.
Finally, the buck stops with those in power. That's the situation the Modi government is facing at this juncture. For a country that continues to rely on imports for about 80 percent of its oil demand, a persistent hike in crude oil prices is a shocker. Much of it will depend on the movement of international trends. According to the above-mentioned PTI report, the Modi government raised excise duty nine times — totalling Rs 11.77 per litre on petrol and Rs 13.47 on diesel — between November 2014 and January 2016 to shore up finances as global oil prices fell, but then cut the tax just once in October 2017 by Rs 2 per litre.
The regime has limited leeway now given the political and revenue implications of fuel prices in an election year. There isn't an easy escape.
Business
Today is the 187th consecutive day when there has been no change in the price of petrol and diesel in India. Thus, there has been some relief for the common people on the inflation front
Business
Today is the 193rd consecutive day when there has been no change in the price of petrol and diesel in India. Thus, there has been some relief for the common people on the inflation front
Business
Today is the 191st consecutive day when there has been no change in the price of petrol and diesel in India. Thus, there has been some relief for the common people on the inflation front