PepsiCo boss Indra Nooyi to step down in October; will pass the baton to Ramon Laguarta
President Ramon Laguarta was elected by the board of directors to succeed Indra Nooyi.
Indra Nooyi, Pepsico's Indian-origin CEO, will step down after 12 years of leading the US food and beverage giant, the company announced on Monday.
Nooyi, 62, will step down on 3 October, 2018, after a 24-year stint with the company. She will remain as chairman until early 2019.
President Ramon Laguarta was elected by the board of directors to succeed her. Laguarta was also elected to the board.
"Growing up in India, I never imagined I'd have the opportunity to lead such an extraordinary company," Nooyi said in a statement.
"Guided by our philosophy of Performance with Purpose — delivering sustained performance while making more nutritious products, limiting our environmental footprint and lifting up all the communities we serve — we've made a more meaningful impact in people's lives than I ever dreamed possible," she said.
"PepsiCo today is in a strong position for continued growth with its brightest days still ahead," she added.
Laguarta, a 22-year veteran of the company, has been president since September, overseeing global operations, corporate strategy, public policy and government affairs. Prior to that, Laguarta served in leadership positions in the European and sub-Saharan Africa divisions.
"Ramon Laguarta is exactly the right person to build on our success. He is a terrific executive with a long and proven track record of growing businesses. He has a deep understanding of the changing preferences of consumers and other critical trends unfolding around the world, and he has demonstrated that he knows how to navigate them successfully. Ramon has been a critical partner in running the company, and I'm confident he will take PepsiCo to new and greater heights in the years to come," Nooyi said.
It isn't immediately clear as to why Nooyi decided to step down. With her departure, the rest of PepsiCo's senior leadership team will remain unchanged, the company said.
Just 25 women currently run an S&P 500 company, according to research group Catalyst, a level that has not changed much in the past decade even though women account for half of the US workforce. Nooyi's exit is the latest in a series of high-profile CEO departures in the food and beverage industry, as big brands lose shelf space to smaller, trendier entrants, and established players scramble for growth. Nooyi joins several other prominent women CEOs, including Campbell Soup's Denise Morrison, Hewlett Packard's Meg Whitman and Mondelez's Irene Rosenfeld, who quit their roles recently.
PepsiCo's premarket stock price declined slightly after the announcement, CNBC reported. NASDAQ-traded PepsiCo Inc's shares have gained 78 percent since Nooyi took the top job in 2006, Reuters reported.
In 2017, Nooyi was ranked 'No 2' on the US Fortune's list of 'The Most Powerful Women in Business' outside the US. She also topped the list of highest-paid female CEOs.
With inputs from PTI
Business
While it is not clear how and when such a succession plan could pan out, the report said that Nooyi has faced investor dissatisfaction in the wake of rival Coca-Cola gaining market share from PepsiCo.
Business
PepsiCo expects to cut 8,700 jobs, or 3 percent of its global workforce, across 30 countries as part of a plan to save an extra $1.5 billion over the next three years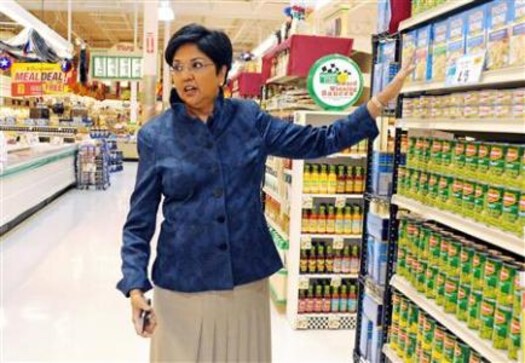 Business
PepsiCo's huge money will be a confidence boost for the economy and the UPA.There are both positives and negatives. For long, the focus has been on negatives. Now that there are some positives, it is time to give some credit. As Nooyi rightly says, PepsiCo is leaning into the growth story of the country.<br /><br /> <br /><br /> <br /><br />