The Reserve Bank of India (RBI) has been on the receiving end of a lot of jokes and jibes after its numerous flip-flops on the demonetisation issue — specifically the issue of depositing money over Rs 5,000. Perhaps it was deserved and perhaps it was undeserved. But what do we know? In fact, here at FP Special Forces headquarters, the closest we ever came to so much as a rudimentary understanding of economics was in 2010.
A highly distinguished member of our Refreshments and Beverages Imbibers unit was in college back then. Yes, your curiosity about the Refreshments and Beverages Imbibers is palpable, and an explanation shall follow this little anecdote. Now, where were we? Ah yes, college. And it was there that on the first day, our highly distinguished member lost her way through the labyrinthine network of corridors in her equally distinguished college. As it turned out — considering we've got a lot of ground to cover, we'll cut to the chase and spare you her anguish — she found her way to the wrong lecture theatre and found herself sitting in on an Economics lecture. A lecture from which she, it must be noted, quickly fled because the suave young man sitting next to her, turned to her with a polite "Hai, dear".
So, what is the Refreshments and Beverage Imbibers unit? While an entire 'all you need to know' or '10 things' piece about this squad could easily be wheeled out, the following will suffice: This crack team comprises connoisseurs of eats and drinks, whose only job is to select and ration out refreshments for the FP Special Forces team, while taking into account a variety of conditions like levels of hunger, exhaustion, laziness, frustration (when only a strong drink will do) and of course, climatic upheaval.
But every so often, members of the Refreshments and Beverage Imbibers unit tend to get confused, disoriented and caught in two minds (most likely the result of imbibing too much of the liquid rations they're meant to ration) and take strange decisions, only to overturn them minutes later. A case in point was when the convenor of the Refreshments and Beverage Imbibers unit ordered hot coffee for all on a grotesquely sunny day, only to suddenly decide that tomato soup was a better idea. Just as the members of the FP Special Forces had begun to sip from their respective mugs, the convenor decided that slices of raw pumpkin were actually what they should be consuming. It went on and on like this for a while.
Not that this has anything to do with the considerably more professionally-run RBI, mind you.
But back to the matter at hand: What do we know about demonetisation, particularly the constantly changing conditions around depositing old notes in banks?
Very little. Laughably little, in fact.
And so we did what any accomplished journalists would and began a quest to seek out the answers. We planned on meeting RBI governor Urijit Patel to get the skinny on this whole thing. We planned to call on Dr Manmohan Singh to understand the situation. We even planned to organise a roundtable with Finance Minister Arun Jaitely, his predecessor P Chidambaram and economist extraordinaire Amartya Sen, with a view to broadcasting it on Facebook Live.
Unfortunately, none of that came to fruition because we got sidetracked and sought our answers elsewhere: From the Toronto Zoo, to be precise. And from Da Mao the panda, to be even more precise.
This happy fella was minding his own business, enjoying the snow and trying to work out how to deposit some money.
Then this happened:
This is the point at which our interest was piqued and out came the notepads and viciously-chewed ballpoint pens.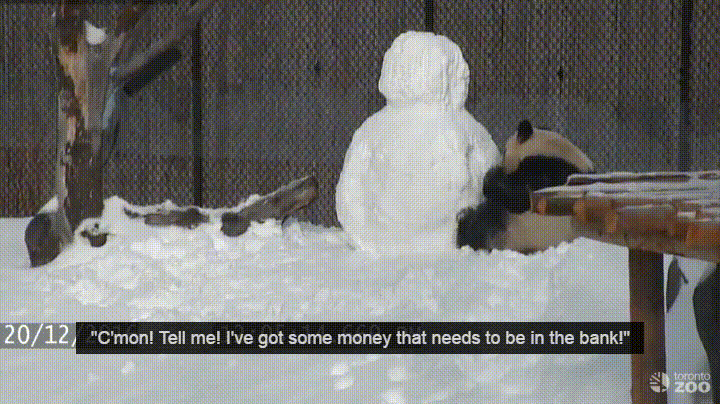 It was soon after this plea that Da Mao discovered to his horror that if he wasn't a KYC-compliant customer, he would only be able to deposit an amount not exceeding Rs 50,000. Further, he would be questioned by two officials who would seek to know why the customer hasn't deposited the money yet.
And that's when poor Da Mao was told that his black money was a problem and he'd only be allowed to deposit Rs 5,000.
The beleaguered panda was distraught. It couldn't get much worse, he thought. But that's the problem with thinking like that, because things always find a way to go even more wrong.
Frosty McMoney, as the snowman is known to his friends, dropped a bombshell on Da Mao: Now, he'd only be able to deposit money if he came into the bank wearing a hat.
The panda should probably have maintained his composure, because very soon, the demands changed again: He could only deposit money if the hat was purple in colour.
That was as much as Da Mao could take, because he simply could not take any more.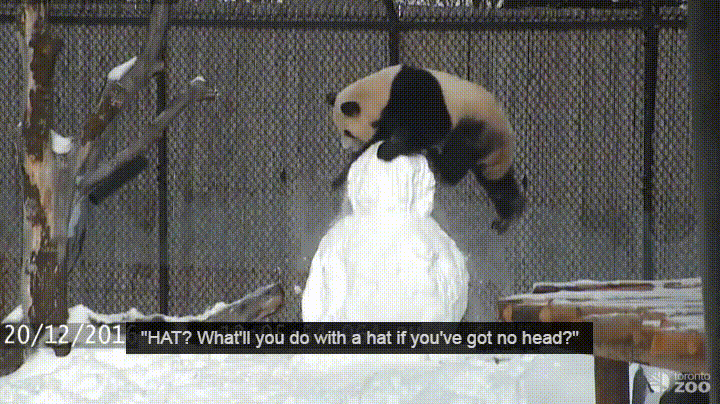 It all got pretty hairy after that point, so we had to turn off the cameras and put away the notepads, but when Da Mao had calmed down, he received an epiphany.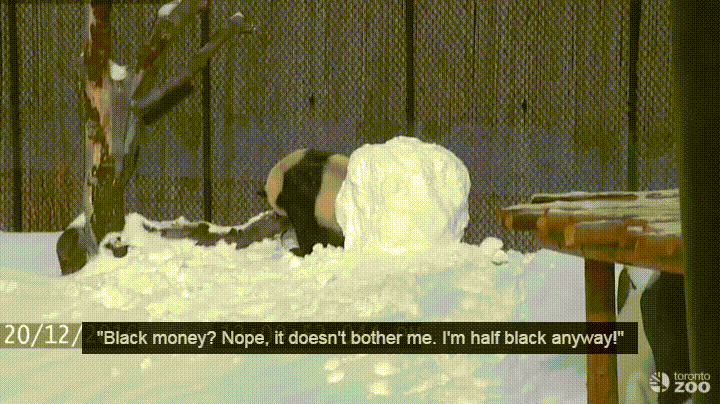 We're all relieved he's at peace now, particularly because he'd probably be apoplectic to learn that in the time it took him to chance upon his brainwave, the rules had changed again: The hat needs to be cyan now.
Updated Date: Dec 22, 2016 15:35:44 IST