Overseas expansion on the cards for Reliance Jio Infocomm; may set up a subsidiary in Estonia
RIL arm Reliance Industrial Investments and Holdings Ltd will reportedly provide a Rs 12.20 crore loan to the Estonian unit to start operations.
Telecom operator Reliance Jio Infocomm Ltd is reportedly planning to expand overseas and could set up a subsidiary in Estonia, a small north European country that has, in recent times, become a favourite investment destination for startups owing to its business-friendly policies.
According to a report in the Mint, Reliance Industries Ltd's (RIL) subsidiary Reliance Industrial Investments and Holdings Ltd will provide a loan of Rs 12.20 crore to the Estonian unit to begin operations.
"Thanks to its sophisticated e-solutions, over the last decade, Estonia has transformed itself into one of Europe's business success stories. Indian companies would certainly wish to collaborate and imbibe e-governance solutions in this regard and Jio is no exception," a person familiar with the development was quoted as saying by the Mint.
In March, in a meeting with an Estonian government delegation, RIL Chairman and Managing Director Mukesh Ambani expressed his desire to collaborate with that nation to develop better e-governance solutions for India.
A statement from RIL had said that Ambani is looking to replicate the innovative solutions offered by Estonia in India. The statement also said that Ambani expressed an interest in Estonia's 'e-residency programme',  which will give him and his businesses easy access to the European Union (EU).
The e-residency programme -- which offers startups access to a government-issued digital ID, thus enabling the opening of a global EU company fully online while working from anywhere in the world -- is the gateway to do business in Europe, said Ambani.
"We believe your solutions are easily scalable to India. We wish to have a very close cooperation with your talent in Estonia," he added.
With inputs from IANS
(Disclosure: Reliance Industries Ltd is the sole beneficiary of Independent Media Trust which controls Network18 Media & Investments Ltd)
also read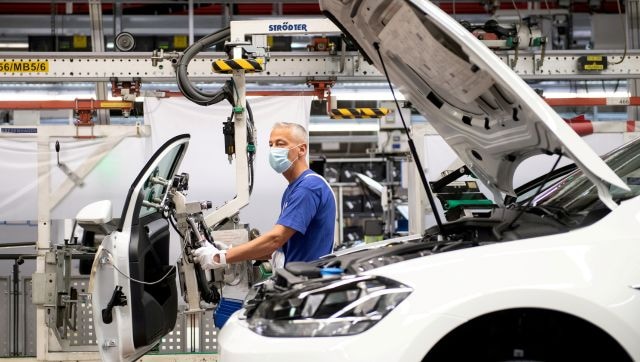 World
Germany's GDP declined by 0.3 per cent in the period from January to March. It follows a drop of 0.5 per cent in Europe's largest economy during the last quarter of 2022
Explainers
Food inflation is putting a strain on Europe's low-income households. For much of the past year, the principal costs that go into creating food goods have been declining in international markets, prompting questions about why food prices for European consumers remain so high
World
Joseph, a resident of Oskerda in Slovakia, had built a private zoo and his own pets are believed to have killed him. According to media reports, Joseph was repeatedly attacked and ultimately eaten by wild animals living in the vicinity of his neighbourhood