Only Middle East airlines show demand growth: IATA
The slowing economic condition has taken a toll on global air traffic, said IATA chief Tony Tyler, as it showed a general downward trend in May with Indian domestic traffic recording a meagre year-on-year rise of 0.1 percent.
Global air traffic showed a general downward trend in May in tow with the deteriorating global economic condition, with Indian domestic traffic recording a meagre year-on-year rise of 0.1 percent, indicating a slowing demand.
According to May results of the International Air Transport Association (IATA), Indian domestic traffic rose just 0.1 percent year-over-year, but fell 2.7 percent compared to April.
Besides, the average passenger load factor for Indian airlines stood at 76.8 percent. "The airline industry is fragile. Relief in oil prices provides some good news. Unfortunately, the softness in oil markets comes on the back of fears of deterioration in the European economy," said Tony Tyler, IATA's Director General and CEO.
He said business and consumer confidence was falling and the first signs of this can be seen in slowing demand and softer load factors. "This does not bode well for industry profitability," he said.
"Airlines are expected to return a $3 billion profit in 2012 on $631 billion in revenues. That's a razor-thin 0.5 percent margin," he said.The Middle East carriers however showed the strongest growth at 15.8 percent, outstripping capacity expansion of 11.9 percent. Load factors here were the second-weakest among regions at 74 percent. This was, however, a 0.4 percent point improvement compared to April.
The Middle East carriers were the only ones to report aggregate accelerated demand growth compared to April, when the region's airlines reported 15.2 percent growth. While passenger demand was 4.5 percent ahead of levels in May 2011, growth was virtually flat compared to April.
Capacity increased by 4 percent and load factors stood at 77.6 percent, below the historically high levels recorded in April. May freight demand was 1.9 percent below previous year levels. Compared to April, the freight market contracted by 0.4 percent. Freight markets hit a low during the fourth quarter of 2011. Since then, they have basically moved sideways with just a 1.5 percent improvement on that level by May.
The freight load factor stood at 45.3 percent, unchanged from the previous month but 1.2 percentage points below May 2011 levels. International passenger demand was up 5.6 percent compared to May 2011. That is well below the 7.1 percent growth recorded in April. All regions, except the Middle East, saw growth in passenger demand slow in May compared to April.
A 4.1 percent capacity expansion,however, helped improve load factors from 75.9 percent in May 2011 to 77 percent for the current month.
PTI
also read
Economy
Estimating that the year 2014-15 will be a year of 'fragile recovery', ratings and analytics major Crisil has said India's GDP growth for FY15 could touch the psychologically significant 6 percent, given some key conditions being fulfilled.<br /><br />
Business
On why airlines are not able to increase fares, the SpiceJet chairman and managing director said it has all happened at a time when the season is a little weak.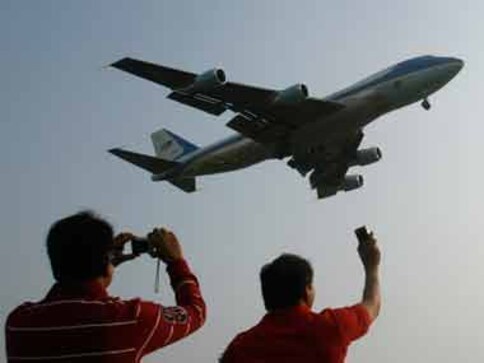 Business
Though a 0/0 or 0/10 would have been more than welcome, the amendments that have been made to the policy are encouraging, AirAsia has said