Onion price plummets to Rs 125-100 a quintal; set to fall further as surplus produce still makes to market
The summer crop of onions hoarded by onion growers in Nashik have no takers
The daily arrivals of onions in Nashik district is around 1.25 lakh kgs while it is around 25-30,000 kgs in Lasalgaon, the country's largest wholesale market for onions.

Since onions fetched Rs 2,000 a quintal in 2017, farmers stored the crops expecting an even higher rate.

Most of the old crop is being sent to Mumbai, the nearest market from Nashik
Onion prices are expected to fall further as the wholesale prices of onions have plunged to a new low this year.  Summer
 onions are selling at Rs 125 to Rs 100 per quintal at Lasalgaon in Nashik district. This is against a whopping price of Rs 2,000 for summer onions in 2017.
The daily arrivals of onions in Nashik district is around 1.25 lakh kgs while it is around 25-30,000 kgs in Lasalgaon, the country's largest wholesale market for onions. "The arrival of onions are the same as last year but the prices have gone downhill," said Jaydutt Holkar, chairman of Lasalgaon Agriculture Produce Market Committee (APMC). The new crop is selling at Rs 6 to Rs 7 per kg, he said.
Since onions fetched Rs 2,000 a quintal in 2017, farmers stored the crops expecting an even higher rate. But a majority of the crop got spoilt. Some of the onions from last year's stock have even started sprouting and hence the stock is being sold at throwaway prices, said Somnath Bodke, a wholesale trader at Gurukrupa Traders in Lasalgaon.
Contrary to talks of lack of warehouses which has resulted in damage of crops due to inadequate storage facilities, the fact is that farmers in Nashik were able to store their onions for over nine months. However, a major bulk of the stored onions have begun to get spoilt thus dimming their chances of a sale in the wholesale markets.
The summer crop of onions hoarded by onion growers in Nashik have no takers. From being sold at an average of Rs 700 a quintal in May, the price had come down to Rs 400 a quintal in December. Distressed at the falling prices, an onion-grower from Maharashtra who had to sell his produce for little over Re 1 per kg even sent his earnings to the Prime Minister to mark his protest.
The reality is that old onions, from last summer's crop, is not fetching any price in the market as there is no demand for it with new crop coming from other states that have taken to grow onions in large quantities like Punjab, Rajasthan, Haryana, Gujarat and Karnataka.  "Other states like Punjab, Rajasthan and Kolkata have had bountiful crops and there is no demand for these red onions from Nashik which is from an old crop. The red onion from Karnataka is also available now. Where is the need for this old crop which is also not of good quality anymore?" asks Bodke a the wholesale trader from Nashik.
Most of the old crop is being sent to Mumbai, the nearest market from Nashik. It becomes unviable with the transport charges being higher than the price of onions. Around 225 trucks of onions come to Mumbai daily. Of these, the larger quantity is of old onions but this will soon be over and new onions will flood the market, said Rajendra Shelke, president of the Vashi onion and potato traders union. The old onions sell between Rs 3-6 per kg in Mumbai while the new red onions fetch Rs 10 per kg, he said. However, he rules out any hike in prices once the old stock is over in the market.
(Data support from Kishor Kadam)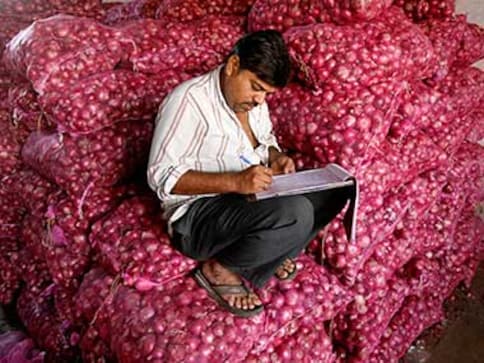 Business
As per NHRDF data, onions which were selling at a wholesale price of Rs 4,500 per quintal at Lasalgaon, today rose to Rs 4,900 per quintal.
India
The government on Wednesday hiked the minimum export price of onion to $500 per tonne to improve the domestic supply and curb prices.
Politics
The sharp decline in the wholesale onion prices due to the increase in supply and unsold stock at Lasalgaon Agriculture Produce Market Committee (APMC) is seen as the lowest in the recent years. Are tussles in Maharashtra BJP and Centre and procedural lapses to blame?