Onion agony: Nashik farmer donates meagre earning to PMO fund to highlight plight, but prefers to stay mum on hoarding
The reality is that old onions, from last summer's crop is not fetching any price in the market as there is no demand for it.
Even as the donation of a small amount to the Prime Minister's National Relief Fund by a Nashik-based onion farmer who apparently earned that paltry amount for his summer produce is making national headlines highlighting the severity of farm distress, what got conveniently ignored is that the farmer also hoarded his harvest for over nine months -- long enough to deteriorate in quality and new crop to come in.
The summer crop of onions hoarded by onion growers in Nashik have no takers. From being sold at an average of Rs 700 a quintal in May, the price has come down to Rs 400 a quintal. Distressed at the falling prices, an onion-grower from Maharashtra who had to sell his produce for little over Re 1 per kg sent his earnings to the Prime Minister to mark his protest, a PTI report said.
Sanjay Sathe, a resident of Niphad tehsil in Nashik district, said, "I produced 750 kg of onion in this season but was offered a rate of Re 1 per kg at Niphad wholesale market last week.  It was painful to see such paltry returns on four months of toil. Hence I have donated Rs 1,064 to the National Relief Fund of the PMO as a protest. I had to pay an additional Rs 54 for sending it by money order," he said.
The reality is that old onions, from last summer's crop, is not fetching any price in the market as there is no demand for it. The prices of onions were at their peak with red onions from Nashik fetching Rs 3,000 and sometimes going up to Rs 4,000 per quintal with demand from other parts of the country. "Other states like Punjab, Rajasthan and Kolkata have had bountiful crops and there is no demand for these red onions from Nashik which is from an old crop. The red onion from Karnataka is also available now. Where is the need for this old crop?" asks A Dawre, a wholesale trader from Nashik.
Contrary to talks of lack of warehouses which has resulted in damage of crops due to inadequate storage facilities, the fact is that farmers in Nashik were able to store their onions for over nine months. However, a major bulk of the stored onions have also started to get spoilt thus dimming their chances of a sale in the wholesale markets.
The price of onions has come down to an average of around Rs 400 per quintal from its peak of over Rs 2,000 in January 2018.  In Lasalgoan, the price of the new crop is between Rs 400 to Rs 1,400 per quintal. The old summer crop has different categories that fetch different prices. The good quality onions among the summer crop fetch Rs 500-600 per quintal while the intermediate quality gets Rs 300-400 per quintal and the poor quality – which is found in abundance – is being sold at Rs 50-250 per quintal.
"There is no demand for Nashik onions from the summer crop," said Hiralal Deshimuk Sonre, a wholesale trader from Lasalgaon. Lasalgaon is the biggest onion market in Nashik district. Only 30 percent of the old crop is good, he said. "If the farmer had to sell the crop in May, he would have got Rs 2,500 per quintal unlike the measly sums for the old crop they are forced to take as there is no demand," he said.
Most of the old crop is being sent to Mumbai, the nearest market from Nashik. "There are issues of storage, said Sudhin Tarle, deputy secretary, Agriculture Produce Marketing Committee, Lasalgaon, as the onions are getting spoilt with long storage. "To say that farmers are facing stress because of a low price for their crop is wrong information being sent out," he said. "What is not fetching good money is the old crop. The new crop is getting good prices and is also in demand," he said.
Since the onions have been stored for a longer time, they cannot be sent to other states as they have started to get spoilt, Tarle said. The produce is not good and packing and transporting them will only lead to more damage, he said. "Taking them in trains would lead to more heat in the produce and the crop will be spoilt by the time it reaches its destination," he said. The old crop is being sent to Mumbai, he said.
Agreeing that the bulk of the old onions are coming to Mumbai, Rajendra Shelke, president of the Vashi onion and potato traders union said, the quality of the onions are not very good and a major bulk is being brought by the poor, he said. A lot of these old onions are also being used as fertiliser for crops, Shelke said. Around 60-70 trucks of onions come to Mumbai from Nashik. Of this, 60-70 percent are good quality onions but there are not many takers for them here, he said, as new onions have started to flood the market.
The government should step in and provide some relief to the farmers, said Tarle. "The farmer must be compensated by the government in some way," he said.
(With data support from Kishor Kadam)
Politics
'For 13 months we have sustained a protest against the government, and this won't go anyway in hours. Farmers still have anti-BJP sentiments,' said the Baliyan Khap headman and national president of BKU
India
Apart from the major political parties, the breakaway Samyukta Kisan Morcha unions led by Balbir Singh Rajewal and Gurnam Singh Chaduni have declared joint candidates for the Punjab Assembly polls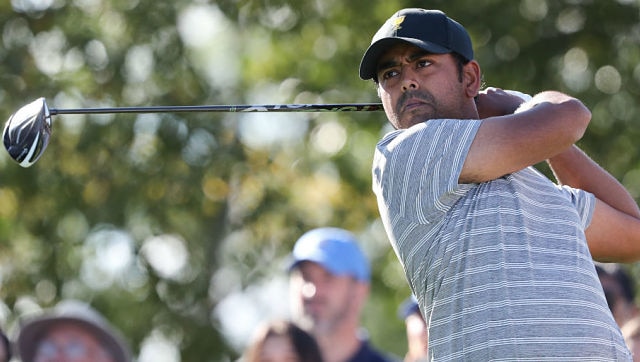 Sports
India's Anirban Lahiri begins another campaign this week at the Farmers Insurance Open, the second tournament of the West Coast swing at the picturesque Torrey Pines in San Diego.