Oil up 1% after attack on Saudi field, but OPEC report caps gains
By Laila Kearney NEW YORK (Reuters) - Oil prices were up more than 1% on Monday after a weekend attack on a Saudi oil facility by Yemen's Houthi forces and as traders looked for signs that top economies would take measures to counteract a global slowdown. Prices were limited by a downbeat report by the Organization of the Petroleum Exporting Countries (OPEC) that stoked concerns about growth in oil demand. Brent crude, the international benchmark for oil prices, was up 71 cents, or 1.2%, at $59.35 a barrel by 12:39 p.m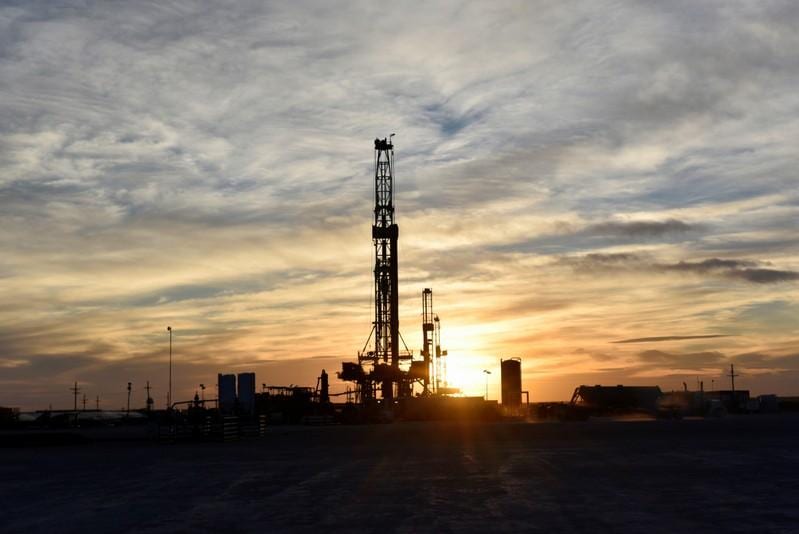 By Laila Kearney
NEW YORK (Reuters) - Oil prices were up more than 1% on Monday after a weekend attack on a Saudi oil facility by Yemen's Houthi forces and as traders looked for signs that top economies would take measures to counteract a global slowdown.
Prices were limited by a downbeat report by the Organization of the Petroleum Exporting Countries (OPEC) that stoked concerns about growth in oil demand.
Brent crude, the international benchmark for oil prices, was up 71 cents, or 1.2%, at $59.35 a barrel by 12:39 p.m. EDT (1639 GMT).
U.S. West Texas Intermediate (WTI) crude futures gained 80 cents, or 1.5%, to $55.67 a barrel.
A drone attack by the Houthi group on an oilfield in eastern Saudi Arabia on Saturday caused a fire at a gas plant, adding to Middle East tensions, but state-run Saudi Aramco said oil production was not affected.
"The oil market seems to be pricing in again a geopolitical risk premium following the weekend drone attacks on Saudi Arabia, but the premium might not sustain if it does not result in any supply disruptions," said Giovanni Staunovo, oil analyst for UBS.
Iran-related tensions appeared to ease after Gibraltar released an Iranian tanker it seized in July, with the vessel sailing for Greece, though Tehran warned the United States against any new attempt to seize the tanker in open seas.
A rally in equities from growing expectations that global economies would take actions to counteract slowing growth also helped oil, which often follows stock prices.
"The death of the global economy has been greatly exaggerated and the market is starting to realize that," said Phil Flynn, an analyst at Price Futures Group in Chicago.
China's announcement of key interest rate reforms over the weekend has fuelled expectations of an imminent reduction in corporate borrowing costs in the struggling economy, boosting share prices on Monday.
OPEC, meanwhile, cut its forecast for global oil demand growth in 2019 by 40,000 barrels per day (bpd) to 1.10 million bpd and indicated the market would be in slight surplus in 2020.
The rare move for OPEC to give a bearish forward view on the market outlook limited oil gains on the day, but it could set the stage for tighter supplies down the road.
"Such a bearish prognosis will heap more pressure on OPEC to take further measures to support the market," said Stephen Brennock of oil broker PVM.
(Additional reporting by Bozorgmehr Sharafedin in London and Jessica Jaganathan in Singapore; Editing by Emelia Sithole-Matarise and Matthew Lewis)
This story has not been edited by Firstpost staff and is generated by auto-feed.
Find latest and upcoming tech gadgets online on Tech2 Gadgets. Get technology news, gadgets reviews & ratings. Popular gadgets including laptop, tablet and mobile specifications, features, prices, comparison.
World
By Crispin Kyala KAMITUGA, Democratic Republic of Congo (Reuters) - Kinyenye Furaha passed out from shock when he realised a mine collapse in eastern Congo had buried more than 50 fellow miners including his brother, he said on Sunday, as the hunt continued for bodies two days after the disaster. Miners searching the site near the town of Kamituga in Democratic Republic of Congo have so far recovered 18 bodies, after heavy rains on Friday caused the artisanal gold mine to cave in, burying those working below ground.
World
By Tom Balmforth and Maria Tsvetkova MOSCOW/TOMSK (Reuters) - The ruling United Russia party looked set for an array of local election wins on Sunday, but was also on course for some setbacks as stricken Kremlin critic Alexei Navalny's supporters made rare gains in city politics in Siberia. The local elections were closely watched for signs of protest voting against the ruling party that backs President Vladimir Putin amid frustrations over years of falling wages and the government's handling of the pandemic. The votes also followed the suspected poisoning by a rare nerve agent of opposition politician Navalny who had promoted a tactical voting strategy to hurt United Russia and fielded dozens of candidates for city councils in Siberia
World
By Linda Sieg TOKYO (Reuters) - Japanese Chief Cabinet Secretary Yoshihide Suga, a longtime loyal aide of outgoing Prime Minister Shinzo Abe, was poised to win a ruling party leadership election on Monday, virtually ensuring that he replaces Abe this week in the nation's top job. Suga, 71, who has said he would pursue Abe's key economic and foreign policies, is expected to get the bulk of votes from 394 Liberal Democratic Party (LDP) lawmakers and is likely to win a majority of 141 votes from the party's local chapters.