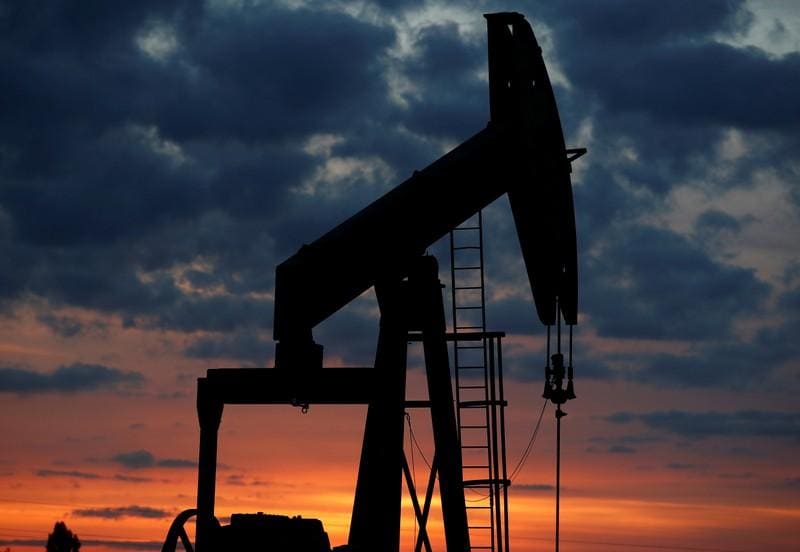 By Ayenat Mersie and Devika Krishna Kumar
NEW YORK (Reuters) - Oil prices slumped as much as 4 percent on Tuesday in volatile trading as media reports rattled markets with doubts about whether U.S. President Donald Trump would withdraw Washington from the Iran nuclear deal as most had expected.
The New York Times reported that Trump told President Emmanuel Macron of France that he planned to withdraw the U.S. from the deal and that the U.S. plans to reinstate all sanctions and impose additional economic penalties.
In answer to a Reuters question, Macron's office denied the Times story, which cited a person briefed on the matter. A senior White House official also denied the New York Times report.
Trump administration officials called key members of the U.S. Congress and told them he had decided to withdraw from the Iran nuclear agreement, but would not reimpose sanctions for up to six months, congressional aides said.
Brent crude futures were down 2.3 percent at $74.42 a barrel by 1:49 p.m. EDT (1749 GMT), while U.S. West Texas Intermediate (WTI) crude futures fell 2.7 percent to $68.79.
Trump on Monday said a decision on Iran would be announced at 2 p.m. EDT on Tuesday.
During the session, prices fell as much as 4 percent, U.S. crude hit a session low of $67.63 a barrel and Brent touched $73.10 a barrel.
"I think what we're seeing is that there has been a lot of geopolitical premium put in this market because of the Iran deal," said Bill Baruch, president of Blue Line Futures in Chicago.
One senior European official closely involved in Iran diplomacy told Reuters U.S. officials had indicated late on Monday that Trump would withdraw, but it remained unclear on what terms and whether sanctions would be reimposed.
Oil prices had been supported by expectations that Trump would pull out of the deal, which could hit Iranian crude exports and feed geopolitical tensions in the Middle East, home to a third of the world's daily oil supply.
"I think some of it was already priced in, so I don't think you're going to see oil move to $90 anytime soon just because of this news," said Stewart Glickman, energy equity analyst, CFRA Research in New York. Longer-term, the sanctions could make it "more difficult for Iran to get oil to market. That puts upward pressure on crude prices."
Under the deal to limit Iran's nuclear program, formally known as the Joint Comprehensive Plan of Action, the United States agreed to ease a series of sanctions on Iran and has done so under a string of "waivers" that effectively suspend them.
Iran's exports since then have risen to about 2.5 million barrels per day and the country is third-biggest producer among the Organization of the Petroleum Exporting Countries. Goldman Sachs said in a note that it was unclear if 1 million bpd in exports would be at risk as it was from 2012 to 2015.
Market participants said oil was also pressured by strength in the U.S. dollar, which advanced to its highest level of 2018 against a basket of currencies on safe-haven buying.
"If the dollar continues to rally from here, regardless of what Trump does with this Iran deal, any gains (for oil) are going to be short-lived as the greatest risk here is the risk of the dollar," said Brian LaRose, technical analyst at United-ICAP.
Meanwhile, U.S. crude oil output is expected to rise by 1.14 million bpd to 11.86 million bpd next year, the U.S. Energy Information Administration said.
(Additional reporting by Stephanie Kelly in New York, Amanda Cooper in LONDON and Aaron Sheldrick in TOKYO; Editing by Marguerita Choy and David Gregorio)
This story has not been edited by Firstpost staff and is generated by auto-feed.
Firstpost is now on WhatsApp. For the latest analysis, commentary and news updates, sign up for our WhatsApp services. Just go to Firstpost.com/Whatsapp and hit the Subscribe button.
Updated Date: May 09, 2018 00:05 AM