Oil prices fall as soaring U.S. supply offsets tighter Iran sanctions
By Henning Gloystein SINGAPORE (Reuters) - Oil prices fell on Thursday as record U.S. output and rising crude stockpiles dampened the impact on markets of tighter U.S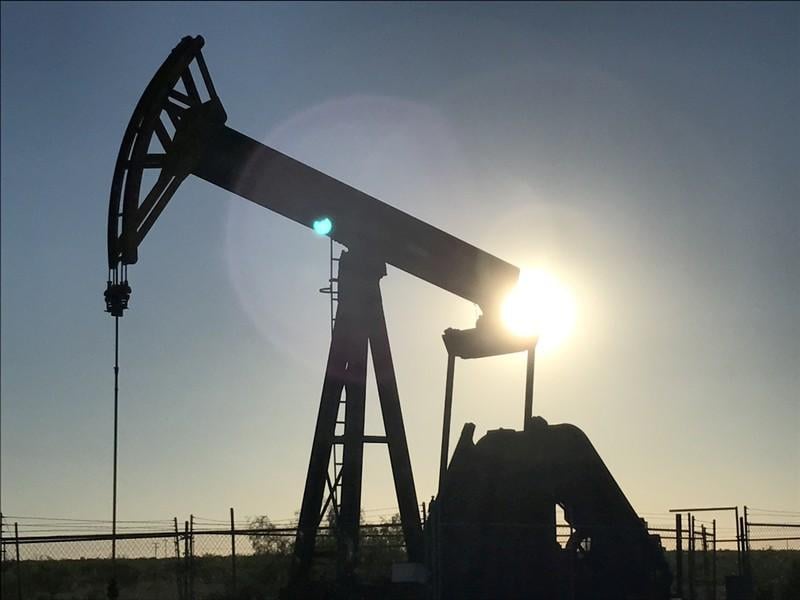 By Henning Gloystein
SINGAPORE (Reuters) - Oil prices fell on Thursday as record U.S. output and rising crude stockpiles dampened the impact on markets of tighter U.S. sanctions on Iran and producer club OPEC's continued curbs on supply.
Brent crude futures were at $74.35 per barrel at 0037 GMT, down 22 cents, or 0.3 percent, from their last close.
U.S. West Texas Intermediate (WTI) crude futures were at $65.60 per barrel, down 29 cents, or 0.4 percent, from their previous settlement.
Crude futures rose to 2019 highs earlier in the week after the United States said on Monday it would end all exemptions for sanctions against Iran, demanding countries halt oil imports from Tehran from May or face punitive action from Washington.
"Following the U.S. decision to toughen its sanctions on Iran ... we have revised up our end-year forecast for Brent crude from $50 to $60 per barrel," analysts at Capital Economics said in a note.
The U.S. decision try and bring down Iran oil exports to zero comes amid supply cuts led by producer Organisation of the Petroleum Exporting Countries (OPEC) since the start of the year aimed at propping up prices.
As a result, Brent crude oil prices have risen by almost 40 percent since January.
Despite this, Capital Economics said "we still expect oil prices to fall this year as sluggish global growth weighs on oil demand, U.S. shale output grows strongly and investor aversion to risk assets like commodities increases."
U.S. crude oil production has risen by more than 2 million barrels per day (bpd) since early 2018 to a record of 12.2 million bpd currently, making the United States the world's biggest oil producer ahead of Russia and Saudi Arabia.
In part because of soaring domestic production, U.S. commercial crude oil inventories last week hit a October 2017 high of 460.63 million barrels, the Energy Information Administration said on Wednesday. That was a rise of 1.3 million barrels.
(Reporting by Henning Gloystein; Editing by Joseph Radford)
This story has not been edited by Firstpost staff and is generated by auto-feed.
Find latest and upcoming tech gadgets online on Tech2 Gadgets. Get technology news, gadgets reviews & ratings. Popular gadgets including laptop, tablet and mobile specifications, features, prices, comparison.
World
By Tim Hepher and David Ljunggren PARIS/OTTAWA (Reuters) - France said on Friday it would download the black boxes from a Ukrainian airliner downed by an Iranian missile in January, easing a stand-off over where they should be read. France's BEA crash investigation agency said it was acting at the request of Iran, which remains responsible under global rules for conducting a formal accident probe after acknowledging that the Boeing 737 was downed by its forces
World
By Brad Brooks LUBBOCK, Texas (Reuters) - With new coronavirus cases surging in Texas and Florida, officials in both states on Friday ordered bars to close again and imposed tighter restrictions on restaurants, setting back efforts to reopen their economies. Governor Greg Abbott gave bars in Texas until midday Friday to shut, while Florida's Department of Business and Professional Regulation told bars to immediately stop serving alcohol on their premises
World
By Patricia Zengerle WASHINGTON (Reuters) - The U.S. Senate passed legislation on Thursday that would impose mandatory sanctions on people or companies that back efforts by China to restrict Hong Kong's autonomy, pushing back against Beijing's new security law for the city. The measure also includes secondary sanctions on banks that do business with anyone found to be backing any crackdown on the territory's autonomy, potentially cutting them off from American counterparts and limiting access to U.S.