Oil edges up after five days of losses ahead of U.S.-China trade pact
By Scott DiSavino NEW YORK (Reuters) - Oil prices edged higher on Tuesday after five days of declines as the United States and China prepared to sign a preliminary trade deal and as Middle East tensions eased. Brent futures gained 29 cents, or 0.5%, to settle at $64.49 a barrel, while U.S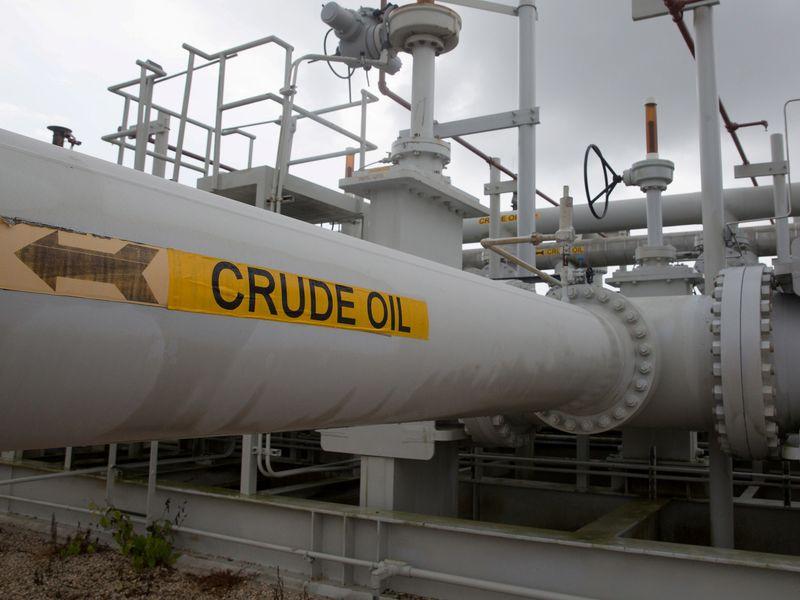 By Scott DiSavino
NEW YORK (Reuters) - Oil prices edged higher on Tuesday after five days of declines as the United States and China prepared to sign a preliminary trade deal and as Middle East tensions eased.
Brent futures gained 29 cents, or 0.5%, to settle at $64.49 a barrel, while U.S. West Texas Intermediate (WTI) crude ended 15 cents, or 0.3%, higher at $58.23.
That put WTI front-month futures below the second month for the first time since Nov. 19, which is known in the trading industry as contango.
Analysts noted oil also found technical support after WTI fell to a five-week low of $57.72 before bouncing off the 200-day moving average.
The expected signing of a Phase 1 U.S.-China trade agreement on Wednesday, marking a major step in ending a dispute that has cut global growth and dented demand for oil.
"Oil prices are tentatively rebounding after seller exhaustion kicked (in) as investors await the next developments on the trade front and whether we see a strong pickup with global demand following the phase-one trade deal," Edward Moya, senior market analyst at OANDA in New York, said in a report.
China has pledged to buy more than $50 billion in energy supplies from the United States over the next two years, according to a source briefed on the trade deal.
Despite the trade dispute, China's crude oil imports surged 9.5% in 2019, setting a record for a 17th straight year as demand growth from new refineries propelled purchases by the world's top importer, data showed.
Crude price gains, however, were limited as concerns about possible supply disruptions eased due to a decline in tensions in the Middle East.
The recent declines came as investors unwound bullish positions built after the recent killing of a senior Iranian general in a U.S. air strike which sent oil prices to a four-month high earlier this month, said Harry Tchilinguirian, global oil strategist at BNP Paribas in London.
In the United States, the Energy Information Administration (EIA) projected the pace of oil production growth to record highs would slow to 3% in 2021, the lowest since 2016 when output declined.
Separately, U.S. crude inventories likely declined by about 500,000 barrels last week, a Reuters poll showed.
The poll was conducted ahead of reports from the American Petroleum Institute (API), an industry group, on Tuesday, and the EIA on Wednesday.
(Additional reporting By Ron Bousso in London and Jessica Jaganathan in Singapore; Editing by David Goodman and Bernadette Baum)
This story has not been edited by Firstpost staff and is generated by auto-feed.
Find latest and upcoming tech gadgets online on Tech2 Gadgets. Get technology news, gadgets reviews & ratings. Popular gadgets including laptop, tablet and mobile specifications, features, prices, comparison.
World
By Kate Holton LONDON (Reuters) - The post-Brexit woes facing Scotland's fishing industry deepened on Saturday as its biggest logistics provider, DFDS Scotland, said it would halt exports to the European Union through one of its main services until at least Wednesday. Previously the company had said it would take until Monday to resume its "groupage" export service - which allows exporters to ship multiple products in a single consignment - while it tries to fix IT issues, paperwork errors and a backlog of goods. DFDS's move represents another blow for Scottish fishermen who this week warned that their businesses could become unviable after Britain shifted to a less integrated trade deal with the EU at the turn of the year
World
VATICAN CITY (Reuters) - Pope Francis said on Saturday he planned to be vaccinated against COVID-19 as early as next week and urged everyone to get a shot, to protect not only their own lives but those of others.
World
By Rich McKay (Reuters) - A man photographed carrying off the Speaker's lectern during the Capitol Hill riots was arrested late Friday, while a top Democratic lawmaker on Saturday called on mobile carriers to preserve social media content related to the riots. Dozens of people have been charged following the storming of the Capitol on Wednesday, with the FBI asking the public for help identifying participants, given the proliferation of images of the riots on the internet.