Not yet filed your income tax returns? Here are three tips to help you in the last minute
There's hardly anytime left to waste. Here's what you need to know if you've yet to submit your tax return.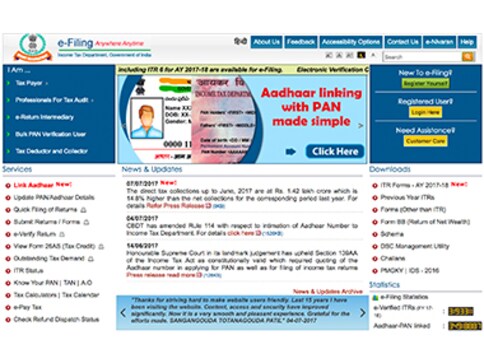 If you haven't filed your income tax returns (ITR) yet, there is very little time left as 31 July is the last date. And when you rush to do so, in all probability the e-filing website will not respond. This is because there are many who do it just like you at the last minute! (Calculate your tax here)
However, there is no escaping filing your returns. You just have to do it. If you are filing your returns now or plan to, here are three tips to help you avert pitfalls:
1) Pick a portal that works for you: Choose an online portal that populates your data automatically. This is especially for those of you who are lazy and hate to fill forms. Filing returns at an income tax website is free, but you will need to feed in the data yourself -- each alphabet and number at a time. If you are someone who can't be bothered to do it in this manner, then there is help. Just choose an online tax portal which automates the process. There are many out there which lets you scan your document or uploads them and what's more, their software reads the data and fills your form. But don't forget to set some time aside to double check the data though.
2) If you don't have Form 16: Here's what you can do if you haven't yet filed your returns because you are still waiting for Form 16 from your former employer and he hasn't sent it to you yet. Or, for some reason don't have access to Form 16. That is no reason for you to miss out on filing your returns and incur penalty. Use your monthly payslip to find your taxable income, and another exempt component of your salary like Conveyance Allowance, etc. Your form 26-AS can help you in finding the exact tax deducted by your employer. You can also get this from the Income Tax website or from National Securities Depository Ltd (NSDL). Another way to know your HRA exemption is to look through your rent receipts.
3) Outsource: If you just don't have the time to do-it-yourself, you can outsource it, rather than miss the deadline of 31 July. You can either use the help of Chartered Accountants or tax return preparers (TRP) who are appointed by the Income Tax (I-T) department to assist income tax assesses in preparing and filing returns in an error-free manner. You can get a TRP at this website www.trpscheme.com. This will cost you a few hundred rupees, depending upon your file.
Use these three last minute income tax returns filing options. Yes, don't be under the assumption this year too there is a possibility that the deadline will be extended to 31 August, like the last few years. Times have changed now. So, it is about time you change your last minute returns filing habit, too.
Health
By ensuring these basic practices, you will reduce the chance of infections, rashes and itchiness in your vaginal area
Health
Lack of sleep causes frequent headaches and also has several adverse effects on your physical and mental health. Other signs of sleep issues include irritability, daytime fatigue, inability to focus during the day, lower energy levels, noticeable dark circles under your eyes and more.
Business
The move would help curb the menace of fake billing, whereby sellers would show higher sales in GSTR-1 to enable purchasers to claim input tax credit, but report suppressed sales in GSTR-3B to lower GST liability