Not just power lines, railways needs to privatise more to generate funds, meet investment needs
Why does the railways not look at getting private operators to run trains as well? Why shy away from privatising the transporter in totality?
New Delhi: The railways is considering a proposal to put on the block about 30,000 km of power lines, potentially fetching the national transporter Rs one crore for each kilometre of infrastructure or likely upfront receipts of Rs 30,000 crore, according to this piece in Economic Times.
And depending on the success of this plan, the railways will then look at monetising other assets such as railway stations, rail corridors and even trains - though plan to get private parties to redo stations has been in limbo for about four years as conditions do not match the bidders' interests. The ET piece does not clarify whether running of trains could be in private hands any time soon but the intention of the government is clear: bring in private sector wherever possible to generate resources from the railways' vast asset holdings.
This seems like a sensible beginning since it would result in resource generation and perhaps greater efficiency. Vinayak Chatterjee, the chairman at Feedback Infra says this attempt at inviting private parties to do railways transmission is the same model that is being followed in the power transmission sector, where PowerGrid is offloading transmission lines on PPP (Public Private Partnership) basis. In this model, the private player gets an annuity income for building and maintaining power lines, just like in the roads sector. This can work for new projects as well as existing lines.
So private participation in stations, corridors and now transmission lines. Why does the railways not look at getting private operators to run trains as well? Why shy away from privatising the transporter in totality? Remember, when the Modi government came to power in 2014, it had vigourously denied any intentions to privatise the railways, which is the world's largest transporter.
But slowly, the stigma around privatisation seems to be dissolving.
In this piece in Hindu, the new Railways Minister Piyush Goyal says the government is open to the idea of giving operations of railway lines to private players for enhancing competition. Some of this is already being proposed for freight trains.
And NITI Aayog member Bibek Debroy, who incidentally also authored the white paper on Indian Railways in 2015, has anyway been a votary of privatisation.
In this piece he wrote for the Hindustan Times in September this year, Debroy says "Every indicator, not just safety-related ones, underlines the travails of Indian Railways (IR). An instant solution is also offered. Every monopoly is inefficient, especially a public sector one. Liberalise, privatise, corporatise. Isn't that how railways were developed in India, through private sector initiatives in the 19th century?"
The real deal would be if the government considered allowing private parties to run passenger trains. Anyway, experts say there could be three models for privatising train operations. One, the private party lays the tracks and earns annuity while owning the fixed asset; two, the British model where the fixed asset continues to belong to the government while the private party merely runs the rolling stock and pays a charge to run the train on government track; three, a mixture of these two models. Will this happen? It has taken over two decades for the government to even consider getting out of ailing national carrier Air India, after its earlier failed attempts, because of the stigma still attached to privatisation which automatically signals loss of jobs. Besides, a host of other issues including safety etc will need to be addressed.
Chatterjee says partial privatisation is the way to go for the railways. "The railways is a complex system and one should not do anything to disturb its equilibrium. Station and electrification PPP are moves in the right direction".
Obviously, the railway workers' unions are vehemently opposed to any move to give out train operations in private hands. Shiv Gopal Mishra of the All India Railwaymen's Federation says the unions are meeting on 29 November with minister Piyush Goyal and will raise their voice against privatisation at this meeting, besides discussing other issues. "The common man can be served by only by the government, private parties will only come in to make profit. I don't think PM Modi will allow train operations to go into private hands. Bibek Debroy has made such a suggestion earlier but we told (Suresh) Prabhu this is wrong. We will say the same thing to Piyush Goyal too."
In essence, what needs to be debated is whether the railways will continue to look for half measures in a bid to raise resources or will it offer private players a chance to run trains too besides managing the railway infrastructure. Remember, there is no longer a separate Railway Budget which means the railways will have to fend for itself, largely. As outlined by Suresh Prabhu last year, the railways has a capital expenditure outlay of over Rs 8.5 lakh crore for the next five years, of which only Rs 2.5 lakh crore will come from gross budgetary support. The rest will have to either be raised as debt or by PPP/JVs/Internal Resource Generation methods. So unless the railways looks to partner the private sector, how will this ambitious funding plan work, solely on debt?
Besides, most railways' functions are already privatised in a sense. Debroy points out in the HT piece that most services on trains and stations (cleaning, catering and maintenance) are already privatised. There is little the railways does departmentally. Wagons are produced by the private sector. So, increasingly, are coaches and locomotives. What most people mean by private entry is the private sector running trains. "On this, will we contemplate locomotive drivers from the private sector and safety (not to be confused with security) handled by the private sector? That's worth thinking about. On privately run trains, most people don't know policy already allows that."
Railways' finances are also not in the pink of health. Freight loading hasn't risen significantly as rates are fixed to cross subsidise passenger fares; freight traffic is increasingly moving to the road sector. Passenger numbers are also falling as they migrate to aeroplanes which are faster and many times, tariffs match those for rail travel. According to the railways' own stats, it transported 23 million passengers daily in 2014-15 but only 22.21 million in 2015-16. Freight carried per day increased but only marginally, from 3.02 million tonnes to 3.03 million tonnes.
The Indian Railways is a large employer. As on 31 March, 2016, it employed 13.31 lakh people. Wage bill including pension etc. stood at a whopping Rs 93,015.97 crore and actually increased by Rs 8,256 crore or almost 10 percent over the previous fiscal. The average wage per regular employee was up by 10.25 percent from Rs 6.5 lakh to Rs 7.18 lakh per annum. If privatisation were to be considered, what happens to all this manpower? These are questions which only a strong political will needs to address.
India
The high-speed Vande Bharat train, connecting the capitals of Gujarat and Maharashtra, can operate at 160 kmph, around 16 seconds faster than its two predecessors. It will also provide passengers with a more comfortable journey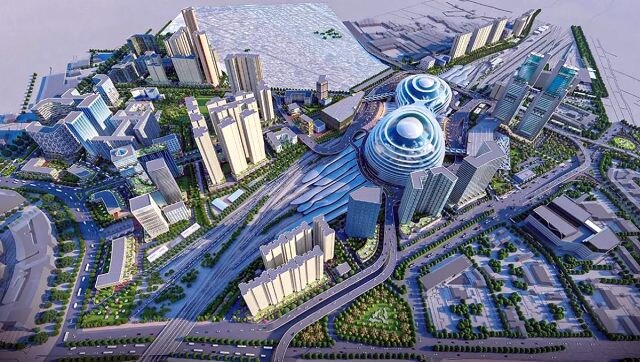 India
The Centre has approved plans to redesign three railway stations — New Delhi, Ahmedabad and Mumbai's Chhatrapati Shivaji Maharaj Terminus — at a cost of Rs 10,000 crore. The redesign of these stations will be in tune with the cityscape and will feature swanky features such as travelators and skywalk
World
UK's Liz Truss is a known admirer of Margaret Thatcher. While the late leader aimed to retract the state from the economy, the new prime minister is about to oversee a significant expansion of state intervention into the economy, as it pays companies to supply energy to households and businesses