Nitish's rice revolution in Bihar is stalling: agro-scientists look for a new formula
In India's current stage of development, growth in agriculture is much more poverty reducing than growth in manufacturing or services.
By Vivian Fernandes
With the monsoon once again threatening to turn erratic and scanty, one of Bihar's two chief scientists for rice advises farmers 'to grow paddy as if it were wheat.'
Nitendra Kumar Singh teaches at the Rajendra Agricultural University, Pusa, in Samastipur district, where Lord Curzon, the British viceroy, established the Imperial Agricultural Research Institute in 1905. It was shifted to Delhi in 1935, following an earthquake, and came to be known as the Pusa institute, after its origins.
Agriculture in Bihar has benefited from an improvement in governance and connectivity. When Nitish Kumar first became chief minister in 2005 he established special courts which tried and jailed hundreds of criminals. Roads were rebuilt and this correspondent came back impressed after an 800 km trip earlier this month to villages in the northern districts around Patna. They compare with the vaunted ones of Gujarat.
Along with rural connectivity, Kumar also focused on raising agricultural GDP. In India's current stage of development, growth in agriculture is much more poverty reducing than growth in manufacturing or services. In 2008, a four-year agricultural road map was crafted. It has been extended by five years to 2017 with a target investment of Rs 1.5 lakh crore.
A holistic, 'rainbow' approach for agricultural development was adopted, encompassing the white (dairy), blue (fisheries) and green (crop) revolutions. This dovetailed with the central government's programme of shifting rice cultivation from ground water-challenged Punjab and Haryana to water-rich north Bihar and the other eastern states.
Former finance minister Pranab Mukherjee called this as scheme for Bringing the Green Revolution to Eastern India (BGREI) and gave Rs 400 crore in the 2010-11 budget. He raised it to Rs 1,000 crore in 2012-13. Mukherjee said he was encouraged by the eastern states increasing paddy production by seven million tonnes in the previous kharif season.
The funding was more symbolic than substantial but it focused national attention on the need to improve agricultural productivity in eastern India, particularly of rice, for which it is naturally endowed.
"BGREI is a very small scheme in the total gamut that we are trying to attempt," says Vijay Prakash, Bihar's agricultural production commissioner.
Bihar set a goal of matching the national average in rice productivity. It augmented the supply of non-hybrid certified seeds through state enterprises, got private companies to win over farmers to hybrids and encouraged the use of both with subsidies. Particular emphasis was laid on a technique called System of Rice Intensification (SRI).
Vijay Prakash, pronounces the mission a success. "We have caught up with the national average and we have gone a bit ahead," he says.
Not quite. Bihar's average rice yield, according to its economic survey, has risen from 1.28 tonnes per hectare in the three years ending 2008 to 2.36 tonnes in the 2011-14 period. India's average for the latter period was 2.46 tonnes.
Rice production touched a peak of 83 lakh tonnes in 2012-13 but decreased the following year because of bad weather. It was 54 lakh tonnes in 2000-01.
Uncertain monsoons have resulted in acreages under rice fluctuating as farmers take evasive action to minimise losses. Between the three-year periods ending 2008-09 and 2013-14, area under rice decreased by 10 percent. Kumar believes farmers will return to rice, if the shortage in key inputs, labour and water, are addressed. He is questioning the efficacy of SRI and propagating Direct Seeded Rice (DSR) as an alternative.
SRI is a labour-intensive method adapted from Madagascar. The seedlings are first raised in nurseries and re-planted manually when eight to 12 days old, with 25 cm of spacing between plants and rows. The space between the rows is puddled with a machine for water to stay. De-weeding is done with a hand-operated machine. The fields have to be alternately irrigated and dried.
Though SRI increases productivity, it leaves farmers worse-off, says a study. "Our finding says that under SRI, the yield advantage is higher by 10-15 percent over conventional paddy growing, and five to seven percent over DSR, but labour requirement and input requirement is high, (and) so net return in SRI is less compared to DSR and conventionally transplanted rice," says Raj Kumar Jat, an agronomist at the Borlaug Institute of South Asia in Samastipur. The institute has done a two-year comparative study of the three techniques of rice cultivation.
Though the shortage of agricultural labour is not as acute in Bihar as in some of the developed states, few people volunteer for the tedious work of transplanting. MGNREGA, the make-work scheme to relieve rural distress, is also an attractive option.
"Initially there was a very good response to SRI," says Prakash. But "labour becoming quite costly it is not picking up the way it should have". He says SRI is an important component of the mission to raise rice productivity, "but we are also looking into other types of inputs, like direct seeded rice".
SRI is a touchy issue because Chief Minister Nitish Kumar has been backing it.
Direct seeding is not unknown in this part of the country. Till around the middle of the last century, Bihar farmers used to sow a mix of green gram (moong), sesame (til) and rice seeds. That was a strategy for 'baad ke prakop se bachhne ke liye' (coping with the fury of floods), Kumar says. Now it is meant to cope with the fury of droughts.
Farmers gave up direct seeding and resorted to transplanting and rice paddies to cope with weeds. But the invention of low-cost selective and effective herbicide molecules has made DSR attractive once again.
"Even my dreams are those of DSR," says Kumar. His aim is to get a third of Bihar's rice acreage under direct seeded rice over the next five years. That is quite a stiff target. Currently, Bihar has about 33 lakh hectares under rice. About 40 percent of it is lowland and 10 percent deep water rice growing acreage, where DSR cannot be employed.
Will he be able to achieve it?
"Maa Bhagwati ke kripa se," (by the grace of Maa Bhagwati) replies the rice breeder, who has 10 varieties to his credit, including Rajendra Bhagwati, a long-grained scented variety.
(Vivian Fernandes is consulting editor to www.smartindianagriculture.in)
Lifestyle
Through this fortnightly column, Tales From TJ Road, Bachi Karkaria tells the story of Mumbai's metromorphosis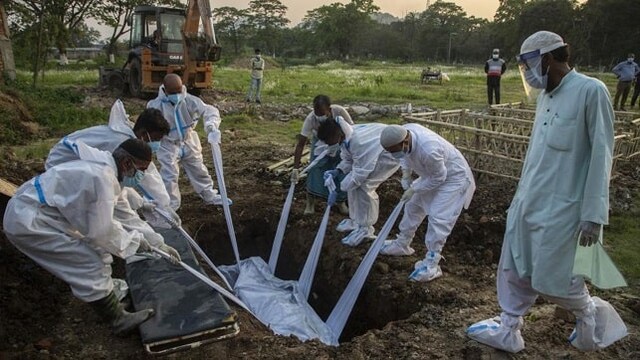 India
We are facing our worst moment in modern history, struggling to stay afloat. If we do not show courage and honesty to speak for justice now, we may never be able to recover compassion.
Politics
The ECI failed most notably in issuing detailed guidelines for campaigning activities and making sure they were followed