Nifty hits record high, rupee nears 1-year peak on PM Modi-led election wins
The assembly election wins are giving confidence on continuing political stability in the next term of Lok Sabha also, say experts
Key domestic equity indices opened with a bang in early Tuesday trade, with the benchmark Sensex scaling its 52-week high and the NSE Nifty hitting a record high after the BJP's stunning victory in the UP and Uttarakhand assembly polls for which the results were announced on Saturday.
Beating all the exit-poll predictions by a comfortable margin, the BJP won 325 seats out of 403 in Uttar Pradesh, and raced ahead in Uttarakhand by winning 56 out of 70 seats. In the remaining three states, BJP-Akali combine lost in Punjab, but remained well poised to form a government in Goa and Manipur.
These poll results seen as a prelude to the 2019 Lok Sabha elections gives the ruling NDA government an edge over its opposition parties, especially, post the desired results in the UP assembly polls which experts otherwise seemed skeptic in the aftermath of the government's demonetisation move in November last year.
At 11:30 am, the Sensex was at 29,454, up 507 points or 1.7 percent. Earlier, the index had risen 616 points to hit 29562.
Meanwhile, the NSE Nifty constituted by 50 shares breached the psychological 9,000-mark to hit a record high of 9,122.75, up 188 points from its previous close. At
Investors lapped up several Sensex stocks in early trade. Shares of ICICI Bank rose 5 percent, HDFC gained 3.4 percent, L&T moved up 3.7 percent, ITC added 2.1 percent and Asian Paints was up nearly 2 percent.
"The ruling party at the Centre got brutal majority in the state of UP which was unexpected. Since the UP state sends the largest number of members to Lok Sabha (also to the Rajya Sabha), this political event gives us some confidence on continuing political stability in the next term of Lok Sabha also," said G Chokkalingam, Founder & Managing Director at Equinomics Research & Advisory.
"This government, without any majority support in the Rajya Sabha, successfully passed the Insurance Bill and cleared GST Bill. It also took a bold move on demonetisation - though it did not bring in desired results, it shows its willingness to take some political risks for the sake of economic initiatives," said Chokkalingam.
The mint street was also buzzing in early trade with the rupee strengthening nearly to its one-year high at 66.17 against the dollar, up 43 paise over Friday's close of 66.60.
Select foreign brokerages, too, were upbeat about the prospects of benchmark indices, with CLSA expecting Nifty to sprint to around 10,350-12,000 level in the medium term, while Bank of America Merrill Lynch sees infrastructure spending boost in Uttar Pradesh, an NDTV report said.
Further, fund inflows via domestic institutional investors and foreign investors into the domestic equities have shown no signs of tapering off. While domestic institutional investors infused funds to the tune of over Rs 40,000 crore in the last six months, FIIs have been net buyers of local shares worth Rs 7,145 crore since 3 Februay when the state assembly elections began in five states.
However, a Bloomberg report suggests that reform pace may stagnate or reverse if the Modi government interprets the victory in UP as a reward for his demonetisaton exercise or his action towards several welfare measures in recent years.
India
Modi tweeted, "I pray for the good health and speedy recovery of Dr. Manmohan Singh Ji."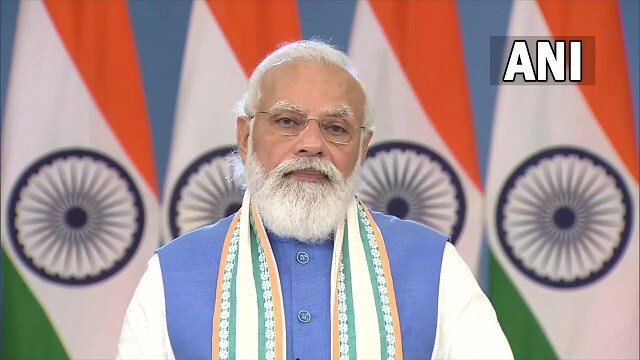 India
Indian Space Association (ISpA) represents homegrown and global corporations with advanced capabilities in space and satellite technologies
India
The 'annadata' narrative is slowly peeling off. Indians can now clearly see that beneath the costume of farmers exist many hardened criminals and anti-national elements