New North American trade deal would boost U.S. economy, U.S. commission finds
(Reuters) - The U.S.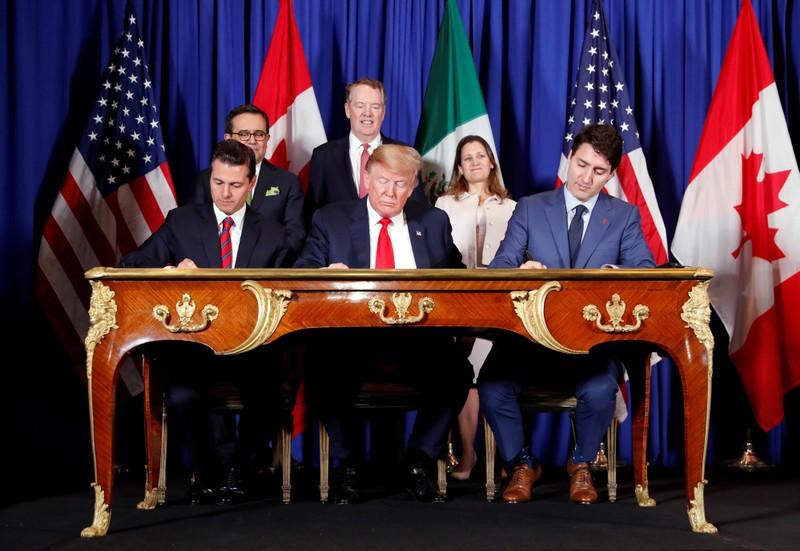 (Reuters) - The U.S. International Trade Commission estimated the proposed new North American free trade deal would modestly boost the U.S. economy but could reduce U.S. vehicle production.
The economic assessment of the U.S.-Mexico-Canada Agreement, released on Thursday, said the trade deal would increase U.S. real gross domestic product by 0.35 percent, or $68.5 billion, on an annual basis and add 176,000 U.S. jobs, while raising U.S. exports.
The report's estimates are for year six of the trade deal, once it is fully implemented.
Auto industry employment would rise by 30,000 jobs for parts and engine production, but U.S. vehicle production would decline in and U.S. vehicle consumption would be reduced by 140,000 units because of higher prices, or 1.25 percent of 2017 sales, the report said.
The report may give ammunition to opponents of the deal. The leaders of the three countries approved the deal last year, but it still must be approved by the U.S. Congress. The deal is a replacement for the more than two-decade-old North American Free Trade Agreement.
The auto industry had been a key focus of the deal for the Trump administration.
The report also found that 1,500 U.S. vehicle manufacturing jobs would be lost and the price of new U.S. vehicles would rise from 0.4 percent for pickup trucks to 1.6 percent for small cars.
Some automakers may decide "not to offer vehicles that would be too expensive to bring into compliance, which would ultimately decrease consumer choice," the report said.
President Donald Trump has touted the deal as boosting the U.S. auto industry employment, which could be a key 2020 campaign issue in some battleground states. In February, he said at his State of the Union address that the deal would "ensure that more cars are proudly stamped with our four beautiful words, 'Made in the USA.'"
(Reporting by David Shepardson, David Lawder and Chris Prentice; Editing by Leslie Adler)
This story has not been edited by Firstpost staff and is generated by auto-feed.
Find latest and upcoming tech gadgets online on Tech2 Gadgets. Get technology news, gadgets reviews & ratings. Popular gadgets including laptop, tablet and mobile specifications, features, prices, comparison.
World
HONG KONG (Reuters) - Hong Kong authorities threw a security blanket across the city early on Wednesday, the 23rd anniversary of the former British colony's handover to Chinese rule, hours after new national security legislation took effect in the financial hub. The contentious law will punish crimes of secession, subversion, terrorism and collusion with foreign forces with up to life in prison, heralding a more authoritarian era for China's freest city.
World
By Susan Cornwell (Reuters) - Former fighter pilot Amy McGrath said on Tuesday she was ready to take on Senate Republican Majority Leader Mitch McConnell after edging out a Black progressive to clinch the Democratic nomination for the seat.
Business
By Rodrigo Campos NEW YORK (Reuters) - A global stocks index rose on Tuesday and marked its largest quarterly gain since 2009 as investors continued to look for signs of an economic recovery while shrugging off data showing a rising number of COVID-19 cases. The possible return of Libyan oil production, which has been at a trickle since the start of the year, weighed on crude prices. World shares rose 18.7% this quarter, the biggest quarterly gain in 11 years, but are still down more than 7% so far this year due to a slump of 34% between Feb.