New North American trade deal would boost U.S. economy, U.S. commission finds
(Reuters) - The U.S.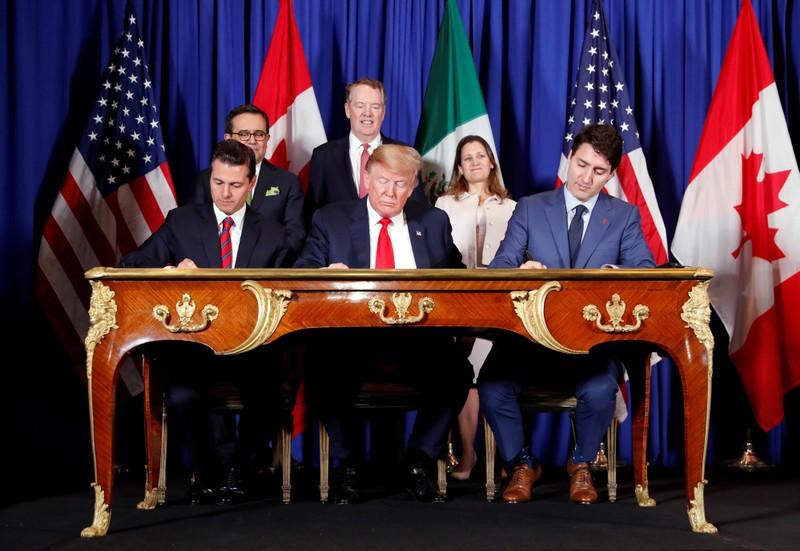 (Reuters) - The U.S. International Trade Commission estimated the proposed new North American free trade deal would modestly boost the U.S. economy but could reduce U.S. vehicle production.
The economic assessment of the U.S.-Mexico-Canada Agreement, released on Thursday, said the trade deal would increase U.S. real gross domestic product by 0.35 percent, or $68.5 billion, on an annual basis and add 176,000 U.S. jobs, while raising U.S. exports.
The report's estimates are for year six of the trade deal, once it is fully implemented.
Auto industry employment would rise by 30,000 jobs for parts and engine production, but U.S. vehicle production would decline in and U.S. vehicle consumption would be reduced by 140,000 units because of higher prices, or 1.25 percent of 2017 sales, the report said.
The report may give ammunition to opponents of the deal. The leaders of the three countries approved the deal last year, but it still must be approved by the U.S. Congress. The deal is a replacement for the more than two-decade-old North American Free Trade Agreement.
The auto industry had been a key focus of the deal for the Trump administration.
The report also found that 1,500 U.S. vehicle manufacturing jobs would be lost and the price of new U.S. vehicles would rise from 0.4 percent for pickup trucks to 1.6 percent for small cars.
Some automakers may decide "not to offer vehicles that would be too expensive to bring into compliance, which would ultimately decrease consumer choice," the report said.
President Donald Trump has touted the deal as boosting the U.S. auto industry employment, which could be a key 2020 campaign issue in some battleground states. In February, he said at his State of the Union address that the deal would "ensure that more cars are proudly stamped with our four beautiful words, 'Made in the USA.'"
(Reporting by David Shepardson, David Lawder and Chris Prentice; Editing by Leslie Adler)
This story has not been edited by Firstpost staff and is generated by auto-feed.
World
BAGHDAD (Reuters) - Rockets hit near U.S. forces and contractors in Iraq on Wednesday, including an air base north of Baghdad and a military base at Baghdad International Airport, the Iraqi army and security officials said. The army reported at least three rockets hit Balad air base, where U.S
World
By Silvia Ognibene and Silvia Aloisi FLORENCE, Italy (Reuters) -Italian police have arrested a Chinese couple accused of running a leather goods business which exploited immigrant workers it employed to make handbags for a Burberry supplier, according to an arrest warrant seen by Reuters. Tax police in Florence said in a statement that the two Chinese nationals were arrested on Wednesday as part of an investigation into alleged labour exploitation and tax fraud and that restrictive measures had been imposed on two other family members, including a ban on them leaving Italy
World
WASHINGTON (Reuters) - The United States on Wednesday blacklisted four Nicaraguans, including a daughter of President Daniel Ortega, as Washington warned it would continue to use diplomatic and economic tools against members of the leftist government engaged in repression. The U.S. State Department called on Ortega to release detained presidential candidates as well as other civil society and opposition leaders arrested over the past week in what Washington called "an increasing wave of repression." "There are costs for those who are complicit in the regime's repression.