Never give up, take risks, hire best talent: Business lessons from Bhavin Turakhia
Bhavin Turakhia, who started Directi with his brother Divyank, says his goal is not to make money, success or attain fame. The focus is on making a difference in people's lives.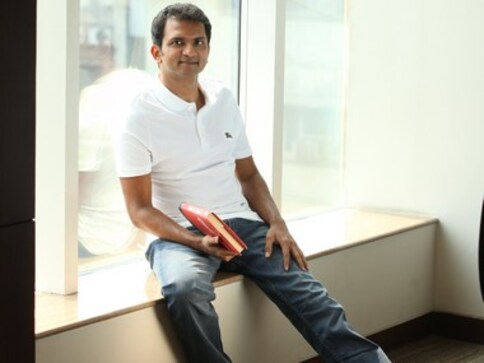 Success Quotient is a weekly feature on Firstpost, which looks at the pains and joys en route to success for a head honcho - whether a CEO, MD or an entrepreneur. The column looks at the ideas that helped launch a company, its highs and lows.
Bhavin Turakhia, Co-Founder and CEO of Directi group, and his brother Divyank were in the news for having sold off their adtech firm, Media.net, to a consortium of Chinese investors for an astounding  $900 million biggest-ever all cash deal.
Thirty-six-year-old Bhavin has been a tech wizard since he was a 12-year-old. Success has been a way of life for him. As a 15-year-old, he set out on a journey to be an entrepreneur and he went down that path on his own with the help of books that he pored through which were not part of his syllabus.
The pride he takes in what he and his brother Divyank have created is that it has matched his goal; to make a difference in the domain.
Excerpts from the interview:
How did you develop a passion for computers? Especially given that you were the sole student in your school to pursue it in the computer laboratory?
I loved computers which I was introduced to in school as part of the curriculum. I wanted to learn about them and requested my teachers to allow me to spend time in the laboratory after school, too. The classes were over at 4.30  but I was allowed to spend two hours in the library. My teachers were kind. The fact that I went to boys-only school also helped. There was no distraction.
I was also and am passionate about math, science, logic, reasoning, quiz.  A computer program is about rules, logic, math, etc. I found my passion early in life and was clear that I had to do something in the space of computer science.
My dad, a chartered accountant, bought all those expensive bulky tomes on computers that I wanted to read. My parents are very encouraging. Acing exams was not an issue. I finished my final year school exams with very good grades and the next step was to join Ruparel College as it was a good place to study science and prepare for IIT entrance. I did very well in Class XII but found that the pace of a classroom curriculum was slow. I was not interested in becoming an engineer. That is just a means to an end and I felt spending time to get that degree was a waste of time. Taking a job was never an option.
As a 16-year-old, I sold computers and programs. I made as much money as I spent. There were no losses. I joined Sydenham College and a few months later wanted to drop out. My mother, however, would not agree to it.
So formal education was not for you?
To be honest, I found the curriculum for engineering foundational. Learning is very essential but how you go about it is up to you – either formal or non-formal. I believe, if you want to be successful, you need to go beyond the prescribed curriculum which is the only the base of the foundation. I have learnt a lot my way - writing codes and product development - through reading books and meeting people. I have learnt negotiating as a 15-year-old selling computers going door-to-door. I was always heard by people twice my age.  I was a crazy optimist and kept going at every difficult computer program. At some point I would crack it. I have spent a good time between 6th and 10th grade through those big computer books.  I would pick up a book, read and learn about the program and manipulate or tweak it.
I also devoured biographies of founders of successful companies. So I have read all the books on Apple, IBM, Chrysler. I love biographies as I find them inspirational. It tells you that everyone goes through ups and downs in life and how they deal with the tough times. I love to read biographies.
You made money early on in life?
I would say that there were no losses. More than the money, the people and contacts I made helped when I set out to formally start a company.
When did you start up?
I started off with a web designing firm which I registered in 1994. My dad gave me a flat where I could work. I built my web designing firm there. None of this was on account of formal education. I was the only one in my school or college to do this. I was around 17 years old then.
Divyank and I started Directi in 1998. We now have 1,500 employees and the valuation is $1.5 billion. It is completely bootstrapped and there is no debt. I borrowed Rs 25,000 from my dad to start it. I paid that amount back in a few months' time. What sets us apart is that all the companies in the group continue to be profitable. It is a rare thing in this space. Every company started by us or bought was through cash. No bank loan was ever taken. We launch a new business every few years.
What is the new business you are now focusing on?
I am focusing on biotechnology which will be the next business opportunity globally. My brother is focused on the online advertising  business. When business is self sustaining, I spent 8-9 months studying a new space and figure out if we can do something there.
How is it working with your brother as your business partner?
My brother is amazing.  It would be 10 times more boring if we did not start together. Divyank is brilliant and very sharp. We divide our work. We are in different countries around 70 percent of the time and are together for just one or two weeksr. However, we both have the same focus and goal and there are no clashes. We also arrive at the same conclusion. Our goal is not to make money, attain success or fame. We are focused on making a difference  in people's lives – our employees and customers. Money in our scheme of things is irrelevant as that is not our goal.
What are the entrepreneurship lessons that you have learnt from your experience and the biographies you have read?
Never give up. Parents are always talking about safety and encourage children to take up safe career options. Culturally, we are a safe country and risk-averse. I was fortunate that my parents encouraged me to make mistakes and learn from them. If we fail, it is a bonus. I can't think of any big successful entrepreneur who hasn't failed.
Hire the best talent. You can't create an art piece with average artists. There should be no compromises on talent. We hire the best at Directi. The kind of success we have achieved is an example of a company that started from scratch with no investment. All the companies in Directi are successes. We can't build this company single handed. People in the company are smarter than me.
What are your future plans?
I am passionate about causes. Eventually I want to use capital for education and healthcare. Corporate social responsibility has to be sustainable. I want to create a platform that will make a difference in these two sectors (education, healthcare) and generate revenues. It will be not for profit.
What do you do when you take a break from work?
I indulge in many hobbies. I go scuba diving, surf and also play table tennis. I had a snowboarding accident and the bones on my left hand broke into six pieces. But nothing ventured is nothing gained.
Business
According to the report, India will need about Rs 162.5 lakh crore, or roughly Rs 11 lakh crore per year, from 2015 to 2030 to meet its Nationally Determined Contributions under the Paris Agreement
Business
Sovereign Gold Bonds are issued by the Reserve Bank of India multiple times a year, on behalf of the Indian government, as substitutes for holding physical gold
India
"These numbers tell the power of a vision. A vision to see innovation and enterprise drive growth," he said