Narendra Modi in Washington, DC: PM charms CEOs, diaspora with ease but tough tests lie ahead
The easily excitable diaspora admittedly didn't need too much convincing of 'Modi's greatness', yet the intensity of their enthusiasm and choice of topics in the prime minister's speech threw up some interesting takeaways.
It has been roughly 24 hours since Narendra Modi set foot in Washington and his skills as a master communicator are once again plainly evident. Two events on Sunday where he interacted with vastly different audiences — America's top CEOs and representatives of the Indian disapora — reflect the practiced ease with which the prime minister can charm his listeners.
Some of the most hard-boiled businessmen came out purring after the Willard Hotel round table with Modi. The easily excitable diaspora admittedly didn't need too much convincing of 'Modi's greatness', yet the intensity of their enthusiasm and choice of topics in the prime minister's speech threw up some interesting takeaways.
The so-called similarities between Modi and Donald Trump have been a topic of much discussion. A spate of articles has predictably emerged ahead of their maiden face-to-face meeting. The similarities are grossly exaggerated and in fact, are quite misleading. In their background, personality, road to power, administrative experience and acumen, lifestyle, ideology, beliefs and leadership approach, Modi and Trump are as similar as chalk and cheese. Most articles that project Modi and Trump as each other's 'mirror image' are poorly conceptualized and lack in basic interpretation of facts.
One similarity, though, is hard to miss — their distrust of mainstream media. Once again, both have taken vastly different approaches to dealing with it: Modi generally avoids the media whereas Trump enjoys locking horns with them. But both leaders display an underlying belief that media is "unfair" to them and scribes try everything from "misleading public" to "fabricating facts" to deny them the credit they deserve.
It is interesting to note that both leaders have indicated they won't take questions post their tête-à-tête on Monday followed by a joint statement. This is an obvious attempt to manage the headlines and keep those focused on the outcomes of the meeting than on areas of friction.
It is here where Trump and Modi show a remarkable similarity. Arising out of the belief that they are regularly targeted by a media which invents fake news and tries to undermine their effort, both leaders make extensive use of social media and speak to their bases at every given opportunity.
A brief look at Modi's topics of discussion at Ritz Carlton where he met around 700-odd members of Indian diaspora reveals this pattern. The prime minister, looking visibly jet-lagged, started off by addressing the NRIs as his family members and soaked in the raucous applause. In picking up the Ujjwala scheme of distributing LPG cylinders to the poor, opening up of bank accounts, neem-coating urea for farmers and surgical strikes, the active effort to portray himself as a man of action who is out to transform India was evident.
None of these are new and in fact, have been repeated ad infinitum by Modi at various fora but in repeating his achievements, the prime minister feels he is performing two important functions — addressing the sense of fulfillment in NRIs and reinforcing his effectiveness to an audience back home.
Modi understands well enough the psyche of Indian Americans. This is an extremely successful bunch of immigrants whose political clout is beginning to match their considerable financial clout and they are increasingly finding themselves in a position to have a greater say in US domestic politics and foreign policy.
Modi considers them an important part of his tool to shape America's outlook towards India. In order to woo them, Modi appeals to their pride — the one area where they are vulnerable, having originated from a country considered a laggard in every parameter of prosperity and development index.
The prime minister tries to place himself as a change agent who will finally deliver the India which they associate themselves with pride. "I promise that I will fulfill your dreams of the kind of India that you wish to see in your lifetime," drew riotous applause. His reference to surgical strikes: "When India conducted surgical strikes the world experienced our power and realised that India practices restraint but can show its muscle when needed," was yet another example.
Modi also narrated the story of Uzma Ahmed, an Indian national trapped in Pakistan before being rescued by a proactive ministry of external affairs, carried forward this theme of a government that cares and one that is untainted by corruption — a point he made at length. Overall, the effort was to hammer into shape the image of a transformational leader who is working hard to make dreams possible.
During his interaction with America's top CEOs, the same theme was reinforced — albeit in a markedly different style. Modi, according to reports, took copious notes when business leaders such as Sundar Pichai (Google), Tim Cook (Apple), Jeff Bezos (Amazon), Jamie Dimon (JP Morgan Chase), Shantanu Narayen (Adobe), Ajay Banga (Mastercard), Doug McMillon (Walmart), Alex Gorsky (Johnson and Johnson), Marillyn Hewson (Lockheed Martin), among others were holding forth on their experience of conducting business in India.
The PM reportedly showcased GST as a 'game changer'. He claimed that GST is a crucial part of the 7,000 reforms undertaken by the government to increase 'ease of doing business' and stressed hard on the digitization of Indian economy. Modi's job here was to show that India isn't really the protectionist regime that it is touted to be, but a place friendly for business and an opportunity willing to be tapped that will ensure inclusive growth in India and will be mutually beneficial for both countries.
"Growth of India presents a win-win partnership for India and US, both. US companies have a great opportunity to contribute to that", Modi reportedly said.
It is unrealistic to expect that top American business honchos will have bought readily into the image that Modi portrayed of India — there are too many variables at work — but he seems to have already made a mark.
Jamie Dimon, the CEO of JP Morgan Chase who is counted among world's most influential bankers, appeared effusive in Modi's praise. While talking to Shereen Bhan of CNN News 18, he called Modi an "action-oriented man who has a great eye for detail" and expressed his optimism about India.
#ModiInUS: He is very action oriented.We are quite optimistic about India: Jamie Dimon, CEO, @jpmorgan to @ShereenBhan about meeting PM Modi pic.twitter.com/2pXCL5X2i4

— News18 (@CNNnews18) June 25, 2017
Google CEO Sundar Pichai described the interaction as "very good". According to a report in India Today, he said: "The prime minister was looking for insights into how India can attract more foreign investment and I think there were many, many good ideas to discuss… Everyone is excited to more invest in India and I am excited we can all do it together."
Pichai, according to the report, made special mention of GST. ""We are all looking forward to the July 1 rollout. I know it has been a very difficult thing to so. So, I am excited to see it happen. It shows that you can achieve reform by pushing hard for it and I hope its just the beginning."
Modi's role as an inspirational leader and a master communicator is well-documented. Where his role is still up for evaluation is implementation of big ideas and his ability to transform his vision into reality. The effusive praise of diaspora and the hope and expectations that he managed to raise among business leaders in America will evaporate if he fails to bring about the changes that he talks about. Many of these changes will need tough resolve and political risk-taking of a kind Modi has shown he is still loathe to take.
Arts & Culture
The idea in these polarizing times is that if enough people start talking, they'll find common ground or at least realize that they don't need to be in warring camps because they vote for different people, said Mizell Stewart, Gannett's vice president of news performance, talent and partnerships.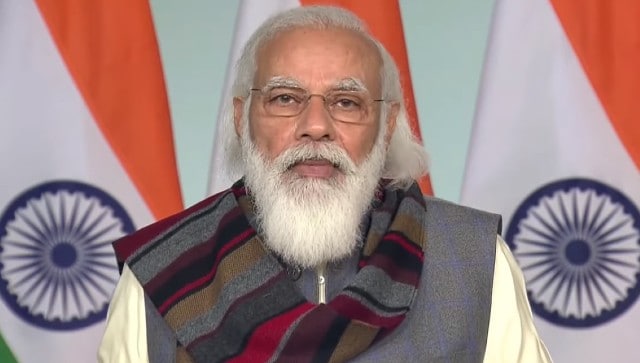 Sports
He also offered his best wishes to the Indian contingent for the Tokyo Olympics that will begin on 23 July and noted that it consists of the country's finest athletes.
India
The resounding success of the Aspirational Districts Programme is a testament to the efforts of the national, state and district level administrations