Ruchir Sharma, head of emerging markets and chief global strategist of Morgan Stanley Investment Management, doesn't seem to take India's gross domestic product (GDP) numbers at face value.
"I think India's GDP data is overstated," Sharma told news agency, IANS. And the reason why Sharma thinks so has enough reasons for the Narendra Modi-government -- which is into the third year of its term -- to reflect upon where it might have gone wrong in achieving a convincing growth in spite of India's edge over its peers.
India's GDP growth, Sharma finds, lacks the critical boost of private investments and is largely supported by government spending.
GDP numbers
India's economy grew at 7.6 percent in the fiscal year 2015-2016, the fastest among the world's major economies. At 7.6 percent, India even beat the China that grew 6.7 percent in the first quarter of 2016 giving a boost to the Modi government and adding colour to the Prime Minister's numerous foreign trips.
In fact, Sharma isn't the first person to turn skeptic on India's GDP numbers. The skepticism took root long back when India revised its GDP calculation methodology in January 2015 and the base-year for calculation. The revision of base year to 2012 from 2005 and the shift to a market-price-based model instantly pushed up the 2014-2015 GDP growth to 6.9 percent from 4.7 percent under the old methodology.
Though the new model was brought in to align the GDP calculation with international practice comprising more data from corporate sector, household spending and informal sector movements; there was widespread skepticism on account of a protruding disconnect between headline GDP numbers and an array of high-frequency growth indicators such as factory-output, bank credit growth and tepid growth in the manufacturing.
The prominent GDP doubters included Reserve Bank of India Governor Raghuram Rajan and even the government's Chief Economic Advisor (CEA) Arvind Subramanian.
"There are problems with the way we count GDP, which is why we need to be careful sometimes just talking about the growth," Rajan said in January, 2016, creating flutters among the right-wing intellectuals and within the BJP-government.
Subramanian  too has taken a cautious stand while looking at the GDP numbers saying the numbers are 'puzzling'.
Sluggish private investments
The reason highlighted by Ruchir Sharma for his lack of conviction on India's growth numbers — low private investments — should worry the Modi-administration.
The CEA too had highlighted this problem in the 2015-2016 economic survey. Realising that private investments are unlikely to pick up in the near future, Subramanian had then prescribed ramping up public spending as a way to offer in the initial phase. This could in turn spark private investments, he felt.
In the survey, Subramanian had cautioned that an immediate challenge confronting the Indian economy was the twin balance sheet problem — the cracked balance sheets of the country's public sector bank (PSBs) and some corporate houses. These two constraints have since only worsened. State-run banks are sitting on 11.5 percent stressed assets, desperately needing a government bail-out while corporate recovery has been slow.
Absence of private sector investments takes the sheen away from the 7.9 percent growth story. If one takes a closer look at the 2015-2016 GDP numbers, one can see that growth has primarily come from improvement in private consumption not fresh investments. Private consumption grew by 7.4 percent in 2015-16 as against 6.2 percent in 2014-15, with its share in GDP improving to 59.5 percent from 57.6 percent in 2014-15.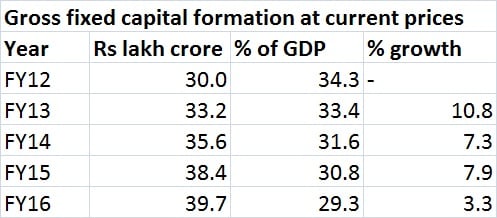 For the full year, gross fixed capital formation (GFCF - which denotes capital investment in the economy) has grown by 3.3 percent compared with 7.9 percent in the previous year. GFCF figure indicates the actual investment activity on the ground during a specific period.
As a percentage of GDP, the GFCF has dropped to 29.3 percent from 30.8 percent in the preceding fiscal, indicating a clearly weak investment scenario. This is something Modi has to take note pf while looking at the high GDP numbers.
Growth-inflation link
Sharma's second point, is even more critical and this is where he strikes a chord with Raghuram Rajan who has long argued that lowering inflation is critical to ensuring sustainable growth. Sharma agrees with this part. "One thing we really underestimate is how much a killer high inflation can be for a government. Because that really hurts the poor the most," Sharma said.
One of the key areas that pitted Rajan on a collision course with the Modi-government and made him the target of a section of BJP leaders, including Subramanian Swamy, is his reluctance to cut rates for a prolonged period. Rajan's opponents criticised him for 'wrecking the economy' by keeping the interest rates high.
"There is no economy which does well with high inflation rates. So, you know all miracle economies. In these countries, inflation rates were below emerging market economies' average," Sharma said.
In this context, Sharma's comments vindicate Rajan's monetary policy course and argument. Since 2015, Rajan has cut RBI's key policy rates by a total of 150 basis points. But, his battle on inflation is far from over with the figure inching closer to 6 percent in May as against RBI's March 2017 target of 5 percent and medium term target of 4 percent (+/-2 percent).
Does Sharma think Modi is a failure? Certainly not. His views are more realistic when he observes that the Modi-government could have done better with the huge majority gifted to it by the electorate in May 2014.
"Compared with what we expected, it is a little disappointing. But the incremental reforms are better (in India) than many parts of the world where there are no reforms," he says. "But there has been a huge increase in FDI. Among the major economies, India is at the top." He also warns against the country's increasingly high protectionist measures that could turn off investors.
Modi has been successful in tackling crony capitalism. "That is something I find positive."
In Sharma's words, India disappoints both the optimists and pessimists.
Reform block
Just last week, Sharma had commented that he no longer had any 'great' expectations on economic reforms from the Modi government as the best time for major policy initiatives is the first two years of a new government.
Sharma has a point. The Modi-government was indeed in a sweet spot during its first year. To be precise, till the Delhi elections, when the opposition was weak. "The government could have done what it wanted to do, according to me. After Delhi elections, the opposition got galvanised," said Sharma.
Sharma's comment comes at a time when the BJP-government is trying hard to get support for the crucial Goods and Services Tax (GST) Bill in the ensuing monsoon-session.
Modi, in his recent interview to Times Now, claimed that he is hopeful of getting the Bill passed. If that happens, Modi could very well prove Sharma wrong.
Updated Date: Jul 04, 2016 15:27 PM