Nandan Nilekani appointed as non-executive chairman of Infosys; Vishal Sikka and four other resign from board
Nandan Nilekani has been appointed as a non-executive, non-independent chairman of Infosys on Thursday after chairman R Seshasayee and co-chair Ravi Venkatesan resigned on Thursday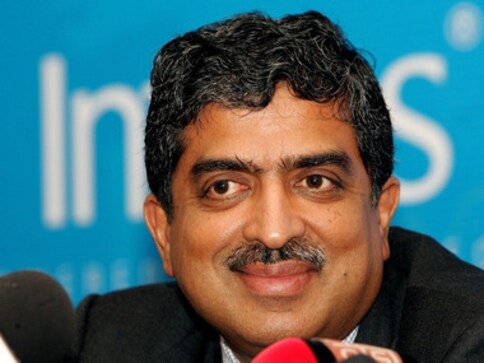 Nandan Nilekani has been appointed as a non-executive, non-independent chairman of Infosys on Thursday after R Seshasayee and Ravi Venkatesan resigned from their posts of chairman and co-chairman, respectively on Thursday.
Vishal Sikka, Infosys' first non-founder CEO, who had resigned last week citing slander by founders, also resigned from the board along with Jeffery S Lehman and John Etchemendy. Their resignations have been accepted, PTI said.
The development comes after 12 domestic institutional investors wrote to the company asking it to bring back Nilekani, who was its CEO earlier. He had quit Infosys in 2009 to head UIDAI after the UPA government gave him the mandate for the controversial Aadhaar project.
"The recent developments (Sikka's resignation from the post of CEO) concern each one of us," the investors, comprising large mutual funds and insurance companies, had said in their letter, adding Infosys should consider inviting Nilekani to the board in a "suitable capacity," according to Reuters.
"Given his credentials, we feel, that his joining the board at this stage, will restore the confidence of stakeholders in the company and also facilitate resolution of the contentious issues that Infosys is facing presently," the letter had stated.
The investors, who had written the letter, included HDFC Asset Management, ICICI Prudential Asset Management, and Birla Sun Life Asset Management. They together own 10 percent in the company, while the promoters and their families own 12.75 percent.
Earlier on Thursday, TV Mohandas Pai, a former chief financial officer (CFO) of the software giant, had said that all the co-founders would collectively take a decision on the return of Nilekani, a co-founder, to the Bengaluru-headquartered IT firm.
"The major investors are talking to Murthy to come to a conclusion on how the company has to be managed in the future," Pai had said.
Even Infosys ex-CFO V Balakrishnan had favoured bringing in Nilekani as the chairman of the company, saying his experience and understanding of clients made him a "good face" to lead the organisation in the current situation.
Speaking to PTI, Balakrishnan had said that given the current situation, the board should consider getting Nilekani at the helm and asserted that the current chairman (R Seshasayee) and co-chairman (Ravi Venkatesan) need to step down.
"Nilekani is a good global face and is very respected. Moreover, he has worked on large government projects such as Aadhaar. He has the right credentials to come to the board," Balakrishnan had told PTI.
Last week, the Infosys board had issued a stinging statement blaming co-founder NR Narayana Murthy for Sikka's resignation. Infosys has said it will find a CEO replacement by this year-end.
With inputs from PTI
Business
Infosys has sent out an email to its employees warning them against moonlighting, saying it could lead to termination. The practice of taking up a second job during or outside of regular office hours is on the rise in the tech industry, especially with work from home
World
Google under Pichai has made massive investment in India and phenomenally expanded its footprint in a wide range of sectors including its training to the younger generation
India
During his interaction with young entrepreneurs and students at the Indian Institute of Management - Ahmedabad (IIMA) on Friday, Murthy expressed confidence that young minds can make India a worthy competitor of China, the world's second largest economy