Mumbai, Delhi, Chennai, Bangalore can save $7.2 bn annually by going digital, says TR Ramachandran of Visa
Cities can undertake targeted financial literacy programs to help bring the unbanked into the banking system
It is no secret that cash is expensive and inefficient to manage. The high cost of cash stems from significant cost of time, effort and resources, operating and maintaining infrastructure, cost of cash withdrawals, moving and managing cash. Indian banks are estimated to face a total of Rs. 21,000 crores in annual currency operations costs. Costly to produce and manage, currency printing costs alone in India has more than doubled since last year to ₹7,965 crores in 2016-17 (July-June).
A recent Visa study conducted last year had identified cash transactions leaving a 1.7 percent negative impact on the gross domestic product. Cash causes a lot of friction in the payment system and it clearly doesn't augur well for driving transparent governance and financial inclusion. Yet, 85 percent of the world's transactions are still done in cash, lowering the productivity of our cities.
Quite clearly, the shift towards a less cash economy is no longer an indulgence but a necessity. And the first step towards a digital economy should commence with our largest cities that account for a major share of the country's economy. There is enough evidence to suggest how this approach could work wonders for cities and in turn countries around the world.
According to a recent study by Roubini ThoughLab, commissioned by Visa, Cashless Cities: Realizing the Benefits of Digital Payments, conducted across 100 global cities - embracing digital payments can save the four India metros -- Mumbai, Delhi, Chennai and Bangalore $7.2 billion in annual savings. Globally, the annual savings for the 100 cities were to the tune of $ 470 billion. Besides the annual savings, the study also estimated an average of over 5 percent impact on each Indian city's GDP on account of adopting digital forms of payments. That's incentive enough for governments and businesses to take note of.
And there could be no better place to start the crusade against cash than India. Personal consumption expenditure in India accounts for about 60 percent of its GDP. In dollar terms, it is about a trillion dollars, with just 8 percent of that is digital. Needless to add, a significant part of this is spread across India's largest cities. If digitalisation was to increase in India by just 10 percent, then the estimated cost of cash would reduce to 1.5 percent of GDP, which translates into savings to the tune of $65 billion by 2022 alone. Undoubtedly, India offers the single-largest cash displacement opportunity anywhere across the world.
The government's focus towards driving digital payments penetration has certainly been a catalyst over the past year. The nation ramped up its digital adoption to a scale that in normal course would have taken us another four years to achieve. Market reports predict the digital payments industry in India is growing by 10 times to touch $500 billion by 2020, contributing 15 percent to the GDP.
Penetration of smartphones, the entry of non-banking institutions offering payment services, consumer readiness to adopt digital payments, along with progressive changes in the regulatory framework will further enable the economy and empower commerce to flourish. But key to this drive would be our cities active role in adopting and endorsing a digital future.
And unlike popular perception, it isn't too difficult for cities to adopt a less cash approach. Case in point being the Government of Andhra Pradesh and Visa's joint initiative to transform Vizag into a less cash city. Over a six-month period, the project has been able to extend open loop digital payment options for services such as transport solutions, electricity payments, utility payments and government bill payments.
A similar approach is being adopted in our association with the Rajasthan government to expand the digital footprint for government services through BharatQR. A clear learning has been the success governments enjoy as they digitise basic consumer services in the field of transport solutions and utility bill payments.
The benefits of lowering the use of cash by shifting to alternate digital payments include savings in time for consumers and businesses, reduced cash-related crime, increased business sales, greater efficiencies and increased tax revenues for governments. Greater adoption of digital payments could boost productivity by reducing the amount of time spent on payments. This boost can act as a catalyst to economy, increasing GDP growth, creating additional jobs, increasing wages and productivity in our cities.
Cities are the new engines of economic growth and prosperity. Today, over half of the world population lives in cities. By 2050, this number will increase to two-thirds. Currently, over 80 percent of global economic activity takes place in cities and it is expected that the vast majority of future economic growth will come from cities. According to UN, India will have 7 megacities by 2030. With many Indian cities set to become larger than most countries, embedding digital payments into the DNA of the cities can pay huge dividends.
So what more can cities and governments do to help usher in a cashless culture? Cities can undertake targeted financial literacy programs to help bring the unbanked into the banking system and offer secure digital payment solutions for government benefits to those that do not have bank cards. We must support innovative approaches to risk management and ensure that digital payments are a key component to all smart city plans and strategies.
Implementing secure open-loop payment systems across all transportation networks and contactless payments can reduce commuter pain and make our cities sustainable. By expanding the acceptance infrastructure across our cities, energizing innovative methods of payments, and bolstering financial participation through stronger, open collaboration, we can push our cities towards being a digital leader in times to come.
(The author is Group Country Manager, Visa, India & South Asia)
India
The directions will not impact existing Mastercard customers, but onboarding new credit, debit and prepaid card customers will not be allowed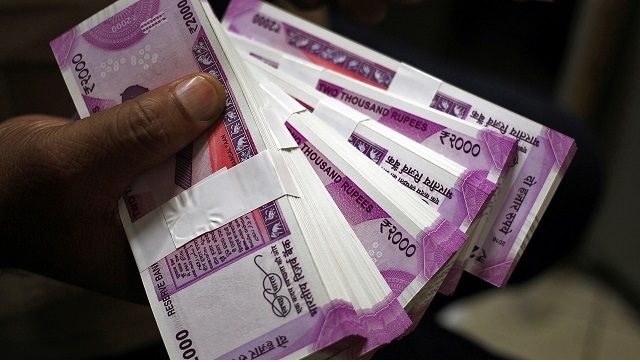 Business
At the interbank foreign exchange, the domestic unit opened at 74.49 against the dollar, then inched higher to 74.44
India
Meghalaya MP Agatha Sangma said in a letter to Amit Shah that the case appears to be an 'orchestrated homicide, which requires investigation of highest order'