MUDRA can help create employment in Haryana, but the govt seems to be sleeping on the job
The MUDRA scheme, launched under PMMY in 2015, provides low-interest loans to micro-finance institutions (MFIs) and non-banking financial institutions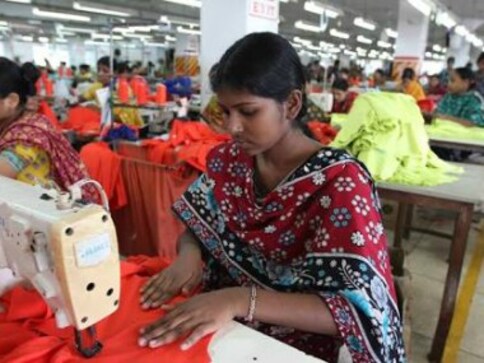 Ambala, Haryana: Neetu Chauhan, 25, a resident of Biswameel village in Haryana's Sonepat district, was finding it difficult to make ends meet with her husband's monthly income of Rs 8,000. She wanted to supplement the family income, but her modest education didn't provide her many job options. Driven by her desire to become self-dependent, Neetu thought of utilising her stitching skills to make some money.
In 2014, she opened a small stitching centre for women in her village by availing a loan of Rs 10 lakh from the Prime Minister's Micro Units Development and Refinance Agency (MUDRA) scheme. Today, she not only supports her own family, but also employs 600 women in her village. "I started with training a handful of women. The number has risen to 600 in less than four years. Our profit margins have also increased. All this was possible because of the loan I received under MUDRA," she says.
The MUDRA scheme, launched under the Pradhan Mantri Mudra Yojana (PMMY) in 2015, provides low-interest loans to micro-finance institutions (MFIs) and non-banking financial institutions, which in turn offer collateral-free loans between Rs 50,000 and Rs 10 lakh to micro, small and medium enterprises (MSMEs or small borrowers) to enable them start their own businesses and turn into job providers instead of job-seekers. The MUDRA scheme offers three types of loans — Shishu (up to Rs 50,000), Kishore (Rs 50,001 - Rs 5 lakh) and Tarun (Rs 5-10 lakh). It also ensures that its clients do not fall into indebtedness and lend responsibly. Both public and private banks offer loans under the scheme.
Haryana gets a tiny share
MUDRA is said to have helped 58 million small entrepreneurs, but industrialised states have been the major beneficiaries — Karnataka, Tamil Nadu, Maharashtra, Uttar Pradesh and Madhya Pradesh top the list of loan disbursement under MUDRA. Until September last year, loans worth Rs 3.42 lakh crore had been disbursed to over eight crore people under the scheme, a report by SKOCH said. In the 2018 budget, Rs 4.6 lakh crore has been sanctioned under the MUDRA scheme and a target of of Rs 3 lakh crore has been set for the next fiscal.
Haryana lags behind in implementation of the scheme and it is among the bottom few states with less than Rs 5,000 crore disbursement. The amount disbursed rose marginally from Rs 3,152 crore in 2015-16 to Rs 3,697.59 crore in 2016-17. The sanctioned amount itself is low in Haryana, as 96.20% of the amount was disbursed here in 2016-17.
The following table shows the total amount disbursed in the year 2016-17 in Haryana:
Category
Total accounts
Amount sanctioned (in crore)
Amount disbursed

(in crore)

Total
716,622
3,843.53
3,697.59
Shishu
652,844
1,499.67
1,460.35
Kishore
47,513
1,050.82
992.53
Tarun
16,265
1,293.04
1,244.91
Not enough awareness about scheme
Haryana, which has the second-highest unemployment rate (14.1%) in the country, could benefit a lot from MUDRA, but there isn't enough awareness about the scheme in the state. Amod Singh, who runs a water-motor manufacturing business in Sonepat's Jakhauli village, says, "I have taken a loan from the bank for my business, but I've never heard of MUDRA." Anil Kadyan, 54, who runs a small quilt-making business, also does not know about the scheme. "I have not heard of any such scheme. But now that I've heard about it, I will explore it," he says.
Besides, people find it difficult to avail of loans under MUDRA as the process is cumbersome, the paperwork is complicated, and loan-seekers need to visit the bank many times. Pradeep Kumar, an employee of the government-owned UCO Bank, says, "People find the procedure difficult as it requires submission of a business plan and a machinery quotation along with several other documents. It usually takes up to a month to apply for and get a loan."
Dr Ranjan Aneja, a professor of economics at Central University of Haryana, says, "Even educated people find the process tiresome. How can one expect from an uneducated person to apply for such loans? They will simply go to local moneylenders, where they don't have to bother with process and get the money in no time."
He adds that the real reason behind the lack of awareness about MUDRA is that banks don't promote the scheme as they don't want to give collateral-free loans at low interest rates. "Banks are concerned about non-performing assets," says Aneja, who has been working on a project on the evaluation of MUDRA in Haryana.
Besides, no assistance is provided to loan seekers. "In order to increase awareness, posters should be stuck at public places. The government can provide funds to universities and other educational institutions and make people aware of the scheme through social outreach programmes. To ensure proper functioning of the scheme, the government should also fix targets for bureaucrats," he says.
Great tool for job creation
Raghavendra Rao Piduru, additional chief secretary for the Finance and Planning department, Haryana, says the government is working closely with banks to make the scheme popular. "MUDRA is particularly important to develop entrepreneurship amongst the citizens. The government has been taking necessary steps to raise awareness among people," Piduru says.
A report by NITI Aayog states that India has witnessed the slowest job creation in the formal sector in almost a decade. The same report has also identified MUDRA scheme as a great tool for job creation — it reportedly helped in creating 5.5 crore jobs in the country.
Economists believe getting loans under MUDRA could help small entrepreneurs save their businesses, which often fail in want of subsidised fundings. "There are approximately six crore small enterprises in India. The failure rate of these enterprises is 40 percent. Entrepreneurs from informal sectors borrow funds from local lenders at a very high interest rate. So, MUDRA can be an important scheme for such entrepreneurs. It can help 13 crore people involved in small enterprises borrow money from banks and MFIs on a low interest rate," said Ranjan.
But for MUDRA to realise its full potential in helping small entrepreneurs and in job creation, the Indian government needs to make renewed efforts to promote and implement the scheme.
(Poonam Verma is a Haryana-based freelance writer and a member of 101Reporters.com, a pan-India network of grassroots reporters)
Politics
While the ruling BJP-JJP alliance as well as the Aam Aadmi Party are fighting the polls on party symbols, many Congressmen have entered the fray as independents
Education
This year, a total of 3, 68,000 students had enrolled themselves for class 10 exams, while 2, 90,000 students had registered for class 12 exams. The Haryana Board had also reduced the syllabus by 30 percent this year.
India
There have been protests against the Agnipath scheme in many parts of Haryana and a few parts of Punjab in the past few days