Farm misery has been of much interest across various stakeholders before this year's announcement of minimum support prices (MSP) for Kharif  2018, for which sowing began in the last two to three weeks. That interest seems to have been justified with the announcement of a minimum rate applicable for various crops, last afternoon.
The debate will now be largely around how much of an increase has happened over the previous year's support prices and a dissection of the relative benefits accruing to various crops. Also, there would be much speculation on linkages the move would have on state elections due in the coming months.
We take a different perspective and choose to look at the new rates against the benchmark of cost of production of different crops. The last publicly available Cost of Production numbers from the Commission for Agricultural Costs and Prices (CACP) is for the year 2014-15 and we have considered that for this analysis.
Being more of a distress alleviating device, than an income generating scheme, the correct benchmark would be with the (variable) out-of-pocket cost of inputs, which go into producing a quintal of each crop – what CACP calls A2 costs. This principle is also aligned to the practice of businesses being deemed viable, in the short run, as long as operating costs are covered. Further, this circumvents the issue of contentious pricing of the more intangible inputs like the opportunity cost of land and the pricing of labour and managerial inputs from the farmer's family.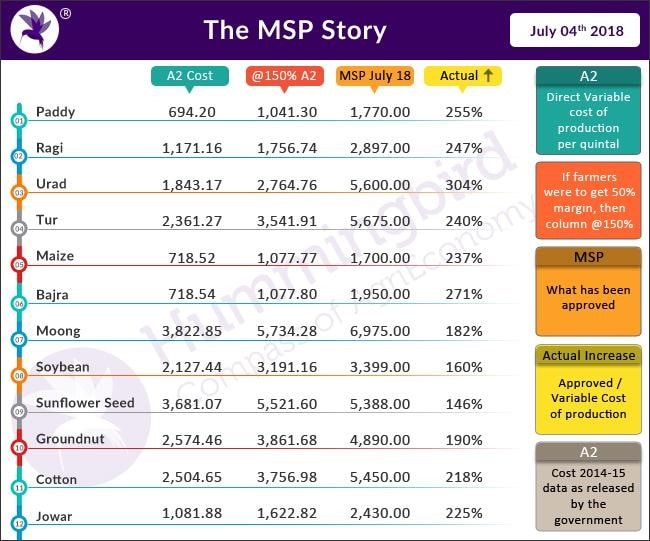 The results, encapsulated in the table above, throw up some interesting findings.
First and foremost, for all the crops, the support levels announced are well about A2. In fact, for as many as eight out of the 12 crops considered, the rates are 200 percent or more over A2.  What that means, is that the support prices offer a cushion of over 100 percent for the sunk cost like opportunity cost on land, managerial and physical input of the farmer and his family etc.
Second is that pulses, especially urad (304 percent) and tur (240 percent), seem to be the crops best provided for. Oilseeds, in a relative sense, are less well provided for with soybean, sunflower and groundnuts having a cushion of less than 100 percent A2. Cereals, including the coarse ones, fall somewhere in the middle.
Furthermore, its time that the entire Cost of Production mechanism be either done away with or revamped to make it more relevant to the times - since it is living on an extended time frame out of its era of origination.
On a different plane, India needs to revamp the data collection system for estimating Cost of Production from a larger, more scientifically designed sample of farms, through conventional and emerging methods, like IoT and sensors, to make it based on more current developments. As currently the CACP has about 300 farms as a sample in each state from which it takes inputs for over 40 different crops. We as a private entity have about 10 times that as a sample in each of the states that we operate in and our numbers are more live.
While such measures, as the present one, may be excellent steps to provide short term succour, farmer discontent will continue to simmer beneath the surface. Band–aids are never the remedy for chronic ailments. So, that discontent is likely to persist till farmers continue to be price takers at levels set by trade cartels. There is no guarantee that even at these new more attractive levels traders would not drive prices below the MSP  - the government will then be faced with the gargantuan task of procurement, or else, will end up paying the Bhavantar or the price differential. The long-term solution is to make agriculture demand driven, than supply, and do away with MSP.
Today, we have a vibrant commodities market, and exchange traded options will be the ideal way to address the price anomaly - wherein vibrant farmer producer organisations (FPO's) can become key hedgers on behalf of farmers.
Of course till such time, the political economy will have to play to the galleries and sing the common tune.
(Sankara Pillai is co-founder and Director, Research, Agrisk Data Analytics)
Your guide to the latest cricket World Cup stories, analysis, reports, opinions, live updates and scores on https://www.firstpost.com/firstcricket/series/icc-cricket-world-cup-2019.html. Follow us on Twitter and Instagram or like our Facebook page for updates throughout the ongoing event in England and Wales.
Updated Date: Jul 05, 2018 18:00:56 IST