Morgan Stanley boss Gorman hits out at Fed stress tests
By Matt Scuffham (Reuters) - Morgan Stanley's top executive criticized the Federal Reserve's annual health checks of the biggest U.S. lenders and predicted changes to the tests going forward after his bank reported better-than-expected quarterly earnings on Wednesday. The Fed said last month it would not let Morgan Stanley boost overall capital returns to shareholders after its capital ratio fell below the minimum allowed in the annual stress test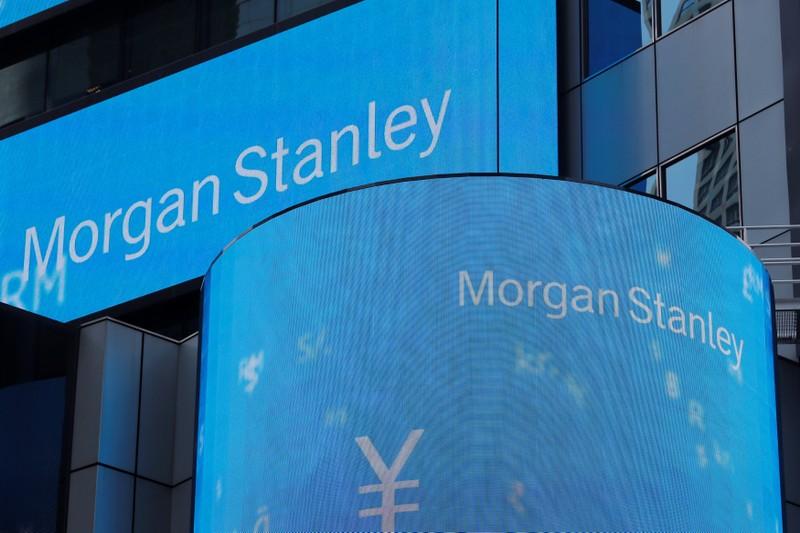 By Matt Scuffham
(Reuters) - Morgan Stanley's top executive criticized the Federal Reserve's annual health checks of the biggest U.S. lenders and predicted changes to the tests going forward after his bank reported better-than-expected quarterly earnings on Wednesday.
The Fed said last month it would not let Morgan Stanley boost overall capital returns to shareholders after its capital ratio fell below the minimum allowed in the annual stress test. A failure to meet the requirement would normally result in an outright failure.
The tests, set up to prevent a repeat of the 2007-2009 financial crisis, have become "increasingly more demanding" each year, and are now more severe than what the banks experienced during the crisis itself, Chief Executive Officer James Gorman said on a conference call with analysts.
"Ten years on, it's time to take a fresh look," he said. "We don't want to be chasing in the last crisis, we're trying to figure out the next one."
Officials Gorman has spoken with at the Fed have sympathy with his argument that rules about banks' capital ratios should be reexamined, he said.
Appearing before Congress on Tuesday, Fed Chair Jerome Powell was questioned extensively on the central bank's approach to this year's stress tests, with Democrats criticizing the Fed for passing Morgan Stanley and Goldman Sachs Group Inc even though their capital levels fell below the minimum required.
Powell told lawmakers that there had been no "haggling" or negotiations with Morgan Stanley over its stress tests results and capital plan, and added that the Fed was committed to the stress testing process. "It's a very important thing for us and we'll make sure to keep it stringent."
The Fed purposefully increased the stringency of the stress test this year because firms are more likely to take on greater risk as the broader economic environment improves.
Gorman said that he does not expect Morgan Stanley will need to cut its capital distribution program going forward as a result of the tests.
The 60-year-old CEO has restored Morgan Stanley to health since taking over in 2010, when the bank was still reeling from the financial crisis. His tenure has been defined by reducing risk, exiting problematic businesses and focusing on steadier ones that can generate reliable revenue.
The bank's second-quarter profit jumped 39 percent, to $2.4 billion, or $1.30 per share, from $1.8 billion, or 87 cents per share, in the year-ago period.
Adjusted for special items, its profit was $1.25 per share, topping the $1.11 per share analysts expected, on average, according to Thomson Reuters I/B/E/S.
Morgan Stanley benefited from higher revenues in trading, investment banking and wealth management.
Volatility caused by escalating trade tensions and central bank policy changes stirred an increase in trading volumes across Wall Street. However, Morgan Stanley Chief Financial Officer Jonathan Pruzan warned that a seasonal slowdown and geopolitical concerns could weigh on activity moving forward.
Morgan Stanley shares were up 3.6 percent in mid-morning trading. Its chief rival, Goldman Sachs Group Inc, reported a 44-percent jump in quarterly profits, also driven by trading gains and officially named David Solomon as successor to CEO Lloyd Blankfein.
Goldman is undergoing a strategic overhaul to generate more revenue by focusing steadier businesses, generating comparisons to the strategy Gorman laid out many years ago.
Citigroup Inc, JPMorgan Chase & Co and Bank of America Corp are also pursuing new initiatives involving digital banks or branch networks to expand their presence with U.S. consumers.
Asked by Wells Fargo analyst Mike Mayo whether Morgan Stanley might need to do something similar to keep up with competitors, Gorman said his bank had made more changes in the past eight years than in the previous 80 and had no plans to change course.
"I think it is unwise to run strategy through envy," he said.
(Additional reporting by Michelle Price in Washington and Aparajita Saxena in Bengaluru; Writing by Meredith Mazzilli; Editing by Nick Zieminski and Lauren Tara LaCapra)
This story has not been edited by Firstpost staff and is generated by auto-feed.
Find latest and upcoming tech gadgets online on Tech2 Gadgets. Get technology news, gadgets reviews & ratings. Popular gadgets including laptop, tablet and mobile specifications, features, prices, comparison.
World
By Paul Carrel BERLIN (Reuters) - European Union sanctions against 40 officials in Belarus are "a small victory" but should be widened, opposition leader Sviatlana Tsikhanouskaya said on Monday, adding she would press Germany's Angela Merkel to do more at a meeting on Tuesday. Tsikhanouskaya fled her homeland for Lithuania amid a police crackdown in Belarus following an Aug. 9 presidential election, which official results said incumbent Alexander Lukashenko won, but which Tsikhanouskaya's supporters say was rigged
World
WASHINGTON (Reuters) - White House Press Secretary Kayleigh McEnany said on Monday she tested positive for COVID-19, while several U.S. media outlets reported that a number of other White House staff members also were confirmed to have been infected with the novel coronavirus
World
WASHINGTON (Reuters) - U.S.