Euro deep under water after ECB stuns market with rate cut
The euro was deep under water on Friday having suffered its steepest daily fall in three years after the European Central Bank stunned markets by cutting interest rates and embarking on a trillion-euro asset-buying binge.
The aggressive shift sent short-term bond yields into negative territory in Germany, France, the Netherlands and Austria, giving investors an overwhelming incentive to sell euros for higher yielding assets elsewhere.
That stood in stark contrast to the United States where upbeat data only reinforced the case for the Federal Reserve to wind down its stimulus, driving the dollar higher and sideswiping oil and gold in the process.
Stock prices in Europe climbed to new records in response, though Wall Street succumbed to a bout of jitters ahead of the U.S. payrolls report due later on Friday.
The Dow fell 0.05 percent, the S&P 500 0.15 percent and the Nasdaq 0.22 percent.
In Asia, Tokyo's Topix added 0.44 percent to be within a whisker of its January peak. A break there would take it to levels last seen in July 2008.
MSCI's broadest index of Asia-Pacific shares outside Japan was off 0.2 percent having already reached its highest since early 2008.
The euro was licking its wounds at $1.2937, after hitting a 14-month low of $1.2920 overnight and seemed destined to test the July 2013 trough of $1.2898.
It hit a one-month low on the yen at 135.97 and a 15-month trough on the Australian dollar at A$1.3798.
The collapse came after ECB President Mario Draghi announced a range of rate cuts and a new plan to push money into the flagging euro zone economy.
In a news conference, Draghi said the aim was to expand the bank's balance sheet back to the heights reached in early 2012, which equates to a rise of around 50 percent or 1 trillion euros in new assets.
"The Governing Council will be pumping money into the economy while simultaneously penalizing European banks that do not spend it," Valentin Marinov, an analyst at CitiFX.
TURBO-CHARGED
"To the extent that at least some part of that money will head abroad, the turbo-charged easy money will likely invigorate euro-funded carry trades," said Marinov.
The already hugely popular carry trade is where investors borrow at low rates in say euros or yen, to buy higher yielding assets in other countries. The latter include Australia, Canada, New Zealand and a whole range of emerging market nations.
"We believe also that the longer-term impact of the measures would be to help unclog the lending channel of the Eurozone and stimulate domestic demand," added Marinov.
Spanish, French and Portuguese stocks all gained over a full percentage point, while Germany's DAX rose 1 percent. The FTSEurofirst 300 index of top European shares reached ground last visited in early 2008.
Shorter-dated euro zone debt rallied hard, pushing the yield gap between U.S. and German two-year debt out to 60 basis points, the fattest premium since May 2007.
Across the Atlantic, data provided fresh evidence that the U.S. economy is on track for sturdy growth in the third quarter. Companies hired workers at a steady clip in August and services sector activity accelerated to 6-1/2-year high.
That lifted yields on 10-year Treasuries 4 basis points to 2.453 percent, further supporting the dollar.
Investors are now keenly waiting for the latest read on the U.S. labour market due later Friday. Analysts expect the pace of job creation to have picked up slightly in August, with a rise of 225,000 nonfarm payrolls.
With the U.S. dollar flying, commodities had to cheapen to stay attractive and gold struck a three-month low at $1,256.90 an ounce.
Brent crude oil was pinned at $101.84 a barrel, after shedding more than a dollar overnight, while U.S. crude was stuck at $94.54.
Reuters
Sports
Glasgow is one of 12 cities due to host the tournament that was delayed 12 months due to the coronavirus pandemic.
Sports
The European Championship will run until 11 July and is currently programmed to feature matches played in 11 other cities: London, Munich, Baku, Saint Petersburg, Budapest, Bucharest, Amsterdam, Bilbao, Glasgow, Dublin and Copenhagen.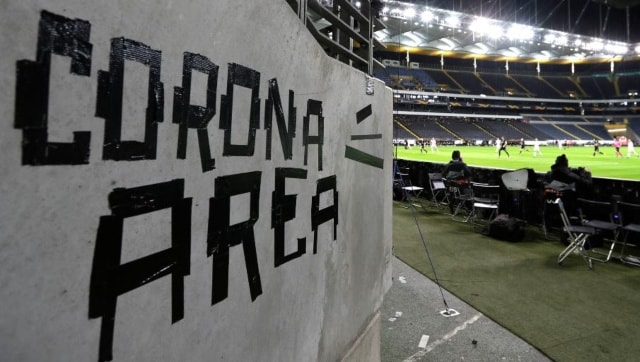 Sports
The remaining four — Munich, Rome, Bilbao and Dublin — have been given until 19 April to release their plans "and final decisions will be made on that date regarding the staging of matches in those four venues", European football's governing body said in a statement.