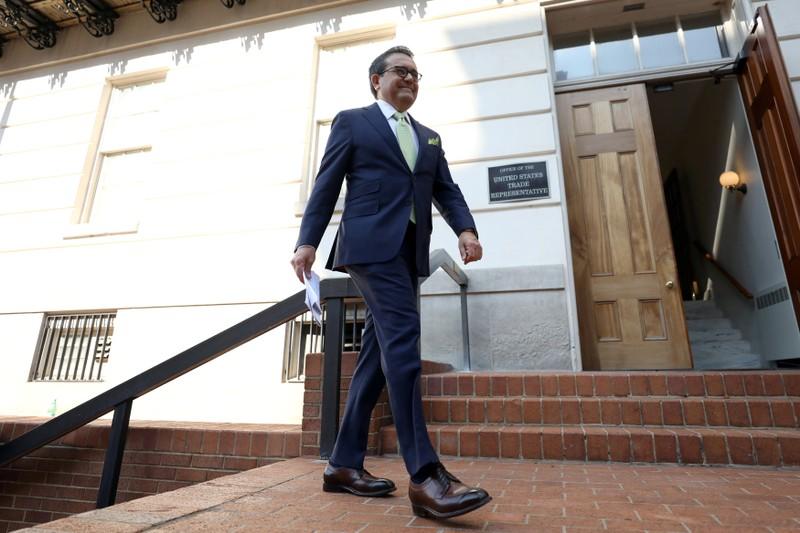 By Timothy Aeppel and Sharay Angulo
WASHINGTON (Reuters) - Mexico has come "very far" in working through its list of outstanding issues with the United States in the renegotiation of the North American Free Trade Agreement (NAFTA), Mexican Economy Minister Ildefonso Guajardo said on Friday.
Guajardo was speaking to reporters at the offices of U.S. Trade Representative Robert Lighthizer where the latest Mexico-U.S. talks on NAFTA are being held.
Since talks resumed last month, the two sides have focused on resolving their differences over U.S. President Donald Trump's complaint that NAFTA has benefited Mexico to the detriment of U.S. workers and manufacturing.
Trump has threatened to withdraw from the 24-year-old trade pact between the United States, Mexico and Canada if it is not reworked to the advantage of the United States.
Asked how far down the list of outstanding bilateral issues Mexico had come, Guajardo said: "very far."
Canada has sat out the latest leg of talks waiting for the Mexican and U.S. teams to reach common ground before rejoining.
Guajardo suggested earlier this week that an agreement between the two sides could be just "hours" away, though forecasts subsequently became more cautious.
"As you know, unfortunately, even as you are extremely engaged, there are always last moment things that can come between you and you goals," said Guajardo.
A sticking point of the talks has been new rules of origin for automobile manufacturing which are meant to bring more production to the region.
Industry officials have said the U.S. team had barely moved from its demands last May of a 75 percent overall regional content threshold with 40-45 percent content from high-wage zones, effectively the United States and Canada, with the only substantial change a slightly longer phase-in time.
Asked if talks had made headway on a U.S. "sunset" proposal that could terminate NAFTA after five years, which critics say could stymie investment in the region, Guajardo said it was an issue that would be dealt with once Canada rejoined talks.
"It is clear that there are trilateral issues that have to be solved in a trilateral context," he said.
(Reporting by Timothy Aeppel and Sharay Angulo; Writing by Anthony Esposito; Editing by Michael O'Boyle)
This story has not been edited by Firstpost staff and is generated by auto-feed.
Firstpost is now on WhatsApp. For the latest analysis, commentary and news updates, sign up for our WhatsApp services. Just go to Firstpost.com/Whatsapp and hit the Subscribe button.
Updated Date: Aug 25, 2018 00:05:51 IST