Metros to get second airports due to growing air traffic
Over the next 10 years, Bangalore, Chennai, Delhi, Hyderabad and Kolkata are expected to provision for a second airport and Mumbai would need to start preparing for a third one.
New Delhi: Burgeoning air traffic would prompt construction of second airports in five major metros and a third in Mumbai as an estimated $30 billion would be invested on such infrastructure over the next decade, an aviation consultancy firm has said.
Over the next 10 years, Bangalore, Chennai, Delhi, Hyderabad and Kolkata are expected to provision for a second airport and Mumbai would need to start preparing for a third one, based on current growth estimates, the Centre for Asia Pacific Aviation (CAPA) said in a study.
High traffic growth was also being witnessed at several non-metros with several airports having "already outgrown their existing infrastructure", the Sydney-based aviation consultancy firm said.
"Projected growth will necessitate provisioning for a second airport at each of the metro cities and a third in the case of Mumbai, paving the way for a total of 13 metro airports. There is the possibility of a second airport in Ahmedabad as well," it said.
The Indian airport sector is expected to see a further investment of $30 billion including the cost of upgrading existing airports, provisioning for second airports at each of the metros and construction of greenfield airports.
Noting that most metro airports barring Mumbai have adequate capacity for the next few years, CAPA said even in cases like Delhi and Bangalore which have new airports and sufficient capacity, the rate of growth was such that planning is needed in this decade for building of second airports.
The same was true of Chennai airport which would run out of capacity before 2017, it said.
Observing that most of the 35 key non-metro airports need new capacity now or very shortly, it said cities like Pune, Patna, Jaipur, Nagpur and Lucknow had "urgent requirements".
"In most cases the state governments do not recognise the implications of failing to address this issue. New terminals will assist in some cases where land is available, but in many cities there is a need to look at building new airports with a long-term perspective," CAPA said.
Given the scarcity of land in India, it said the country must prepare long-term airport development plans which can meet requirements for the next 20-30 years.
But the Airports Authority of India (AAI) has "no capital expenditure programmes scheduled beyond the end of the 12th Five Year Plan which ends in 2017".
It said the financial position of the AAI and other public-private partnership airports was stretched, implying that "they are unable to commit sufficient funding to long- term projects".
Airport capacity shortages were also compounded by additional challenges in the form of surface transportation links, limited availability of skilled manpower and airspace congestion, "leaving India poorly prepared to handle requirements", the CAPA study said.
While air traffic handled by privatised airports had grown from only two per cent in 2000 to as high as 60 percent, the low-cost model dominating the domestic market, with close to 70 percent market share, had created a new set of challenges and opportunities, it said.
At present, 14 greenfield airports have been given in-principle approval by the government, a major airport facility was being planned for Pune and a greenfield airport being considered for Nalanda in Bihar.
PTI
Find latest and upcoming tech gadgets online on Tech2 Gadgets. Get technology news, gadgets reviews & ratings. Popular gadgets including laptop, tablet and mobile specifications, features, prices, comparison.
India
Sathyavani Muthu Nagar is one of hundreds of informal settlements in the process of being demolished by Chennai officials — part of a vast effort, they say, to restore the city's heavily polluted and constricted waterways.
India
The incident is understood to have taken place when Kanimozhi was at the Chennai international airport to take a flight to Delhi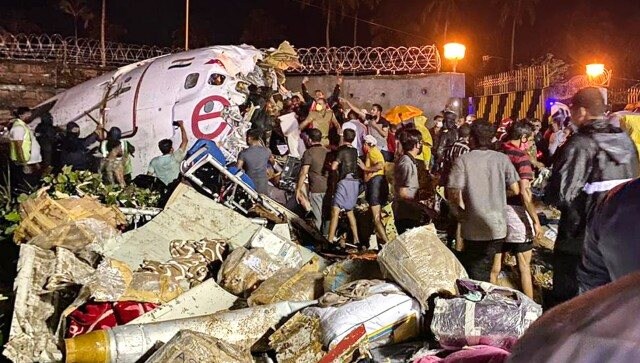 India
The DGCA said that the Dubai-Kozhikode Air India Express flight (IX-1344) overshot the runway at the Karipur Interational Airport and fell into a gorge, breaking into two parts