Merkel's Bavarian allies call for German climate bond
FRANKFURT (Reuters) - Germany's Christian Social Union (CSU), the sister party of Chancellor Angela Merkel's Christian Democrats (CDU), are planning to launch a climate bond to help fund its efforts to reduce emission targets. 'Climate change needs billions of euros of investment in climate friendly technologies,' Alexander Dobrindt, a senior lawmaker from the CSU Bavarian party in Merkel's coalition, told the weekly Bild am Sonntag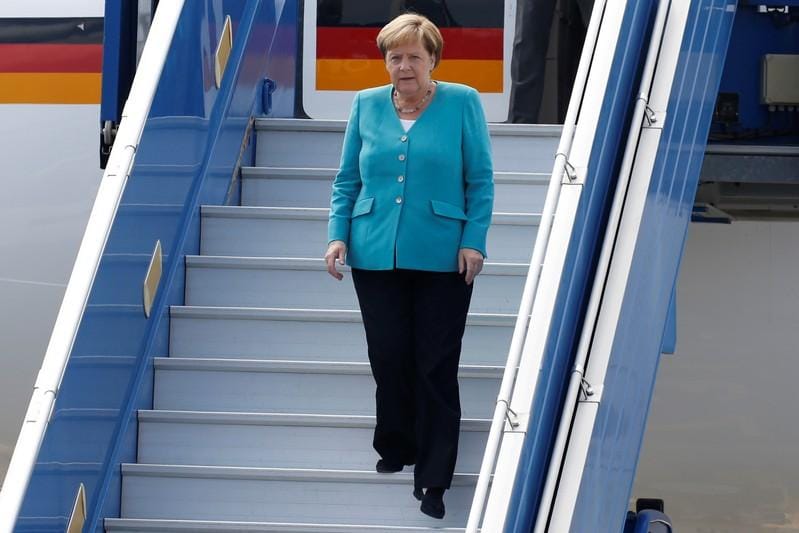 FRANKFURT (Reuters) - Germany's Christian Social Union (CSU), the sister party of Chancellor Angela Merkel's Christian Democrats (CDU), are planning to launch a climate bond to help fund its efforts to reduce emission targets.
"Climate change needs billions of euros of investment in climate friendly technologies," Alexander Dobrindt, a senior lawmaker from the CSU Bavarian party in Merkel's coalition, told the weekly Bild am Sonntag.
"That's why we're planning to incentivise and reward citizens' investment in climate protection via positive interest rates. For that reason we are planning to launch a climate bond with a return of 2% a year guaranteed by the state which runs until 2030."
If approved, the bond would have to be issued by German state bank KfW.
Jakob von Weizsaecker, senior member of the SPD, the junior partner in Germany's conservative-led coalition, voiced his scepticism over the proposal on Twitter, saying the government should raise environmental spending rather than support artificial yields.
"Does it make sense for the state to intervene in the interest rates market? After all, negative interest rates are a sign that investment is too low and that too much is being saved," he wrote.
Germany plans to cut CO2 emissions by 40% until 2020 compared with 1990 levels, and by 80-95% by 2050. It also plans to spend at least 40 billion euros ($45 billion) in regions affected by a planned exit from coal-fired power generation.
A senior government official told Reuters earlier this month that Germany is considering ditching its balanced budget policy to help finance a costly climate protection programme with new debt.
Germany's Finance Minister Olaf Scholz, in a tweet on Sunday, said leading members of the Social Democrats SPD party would meet on Sunday to prepare for the upcoming weeks, singling out climate protection as a key topic.
"We need to take decisive steps with regard to climate protection in order to prevent climate change," he said, adding that his also could result in a stimulus to the economy.
His remarks come ahead of a Sept. 2 meeting of conservative and social democratic leaders aimed at preparing a far-reaching package of climate protection measures expected to massively weigh on Germany's federal budget.
($1 = 0.8973 euros)
(Reporting by Christoph Steitz and Michael Nienaber; Editing by Angus MacSwan and David Evans)
This story has not been edited by Firstpost staff and is generated by auto-feed.
Find latest and upcoming tech gadgets online on Tech2 Gadgets. Get technology news, gadgets reviews & ratings. Popular gadgets including laptop, tablet and mobile specifications, features, prices, comparison.
World
ISTANBUL (Reuters) - President Tayyip Erdogan told European Council President Charles Michel on Sunday the EU's stance towards the East Mediterranean would be a test of its sincerity, calling on it to take an impartial stance in Turkey's row with Greece. NATO allies Turkey and Greece have been locked in a dispute over hydrocarbon exploration in the sea's disputed waters and the extent of their continental shelves. Provocative comments and steps by European politicians on regional matters would not help achieve a solution, Erdogan was cited as saying by his office
World
By Susan Heavey and Ted Hesson WASHINGTON (Reuters) - President Donald Trump was on the defensive on Sunday over his attitude toward the U.S. military following media reports that he had disparaged fallen veterans, which could harm his campaign for re-election on Nov.
World
PODGORICA (Reuters) - Thousands gathered in Montenegro's capital Podgorica on Sunday evening waving national flags to protest against the use of Serbian national symbols by opposition parties that won elections last week. Participants chanted: "This is not Serbia" and "We do not give away Montenegro." The pro-Western Democratic Party of Socialists (DPS) led by President Milo Djukanovic, which steered Montenegro through the violent collapse of the former Yugoslavia in the 1990s, lost the parliamentary election last week.