Memo to Arun Jaitley: Price cuts, and not lower rates, will revive housing
At the The Economist India Summit 2016, Arun Jaitley remarked that low rates were vital to a revival in housing.
The Finance Minister's obsession with low interest rates as a panacea for reviving economic growth is a bit bizarre. Near zero interest rates for years without pause have not lifted either Europe or Japan from the brink of near recession. Nor has a high interest rate regime prevented Reliance Industries, owners of Network18 and publishers of Firstpost, from planning investments of upto Rs 1,50,000 crore in telecoms even in today's weakened economic state.
The world over, it is expectations of future profitability that are more important to investment decisions than just the current level of interest rates. In any case, if we assume that central banks will adjust interest rates depending on inflationary conditions, even low rates may be only temporary.
At the The Economist India Summit 2016, Arun Jaitley remarked that low rates were vital to a revival in housing. The Indian Express quotes him as saying: "During Mr Vajpayee's government, bank rates had come down to such an advantageous level that it was easier to buy an apartment than rent it out. That sort of situation had existed where the EMI has been reasonable. I think that's the direction in which we have to slowly push the economy."
He could not be more wrong on all counts.
First, the reason why housing took off during Vajpayee's tenure was affordability. Housing had just entered a recessionary phase when the NDA came to power. Interest rates were falling due to slow growth and the recessionary conditions following the dotcom bust in 2000.
Second, it does not make sense to buy instead of rent unless there is some degree of convergence between interest rates and yields on property. Right now, rental yields on most property range between 1.5-3 percent, far below even savings bank interest rates, leave alone fixed deposit rates. It pays more to keep your FDs and not invest in a home. During Vajpayee's tenure, home loan rates never fell below 7 percent, but the key thing that happened was the gap between rental yields and bank deposit rates had fallen. That is manifestly not the case right now.
Third, when the choice is between lower rates and lower property prices, the buyer will always be the latter. Simple math will prove this. Let's assume I have a choice between paying 15 percent interest on a home loan on a property that is 33 percent discounted, and a 33 percent lower interest rate on an undiscounted property. The EMIs will be significantly lower on the former case.
An illustration: Let's say a 2BHK home costs Rs 1.5 crore. A 33 percent cut in prices means you pay Rs 1 crore, in which the loan component will be Rs 80 lakh. At 15 percent interest on a 20-year loan, your EMI (equated monthly instalments) will be around Rs 1.05 lakh. At 10 percent interest on a Rs 1.2 crore loan (80 percent of property price of Rs 1.5 crore) will be around Rs 1.15 lakh. You save Rs 10,000 every month. What would you go for?
The reason why housing is in recession today is simply the unaffordability factor, and till this is addressed, the mass segment of middle and lower income housing will not revive.
Builders are trying every trick in the book to hook buyers at exorbitant current prices, but they are not biting. One trick is to claim luxury facilities like swimming pools and gyms and keep prices high. But the cost of creating pools and gyms are low, while maintenance costs are high – and maintenance is your cost. Equipping an entire gym, with treadmills, exercise bikes, weights, etc will not cost more than a few lakhs, but the electricity to run those treadmills and hiring trainers will cost you a bomb. So who are the builders trying to fool?
Digging a 30x20x6 swimming pool is a one-time investment in cementing and tiling; trying to fill it with water repeatedly, cleaning it every week, and supervising the users is what will cost you regularly, not the builder. It will turn up in your monthly maintenance bills. So trying to keep home prices high by throwing in a few "luxuries" that cost little makes no sense.
The best way to get the housing market up and running is to get land and building costs down, but this is precisely where vested interests get into the act. It is no secret that politicians and politically-connected builders and bureaucrats release land supplies in small doses so that existing high-priced property can be sold.

In South-Central Mumbai, which has the priciest real estate in the country, Rs 50,000 crore worth of property lies unsold, according to Knight Frank India, property consultants. And this property is bought not by the middle class, but the upper middle and upper classes, who do not actually have a resource constraint. With 6,000 unsold units, and another 2,500 coming up in the next year, the Parel-Worli realty market will take six to seven years to clear inventory.
The secret is to drop prices, but try telling that to the vested interests, who are stuck on their profit margins.
Memo to Jaitley: if you can bring land prices down by encouraging state governments and urban bodies to increase floor space index, house prices will come crashing down, and more people will buy. But he has a fight on his hands. For parliament and legislative assemblies are full of landlords and benami property owners who will not allow him to do just that.
This is a tough task, we agree. But shifting the blame for poor demand to high rates is simply not credible.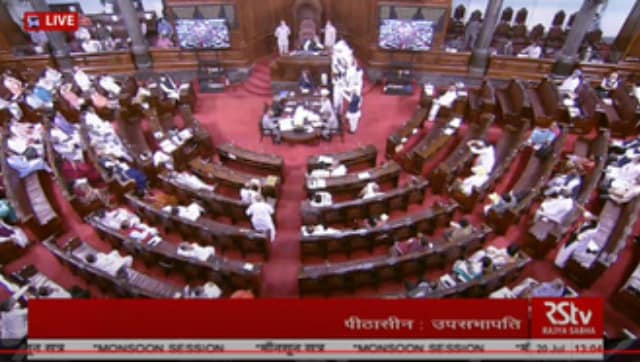 Politics
Meanwhile, Congress leader Rahul Gandhi on Monday drove a tractor to Parliament along with other party MPs and demanded that the three contentious farm laws be repealed
Politics
Parliament Monsoon Session LIVE Updates: The Rajya Sabha was adjourned for the day after the Opposition continued to protest over the Pegasus row and farmers' issues
India
A Revanth Reddy, Congress Lok Sabha member from Malkajgiri, had alleged that there were irregularities to the tune of Rs 1,000 crore in the e-auction of lands in Kokapet conducted by the Telangana government last week