McDonald's pulls Signature Crafted burgers, doubles down on Quarter Pounders
(Reuters) - McDonald's Corp said it would remove costlier, premium burgers from its menus in favor of its more popular Quarter Pounders, shifting its focus to simpler and quickly-served burgers. The burger chain added the Signature Crafted burgers to its menu two years ago to keep up with competition from Wendy's and Shake Shack, which serve more premium burgers using fresh ingredients. But putting together the burgers took time, slowing down service lines at drive-thrus and at stores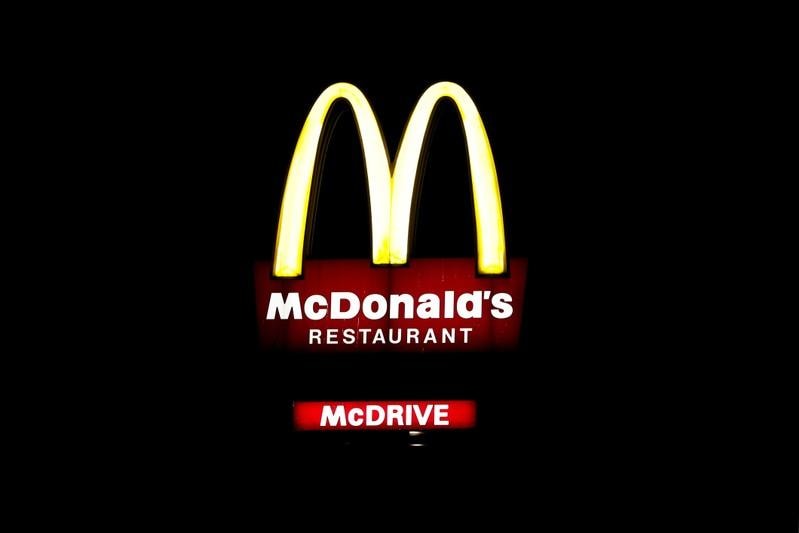 (Reuters) - McDonald's Corp said it would remove costlier, premium burgers from its menus in favor of its more popular Quarter Pounders, shifting its focus to simpler and quickly-served burgers.
The burger chain added the Signature Crafted burgers to its menu two years ago to keep up with competition from Wendy's and Shake Shack, which serve more premium burgers using fresh ingredients.
But putting together the burgers took time, slowing down service lines at drive-thrus and at stores.
These premium beef, grilled or crispy chicken burgers came with condiments like pico guacamole, sweet BBQ bacon or maple bacon dijon, compared with the Quarter Pounders, which are beef patties served with ketchup, pickles and onions.
The company said its new deluxe and bacon Quarter Pounders received good feedback and it would continue to focus on such items.
"It (the removal) probably has more to do about the process of cooking the burger in McDonald's than it does what the consumer is saying about the food," said Howard Penney, a managing director at Hedgeye Risk Management.
Big franchisees also did not buy into the idea of McDonald's pricier burgers initially, mindful of the cooking time required for these made-to-order burgers.
"It makes it easier for the people running the stores and operating the stores ... simple is good," Penney said.
The move is seen as a positive, coming at a time when quick service restaurants are moving away from customization and focusing more on transparency in the ingredients used.
This is the second time McDonald's has tweaked its menu this month, after trimming down its late-night menu to keep only eights items.
Shares of the Dow component have risen nearly 18 percent in the past year, outperforming the Dow Jones Industrial Index's 6.7 percent rise.
(Reporting by Nivedita Balu in Bengaluru; Editing by Saumyadeb Chakrabarty)
This story has not been edited by Firstpost staff and is generated by auto-feed.
Find latest and upcoming tech gadgets online on Tech2 Gadgets. Get technology news, gadgets reviews & ratings. Popular gadgets including laptop, tablet and mobile specifications, features, prices, comparison.
Business
By Diptendu Lahiri (Reuters) - Gold prices surged to their highest since October 2012 on Tuesday, driven by a weakness in the U.S. dollar and widespread monetary stimulus packages by central banks as a jump in coronavirus cases dents the economic outlook
Business
By David Shepardson WASHINGTON (Reuters) - India's ministry of civil aviation said on Tuesday it was considering allowing some international carrier flights to resume after Washington accused India of "unfair and discriminatory practices." The Indian ministry said in a statement posted on Twitter that as "we move from controlled and managed aviation evacuation of our citizens in different parts of the world and foreign nationals from India, we are now looking at the possibility of establishing bilateral arrangements." The U.S. Transportation Department issued an order Monday to require Indian air carriers to apply for authorization prior to conducting charter flights beginning in 30 days. The department sought "to restore a level playing field for U.S.
Business
By Devik Jain and Medha Singh (Reuters) - Wall Street's three major indexes rose on Tuesday as improving economic data and the prospect of more stimulus bolstered hopes of a swift recovery, while a jump in technology shares powered the Nasdaq to another record high. White House advisor Larry Kudlow said tax rebates and direct mail checks are on the table in the next coronavirus relief bill.