Maruti Suzuki India Q4 net profit dips 28% at Rs 1,322 cr on lower sales volume, higher promotion expenses
The country's largest carmaker Maruti Suzuki India (MSI) on Wednesday reported a 27.77 percent decline in consolidated net profit to Rs 1,322.3 crore for the fourth quarter of 2019-20, on account of lower sales volume, higher promotion expenses and depreciation expenses
New Delhi: The country's largest carmaker Maruti Suzuki India (MSI) on Wednesday reported a 27.77 percent decline in consolidated net profit to Rs 1,322.3 crore for the fourth quarter of 2019-20, on account of lower sales volume, higher promotion expenses and depreciation expenses.
The company had posted a net profit of Rs 1,830.8 crore in the January-March period of 2018-19, MSI said in a statement.
Net sales during the quarter declined to Rs 18,207.7 crore, down 15.2 percent from Rs 21,473.1 crore in the year-ago period.
Total car sales during the fourth quarter declined by 16 percent to 3,85,025 units as compared to the same period of 2018-19.
For the entire 2019-20 fiscal, MSI posted a net profit of Rs 5,677.6 crore, down 25.78 percent from Rs 7,650.6 crore in the 2018-19.
Net sales last fiscal stood at Rs 75,660.6 crore as against Rs 86,068.5 crore in 2018-19.
Total volume sales during 2019-20 were down 16.1 percent to 15,63,297 units. Of this, 1,02,171 units were exported, the company said.
The company said profitability was hit during the fiscal on account of lower sales volume, higher sales promotion expenses and depreciation expenses.
It was partially offset by lower operating expenses, cost reduction efforts, higher fair value gains on invested surplus and reduction in corporate tax rate, it added.
"Maruti Suzuki India's result was somewhat subdued due to negative operating leverage in 4QFY20 amid nationwide lockdown since mid of Mar'20. Moreover, adverse product mix, higher advertising and other expenses took toll on its operating margins," Mitul Shah, Vice-President at Reliance Securities, said.
Shah further said, "We believe that the company's strong balance sheet with huge cash and cash equivalent to the tune of Rs 300 bn would certainly help the company in terms of providing support to the entire value chain system associated with Maruti Suzuki in this challenging environment of cash crunch. MSIL would emerge as a stronger company eventually compared to its peers, many of them would find it tough to survive going forward".
The auto major said its board recommended a dividend of Rs 60 per share for 2019-20.
MSI shares closed 1.72 percent up at Rs 5,035 apiece on the BSE.
(With PTI inputs)
World
A torrent of cases cascaded through China since the Communist Party abruptly ended its zero-Covid policy last month. But there have been signs that the surge has started to tail off, with authorities saying last week that the number of daily Covid-19 deaths had fallen by nearly 80 percent in January
India
Dr Raman Gangakhedkar appealed to the citizens to take precautionary dose and to follow all the precautions, especially those who are in vulnerable group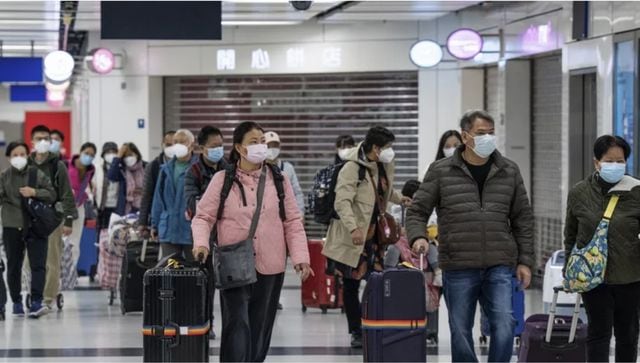 World
Hong Kong's tourism sector has faced a dramatic slowdown, owing to the COVID-19 pandemic