Maritime Summit nets Rs 83,000-cr investment proposals, 141 pacts
Gadkari also said that for a five-year term, the Shipping Ministry is targeting to get investments worth $60 billion
Mumbai - The maiden Maritime Summit here has resulted in investment commitments of nearly Rs 83,000 crore (USD 13 billion) in the shipping, ports and allied sectors, Union Shipping Minister Nitin Gadkari said on Saturday.
As many as 141 agreements entailing investment of Rs 82,900 crore was signed at the summit which was inaugurated by the Prime Minister Narendra Modi on Thursday.
Gadkari also said that for a five-year term, the Shipping Ministry is targeting to get investments worth $60 billion for 240 projects for the success of the ambitious Sagarmala project of ports-led growth.
He singled out Defence Minister Manohar Parrikar's announcement of entering into a pact with the Shipping Ministry as one of the biggest achievements of the summit.
The contract will ensure an order flow of nearly Rs 75,000 crore to the troubled private sector shipyards.
He said orders of Rs 50,000 crore will come on a nomination basis from the Cochin Shipyard, while another Rs 25,000 crore will come from other departments apart from the Defence Ministry orders.
"We will outsource work to private sector shipyards and help them financially. This will give them the oxygen for survival," Gadkari said.
The Sagarmala project will bring down the cost of logistics to 10 percent from the present 18 percent, thus making Indian goods competitive, Gadkari said.
Inaugurating the summit, Modi had said his government would mobilise Rs 1 trillion investment in the ports sector over the next decade and promised to personally handhold investors for a "safe, secure and satisfactory" berthing so as to transform the countrys 7,500-km-long coastline as an "engine of growth".
Modi also said the government would work towards more than doubling the port capacity to 3 billion tonnes by 2025 and "wants to mobilise an investment of Rs 1 trillion in the ports sector to enable this growth."
PTI
World
The drug haul is considered to be one of the biggest in the world with the value of the seized heroin estimated to be Rs 21,000 crore in the international markets. One kilogram of the drug sells at Rs 5 to 7 crore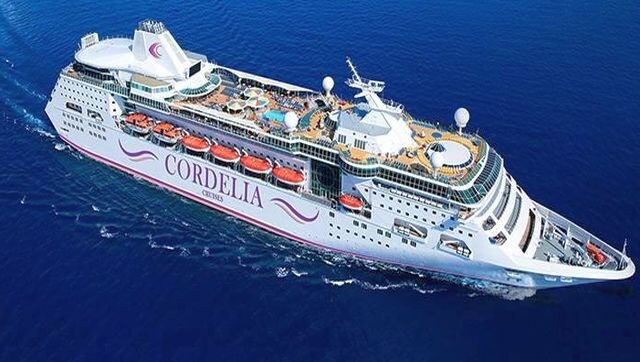 India
In a bid to boost tourism, the Indian Railway Catering and Tourism Corporation has started this new venture in a collaboration with Cordelia Cruises
World
Pictures by AFP photographer Paul Ratje and video footage appeared to show riders swinging their long reins to threaten migrants and push them back toward the river