Mallya to Modi: Rs 26,000-cr bank scams call for massive crackdown on erring bankers, but no witch-hunt
A series of investigations by central investigative agencies into the telecom, mining and real estate sectors had left every banker with the fear of getting prosecuted.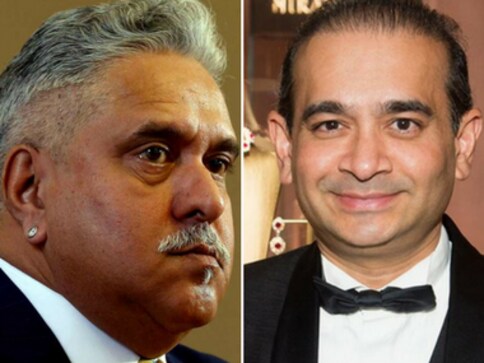 Towards the end of 2012, senior executives in many public sector banks (PSBs) increasingly spoke of a fear psychosis gripping the banking system paralysing the sector. The reason they cited wasn't hard to understand. A series of investigations by central investigative agencies into the telecom, mining and real estate sectors had left every banker with the fear of getting prosecuted —even on business decisions they had taken in the past.
The context of investigations, back then, was primarily the alleged irregularities by the then government in awarding the second generation airwaves (2g) and coal resources. This scenario brought considerable uncertainty into the banking industry as most lenders had exposure to the companies and the change in the course of allocation of these resources came as a shock to them.
As a result of back-to-back investigations, most PSBs slowed down decision making whenever a large corporate loan proposal reached their table. This led to further slowing down of credit growth even to good borrowers.
That added to the growth worries of the economy. What happens to PSBs meant a lot for Indian economy since these banks controlled 70 percent of the assets of the banking system in terms of assets. They still do.
The point of revisiting this tale is that PSBs may be looking at a similar situation post the PNB (Punjab National Bank) scam, where a few bank employees colluded with billionaire diamond maker Nirva Modi to defraud the bank to the tune of Rs 12,700 crore.
After PNB declared the scam, a series of other bank frauds have come to the surface including the Rs 3,695 crore Rotomac scam and Rs 515 crore scam involving RP Infosystems fraud. In total, the total scam/wilful default amount involving different banks will work out to around Rs 26,000 crore.
Investigators—central bureau of investigation (CBI), Enforcement Directorate (ED) and SFIO have expanded the probe into a number of banks—have expanded the Nirav Modi probe to other banks. On Tuesday, the Serious Fraud Investigation Office (SFIO) summoned ICICI Bank chief Chanda Kochhar and Axis Bank's Shikha Sharma in the bank fraud case involving jeweller Nirav Modi and his partner and uncle Mehul Choksi.
Recent bank loan frauds
Persons, entities involved
Rs crore
Vijay Mallya-Kingfisher bank loan fraud
9,000
Nirav Modi- Mehul Choksi-PNB scam
12,700
Rotomac-Vikram Kothari-BoB scam
3,695
RP Info System-Shibaji Panja-Canara Bank-scam
515
Simbhaoli Sugars-OBC scam
109
Total
26,019
This meant that investigators are determined to fast track the investigations and are willing to go to any extent to connect the missing dots. The enthusiasm is welcome—till the time it doesn't turn into a witch- hunt.
To be sure, a clean-up of the Indian banking sector was anyway long overdue. Between 2014-15 and 2016-17, the total number of frauds reported in PSBs stand at 8,622, according to a submission in Parliament. A total of 1,146 staff were involved whereas in private sector banks 4,156 frauds were reported involving 568 staff.
A closer look at the bad loans scenario in the country would tell us that the build-up of the Rs 9 lakh crore declared bad loans happened mainly because of the work of the infamous s banker-corporate-political nexus. It will be naïve to imagine that the nexus will cease functioning with investigations on a few cases of wrongdoings but will certainly send a message to the unholy nexus that there are increased chances of getting caught now. This is critical especially when it comes to the wilful defaulters or borrowers who have the money to pay back to banks but wouldn't do so deliberately.
According to a PTI report, public sector banks have written off loans worth Rs 516 crore owed by wilful defaulters in the first half of the current fiscal, as per the data collated by the finance ministry. As part of this exercise, 38 loan accounts of wilful defaulters were written off the books of banks during April-September period of 2017-18, the report said.
But, chasing the wrongdoers shouldn't lead to witch-hunt in the banking sector. This will lead to a repeat of the baking sector paralysis that was witnessed in 2012 in the aftermath of investigations into telecom, real estate sectors.
Such a situation will be detrimental to the economy that is slowly limping back to the pink of health. If bankers are scared to take calls on credit decisions to productive sectors even when the borrower profile is clean, it can hamper the credit growth even further. Bank credit to industries has begun to pick up only mildly.
This grew by a mere 1.1 percent in the 12 months ending January as compared with a contraction of 5.1 percent in the 12 months before that. For large companies the growth is only 0.5 percent compared with a contraction of 4.4 percent in the last year.
What is needed here is a solid action plan between the government, regulator and investigating agencies whereby the banker engaged in genuine business will have the confidence to do his work without the fear of being prosecuted but guilty officials are not spared at any cost.
Indeed, Rs 26,000 crore bank fraud would mean it's time to read the riot act to the erring banker, but don't throw the baby out with bath water.
(Data support from Kishor Kadam)
also read
Explainers
Confusion prevails over the RBI's decision to withdraw Rs 2000 notes. While the 30 September deadline has been set, the currency will continue to be valid even after. Then why do we have to exchange the notes? Is it a crackdown on black money and fake currency?
India
A case against Tim Jones, Director Rolls Royce India, alleged arms dealers Sudhir Choudhrie and his son Bhanu Choudhrie, Rolls Royce Plc and British Aerospace Systems has been registered after completing a six-year-old preliminary enquiry registered in December 2016.
Business
No id proof, shaded waiting space, drinking water and mobile vans are some of the measures banks are putting in place to help customers exchange currency