Malaysia's ex-PM Najib starts appeal against 1MDB-linked conviction, jail sentence
By Rozanna Latiff KUALA LUMPUR (Reuters) - Malaysia's Court of Appeal on Monday will begin hearing a bid by former prime minister Najib Razak to set aside his conviction on corruption charges in a case linked to a multibillion-dollar scandal at state fund 1MDB. Najib, who was voted out in a historic 2018 election, faces several trials over allegations that $4.5 billion was stolen from 1Malaysia Development Berhad (1MDB), a state fund he co-founded in 2009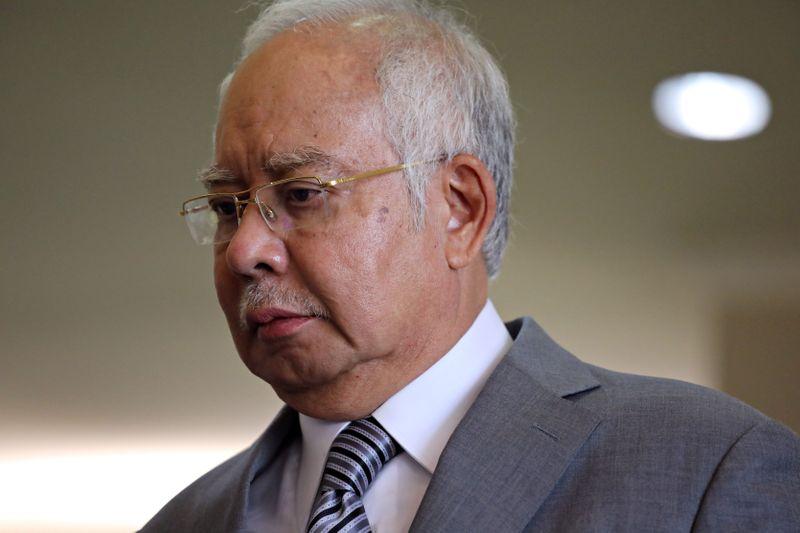 By Rozanna Latiff
KUALA LUMPUR (Reuters) - Malaysia's Court of Appeal on Monday will begin hearing a bid by former prime minister Najib Razak to set aside his conviction on corruption charges in a case linked to a multibillion-dollar scandal at state fund 1MDB.
Najib, who was voted out in a historic 2018 election, faces several trials over allegations that $4.5 billion was stolen from 1Malaysia Development Berhad (1MDB), a state fund he co-founded in 2009. He has plead not guilty to all charges.
Last year, Najib was sentenced to 12 years in jail and a $50 million fine after being found guilty of criminal breach of trust, abuse of power and money laundering for illegally receiving about $10 million from SRC International, a former 1MDB unit.
The sentences were stayed pending an appeal.
Defence lawyers are set to argue on Monday that the trial judge had erred in dismissing evidence showing that Najib was misled by Malaysian financier Jho Low and other 1MDB officials into believing that the funds in his account were a donation from the Saudi royal family, according to documents submitted to the court ahead of the hearing. 
Low, whose whereabouts is unknown, has denied wrongdoing.
"(Najib) had no knowledge of the 42 million ringgit transactions into his account or knowledge that the same were from the account of SRC," the documents seen by Reuters said.
Muhammad Farhan Muhammad Shafee, a lawyer for Najib, confirmed that the documents were filed last month.
The court has fixed 12 days between April 5 and 22 to hear the appeal.
Prosecutors have said more than $1 billion of 1MDB funds made its way into Najib's personal accounts, over which he faces a total of 42 criminal charges.
At least six countries have opened investigations into 1MDB, in a globe-spanning scandal that has implicated high-level officials and major financial institutions.
In recent months, Malaysia has recovered more than $3 billion from U.S. bank Goldman Sachs, audit firm Deloitte, and Malaysian banking group AmBank in separate deals to settle claims linked to 1MDB probes.
($1 = 4.1440 ringgit)
(Reporting by Rozanna Latiff; Editing by Martin Petty)
This story has not been edited by Firstpost staff and is generated by auto-feed.
World
By Anton Zverev and Andrew Osborn MOSCOW (Reuters) - Jailed Kremlin critic Alexei Navalny went on hunger strike on Wednesday in an attempt to force the prison holding him outside Moscow to provide him with proper medical care for what he said was acute pain in his back and legs. The fate of Navalny, one of President Vladimir Putin's most prominent critics, is in focus after he said last week that being woken up by a guard every hour during the night amounted to torture and that his appeals for medical treatment had been ignored. In a handwritten letter addressed to the governor of his prison which was posted to social media by his team on Wednesday, Navalny said daily requests for a doctor of his choice to examine him and for proper medicine had been ignored
World
By Stephanie van den Berg THE HAGUE (Reuters) - The International Criminal Court on Wednesday upheld its 2019 acquittal of former Ivory Coast President Laurent Gbagbo on charges of crimes against humanity during post-election violence and ordered all conditions of his release be removed. The decision may open the way for Gbagbo, 75, who has been living in Belgium, to return to Ivory Coast
World
SAINT-DENIS, France (Reuters) - The French stadium that hosted World Cup finals in soccer and rugby is taking on a new role in response to the COVID-19 pandemic: it is becoming a vaccination centre. Workers at the Stade de France venue were on Wednesday putting up tents for use as vaccination cubicles inside a hall in the bowels of the stadium that in pre-pandemic times was used to host conferences and VIP receptions. The Stade de France is due to host the French soccer cup final in May, the final of the domestic rugby competition in June, and a concert by U.S.