Malaysia's AirAsia X posts larger loss as revenue hit by virus curbs
KUALA LUMPUR (Reuters) - Long-haul carrier AirAsia X Bhd posted on Thursday a wider quarterly loss on reduced revenue, hit by coronavirus travel curbs, and added it was keeping up restructuring efforts key to its ability to raise new funding and survive. The company reported a net loss of 308.5 million ringgit ($75.32 million) for the quarter that ended in September, up from a net loss of 229.9 million a year earlier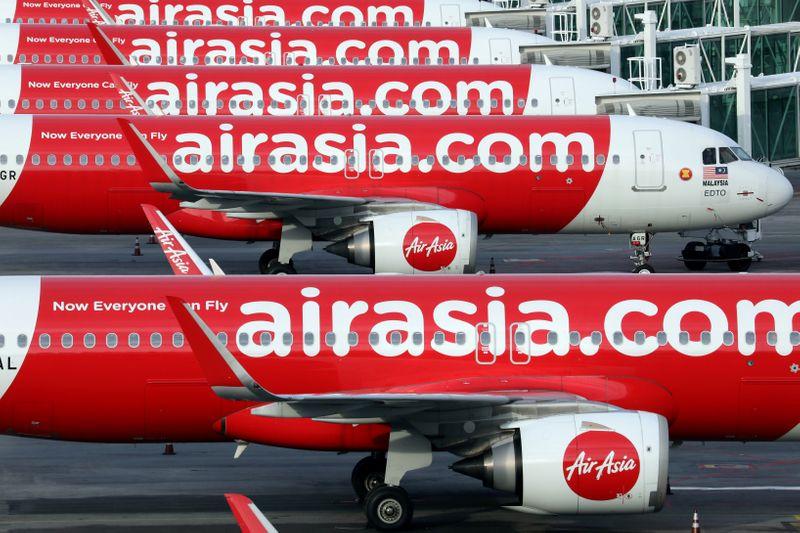 KUALA LUMPUR (Reuters) - Long-haul carrier AirAsia X Bhd posted on Thursday a wider quarterly loss on reduced revenue, hit by coronavirus
travel curbs, and added it was keeping up restructuring efforts key to its ability to raise new funding and survive.
The company reported a net loss of 308.5 million ringgit ($75.32 million) for the quarter that ended in September, up from a net loss of 229.9 million a year earlier.
Revenue dropped 94% to 59.9 million ringgit, it said in a bourse filing.
The arm of AirAsia Group Bhd has taken a hit as air travel ground almost to a halt in the past few months, hit by border curbs to control the spread of COVID-19
.
In October, it proposed a major restructuring, seeking to reconstitute $15.3 billion of unsecured debt into a principal amount of 200 million ringgit and waive the rest, in order to avoid liquidation.
This month the airline revised the plan to re-categorise its creditors in a bid to tackle concerns raised by a creditor.
"The implementation of the scheme is currently ongoing and its success is critical to the ability of the Company to raise new funding, either as debt or equity, and to continue as a going concern," it said in a stock exchange filing.
AirAsia X is in talks with a financial institution to secure a government guaranteed loan of up to 500 million ringgit, it added.
($1=4.0960 ringgit)
(Reporting by Liz Lee; Editing by Clarence Fernandez)
This story has not been edited by Firstpost staff and is generated by auto-feed.
Find latest and upcoming tech gadgets online on Tech2 Gadgets. Get technology news, gadgets reviews & ratings. Popular gadgets including laptop, tablet and mobile specifications, features, prices, comparison.
Business
By Gustavo Palencia and Ismael Lopez TEGUCIGALPA (Reuters) - Hurricane Iota began whipping a remote coastal area of Nicaragua with catastrophic winds, storm surges and rain on Monday evening, as the region's leaders blamed climate change for destruction that is pushing millions closer to hunger. Iota was due to crash through northeastern Nicaragua's Miskito region overnight, packing maximum sustained winds of 160 miles (260 km) per hour, having reached Category 5 on the Saffir-Simpson scale, the U.S
World
SAQQARA, Egypt (Reuters) - Egypt on Saturday showcased more than 100 coffins dating back 2,500 years, the latest and largest find this year in the vast burial ground of the Saqqara Necropolis.     The 26th Dynasty coffins - sealed, finely painted and well-preserved - were of a higher quality than previous finds there, said the secretary-general of the supreme council of antiquities, Mostafa Waziri, suggesting they belonged to higher ranking families.
World
KYIV (Reuters) - Ukrainian Health Minister Maksym Stepanov said on Saturday he had tested positive for COVID-19, shortly after announcing the country had posted a record number of new cases in a single day. "This is a war, every day the virus takes the lives of Ukrainians," Stepanov told a televised briefing at which he said 12,524 new cases had been registered in the previous 24 hours, up from the record of 11,787 a day earlier