The recent arrest of the online travel portal Makemytrip executive on the ground that the portal was remiss in not paying a whopping Rs 82 crore service tax and his release following censure by court of the ham-handedness and highhandedness of the administration, hides a larger malaise---how to come to terms with the seemingly intractable problem of online aggregators cocking a snook at the tax authorities.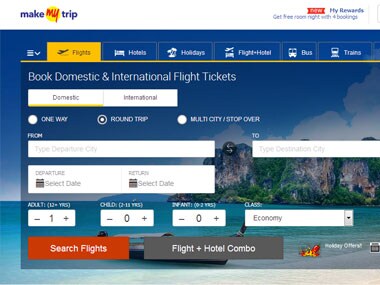 Makemytrip earns its keeps from sale of airline tickets and doing hotel bookings. The excise authorities who have been doubling up to administer service tax ever since it was introduced in 1994 know that the service component embedded in the price must be drawn out first before service tax can be imposed.
Accordingly, for hotels and restaurants, it allows a 60% abatement which means a hotel or restaurant has to pay service tax only on 40% of its billings. And for airlines the abatement is still higher---90%. But then Makemytrip in common with online aggregators argues that it is not a hotel or airline itself; it is only a service provider or aggregator.
We have had examples of similar ham-handedness in the past by state governments, flummoxed by the inexorable online spatial expansion and the consequent loss of revenue. The Karnataka government charged Amazon with the responsibility of the seller whereas it pleaded that its online portal only offered a marketplace for any seller and that owning warehouses where the wares of these thousands of sellers did not make it a seller.
The Kerala High Court too squashed the penal proceedings against Flipkart which too was slapped with similar charges---not being VAT compliant. Online sales are the order of the day, with mobile internet accessibility on the back of apps registering a quantum jump, catapulting India possibly into the third position in terms of internet users in 2018.
Livemint.com has some disconcerting statistics for brick and mortar organized stores and the harried tax authorities----the share of online retail is likely to leapfrog from 2% in 2014 to 11% in 2019 with a corresponding fall for organized brick and mortar stores from 17% to 13%.
Deloitte.com corroborates this assessment when it projects a $60 billion online retail sale in India in 2017, with a steady growth up from 3.5% share in 2008 to 6.5% share in 2013 and 10.1% share in 2018.
Walmart, USA, has seen the writing on the wall, and ramping up its online facilities and scaling down its giant brick and mortar stores. The point is our government too should see the writing on the wall. It must smoke the peace pipe with the online trade by recognizing them for what they are---marketplace unless they sell on their own account.
It is easy to collect VAT or GST from a Flipkart rather than from thousands of small manufacturers and traders who have been using online portals to a telling effect. To be sure, the online portals exercise a lot of powers on behalf of these sellers---order acceptance, rejection acceptance, payments etc. ---but the government simply cannot brand them with the status of sellers only on these grounds. It has to gear up and gird its loins to gun after the actual sellers whose identity and address can be obtained from the likes of Flipkart.
The online aggregators must be subjected to service tax and the sellers using their portals must be subjected to local VAT/CST/service tax/GST as and when implemented, period. The governments must eschew the temptation to do an encore of dividend distribution tax (DDT) success. DDT is collected from thousands of companies which is far easier than collecting tax on dividend from millions of investors.
But the same cannot be replicated on the indirect taxes front with online portals many of which are successful startups that have attracted sizeable FDI and kept the otherwise somnolent economy going. They are all technology driven as envisioned by the government's 16th January 2016 startup vision document. The hen that lays golden eggs should not be killed by foisting on it the tax burden of others. It is for the respective hotels and airlines to pay the taxes and not for Makemytrip except service tax attributable to the services it provides. Ditto for sellers in the online marketplace.
Firstpost is now on WhatsApp. For the latest analysis, commentary and news updates, sign up for our WhatsApp services. Just go to Firstpost.com/Whatsapp and hit the Subscribe button.
Updated Date: Jan 22, 2016 15:53:49 IST