A week-long "Make in India" fair closed on Thursday with $222 billion (Rs 15.2 lakh cr) in investment pledges, but thin attendance by foreign firms at the event launched by Prime Minister Narendra Modi means many are unlikely to actually happen.
The Mumbai jamboree was the biggest in India, but earlier events such as the "Vibrant Gujarat" launched by Modi when he led the state have only seen 13 percent of deals implemented, according to independent research.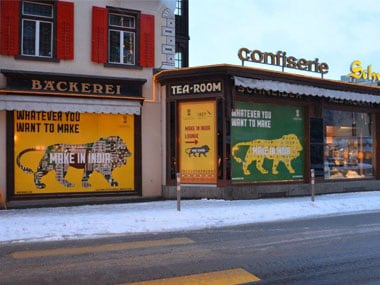 Amitabh Kant, Secretary of India's Department of Industrial Policy and Promotion (DIPP), told reporters investment commitments had reached 15.2 trillion rupees ($222 billion).
The commitments fell some way short of the 25 trillion rupees announced at the three-day Vibrant Gujarat event a year ago.
Kant said he expected 80-85 percent of the pledges to convert into serious business, much of it from foreign investors. It can take 18 months to three years for a memorandum of understanding to yield a final investment, he added.
"This was the biggest multi-sectoral event ever done across Asia," he told a briefing, describing the event as a success.
"We have already opened the economy across sectors to the world. We're now showcasing, connecting and collaborating for manufacturing in the country," Kant said, adding that the summit is not about manufacturing alone, but innovation and nurturing inventors.
He is hopeful that the summit will create a favourable environment for investors from across the world.
Research commissioned by the free-market Friedrich Naumann and Cato institutes has found the rate of conversion of such pledges into real investments in India has typically been far lower - with no state exceeding 20 percent.
Among investments signed in the last seven days were a commitment by Oracle Corp for $400 million to set up nine business incubation centres.
Though some participants who spoke to Reuters lauded the event, several complained about a lack of foreign involvement.
"The response is overwhelming, but mostly from Indians. There are Indians everywhere. Usually in Germany, in events like these, stalls are thronged by foreigners," said Ingo Eibbeck, a representative of German manufacturer Schneider International.
According to the data available, host state Maharashtra alone accounted for Rs 8 lakh crore. Besides, it received investment enquiries worth Rs 1.5
lakh crore.
Out of the total investment commitments, the host state made up for more than half, at Rs 8 lakh crore, Kant said, adding that Maharashtra could become the gateway for the rest of the country.
Out of the total commitment pie, 30 per cent have come from foreign players.
The jamboree, for which the Modi-led government has reportedly spent close to Rs 100 crore in marketing alone, is part of the government's push to create jobs by increasing the share of manufacturing to GDP to 25 per cent over the next decade, from the 16-17 per cent now.
The domestic economy has for long been supported by the services sector, which alone contributes more than 60 per cent of GDP.
The summit, despite a reasonably good participation from Corporate India and global companies, had its own share of shortcomings, with poor coordination among various agencies such as DIPP, PIB and industry lobby CII coming to the fore.
On the very thin participation from north-eastern states, Kant said, "Every state has different core competency. I am from the Kerala cadre and I believe that Kerala is a great state for travel and tourism, but is not a great state
for industrialisation."
He added: "My personal view is that north-eastern states need to be developed with sustainability and innovativeness. If you force too much of industrialisation in those areas, you will spoil the natural surroundings of the region. Let's not force every state to be Maharashtra or Gujarat... that will not be correct."
However, it can be noted that most of the non-NDA states barring Karnataka, which is ruled by the main Opposition Congress, and Odisha ruled by the BJD, kept away from the summit.
Over 2,500 international and 8,000 domestic companies are claimed to have participated in the week-long multi-sectoral industrial event, apart foreign government delegations from 68 countries and business teams from 72 nations.
The opening ceremony was also attended by Prime Ministers of Sweden, Finland and Deputy Premier of Poland, besides other foreign ministers.
As many as 17 states, mostly BJP-ruled ones, participated in the expo and there were over 50 seminars.
Gujarat, Madhya Pradesh, Haryana, Odisha and Punjab had dedicated state-centric sessions too.
The opening cultural night at Girgaum Beach turned out to be a flop after a massive fire broke out early into the event, which had the entire state government in attendance.
Luckily, there was no human casualty. Similarly, many were critical of the high food prices at the food courts and the high security, which didn't allow
home-made foods.
Agencies
Firstpost is now on WhatsApp. For the latest analysis, commentary and news updates, sign up for our WhatsApp services. Just go to Firstpost.com/Whatsapp and hit the Subscribe button.
Updated Date: Feb 19, 2016 13:01:59 IST