Maharashtra Kisan march called off: Devendra Fadnavis isn't the only CM to face heat of loan waivers 
Maharashtra is one of six states – Rajasthan, Uttar Pradesh, Punjab, Karnataka, Madhya Pradesh – that have announced farm debt waivers this fiscal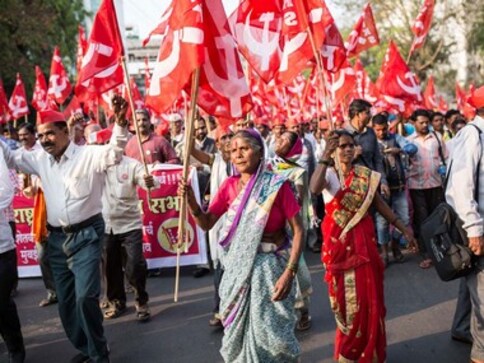 The Maharashtra government has finally agreed to certain critical demands raised by protesting farmers, putting an end to the farmer agitation for now. A 12-member farmer delegation agreed to instantly call off their protest after Fadnavis' government agreed to most of their demands, including the transfer of forest land to tribal farmers.
But in all likelihood this truce may not last long. The reason is simple. The burden on the state exchequer on account of the farm loan waiver promise is much higher than what was originally estimated. The Fadnavis government will have to struggle to put together the resources needed to meet the additional burden.
In June 2017, Fadnavis first announced a roughly Rs 34,000 crore loan waiver packager, after the Uttar Pradesh government announced a similar loan package. Of the promised sum, Fadnavis has managed to waive only about Rs 13,700 crore thus far. The roll out has been a mess as a Firstpost investigation revealed). The state had to raise about Rs 20,000 crore to meet the loan waiver demand leading to a higher fiscal deficit. In this context, one needs to wait to see if Fadnavis manages to fulfil commitments made this week.
However, Maharashtra isn't the only state that has faced the burden of a farm loan waiver impacting its balance sheet.
Maharashtra is one of six states – Rajasthan, Uttar Pradesh (UP), Punjab, Karnataka, Madhya Pradesh (MP) – that have announced farm debt waivers in the ongoing financial year, which ends 31 March, 2018, following a spate of farmer suicides in these states. While farm loan waivers announced by the UP and the Punjab governments are part of their respective FY18 Budgets, those announced by Maharashtra, Rajasthan and Karnataka are outside their budgets.
Ahead of state elections, due later this year, Rajasthan chief minister Vasundhara Raje, in February, announced a Rs 8,000 crore farm loan waiver package for small and marginal farmers in the desert state.
In September 2017, the Uttar Pradesh government rolled out the first-phase of its loan waiver package, which is worth Rs 7,371 crore. According to the government, loans of over 11 lakh small and marginal farmers will be waived. This follows a promise made in April 2017, when the then newly elected BJP regime there said it will waive Rs 36,359 crore worth of crop loans of 21.5 million farmers.
Elsewhere, the state government of Punjab, in June 2017, waived of crop loans of over a million small and marginal farmers, and the move is estimated to cost the state exchequer some Rs 10,000 crore.
Meanwhile, Fadnavis announced a Rs 34,022 crore farm loan waiver in June 2017. The package is estimated to help 5.6 million farmers.
Also in June 2017, Karnataka chief minister Siddaramaiah announced a waiver of Rs 8,165 crore worth of crop loans, doled out by cooperative banks. His move is expected to benefit over 22 lakh farmers in the southern state
Earlier in June, the Madhya Pradesh government announced a loan waiver package to cover some six lakh farmers with accumulated dues of around Rs 6,000 crore.
also read
Opinion
Congress president Mallikarjun Kharge, like Manmohan Singh of 2004-14 era, has to cater to the likes, reward loyalties and present a somewhat youthful and professional face of the grand old party
India
'NCPCR in the interest of the children humbly submits that education imparted to children in Madrasas is not adequate/comprehensive and as such the same is against the provisions of Right to Education Act, 2009,' read the affidavit filed by India's child rights body
Politics
After a thumping victory over the BJP in Karnataka, Congress faces its first challenge: Who will be the chief minister? The party high command is meeting in Delhi as both state chief DK Shivakumar and veteran leader Siddaramaiah are eyeing the top job