Maharashtra farmers' protest: Unscientific farming, poor crop choice, bad marketing among many ills that ail farm sector
At least 2/3rd of the population dependent on agriculture can look at other avenues which will give them better fortunes, says an expert from the agri sector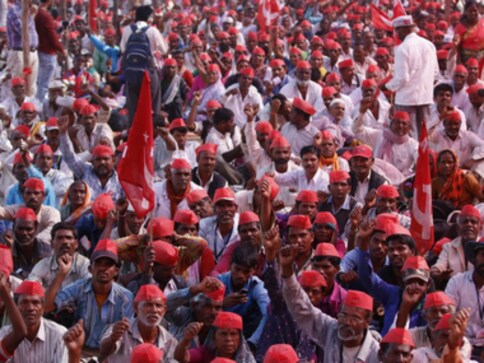 Was the long march of farmers from Nashik to Mumbai, traveling a grueling 180 km in the summer heat one of the last such that India will see for some time? Or will they be pulled out like a rabbit from a magic hat in time to be brought out during the next polls? There is nothing surprising about this pattern though. Experts say that kind of events will be a recurring phenomenon with no respite in the near future. Political parties, no matter how much they may want to avoid it, will be forced to play party politics by the Opposition and thus protect their vote banks.
Let's take a look at the statistics: Seven state governments have so far announced Rs 1.10 lakh crore farm loan waivers while the UPA government in 2008 disbursed Rs 71,680 crore at the Centre. (See table)
Farm loan waivers in India
Announced on
Centre/State govt
Loan waiver amount in Rs crore
Farmers benefited
29/02/2008
UPA govt
71,680
3 crore
28/07/2016
Tamil Nadu
7,760
20 lakh
04/04/2017
Uttar Pradesh
36,359
2.15 crore
08/06/2017
Madhya Pradesh
6,000
6 lakh
11/06/2017
Maharashtra
34,000
56 lakh
19/06/2017
Punjab
9,500
10.22 lakh
21/06/2017
Karnataka
8,165
22.28 lakh
12/02/2018
Rajasthan
8,000
22 lakh
Total
 
109,784
Why is it that the farmers are looking for farm loan waivers repeatedly? What ails the sector?
High dependence on agriculture: Primarily,  too many people are dependent on agriculture instead of opting for other avenues. "What sense does it make to have 54.8 percent depended on agriculture?" asked an agri expert. At least two-thirds of the population dependent on agriculture can look at other avenues which will give them better fortunes, the expert said.
Horticulture, dairy farming, goat herding, poultry, piggery are some of the other  avenues that could be looked at. In Budget 2018, the government announced two separate funds with a corpus of Rs 10,000 crore to create infrastructure in fishery, aquaculture and animal husbandry sectors, Rs 2,000 crore as agri-market infrastructure fund and Rs 1,290 crore for the national bamboo mission. Among others, the facility of Kisan Credit Cards has been extended to fisheries and animal husbandry farmers to help them meet their working capital needs.
Lack of fair pricing mechanism: The pricing factor is another thorn in the farmers' sides. If the government can provide right kind of remuneration for their crops, then this issue of loan waiver would not arise, said Anant Sardeshmukh, director general, and member of the Board of Mahratta Chamber of Commerce Industries and Agriculture (MCCIA). There are a lot of fluctuations in pricing and this is the basic deficit in the system, he says. With the absence of any real commodity market in the country, there is a huge market price volatility.
For starters, the government could help by providing an encouraging support system. The government needs to provide 'right kind' of remuneration for crops, said Sardeshmukh.
If a fair price was ensured to crops, then the glut seen with vegetable products such as onions and tomatoes grown in excess, for instance, would become part of history. The produce gets dumped on highways as the cost of production is higher than the price of the finished product.
When a particular crop is seen to be doing well, like pulses for instance, then every farmer plants it and it results in a glut of the product in the market. But when pulses production goes up, inevitably prices crash and the farmer is the worse-off for it. Pune-based farmer Sopan Kanchan rued that, "Arhar dal was grown in abundance and we thought it would fetch us a bounty. Then the government went in for imports and ruined it for us. Now we don't even get Rs 40 for a kg of dal."
The government has done its bit by trying to unshackle agriculture produce marketing committees (APMCs) which were the stranglehold of brokers. In 2017, the government proposed a model law on agricultural marketing to end the monopoly of traditional APMC mandis by allowing private players and others to establish wholesale markets. Some of the issues faced by farmers have been solved with reforms.
"Earlier, farmers in Maharashtra would sell their produce to APMCs and were subject to manipulation of prices. States, for instance, have their own version of the APMC Act which determines the market structure such as who can buy and sell to whom besides what charges to be paid at each stage," said Sardeshmukh. In 2017, the Centre proposed a model law on agricultural marketing to end the monopoly of traditional APMC mandis by allowing private players and others to establish wholesale markets. But how much this has improved operational efficiency has to be seen yet, he says.
Unscientific methods are still the norm: Another reason cited for bad crops is that farmers are following traditional methods of farming without factoring in climate change. So sugarcane, a water-guzzling crop, is planted in areas where rainfall and water is a scarcity. Farmers grow sugarcane in severely drought-affected areas like Marathwada which demands huge quantities of water for cultivation and crushing. Marathwada has around 75 to 80 of the state's 205 sugar mills. According to estimates of the state's agricultural commissionerate and the Maharashtra State Co-Operative Sugar Factories Federation, around 9 lakh hectares in the state has come under sugarcane cultivation against a lower acreage in the previous year at around 6.3 lakh hectares.
There is no hard-headed analysis or rationality behind crop selection and cultivation with the consequence that farmers follow same cropping patterns for generations, points out Abhay Pethe, distinguished fellow, Observer Research Fellow (ORF), and senior resident, Department of Economics, Mumbai School of Economics and Public Policy. "This suggests a lack of basic education, awareness, guidance, and prediction about what kind of crop will do well in a particular region," he said.
The government needs to suggest crop strategy for Kharif and Rabi cultivation, for instance, which the large majority of farmers are unaware of. "The entire crop management system should be focussed on development. When the government tom-toms about Industry 4.0 and IOT (Internet of Things), blockchain technology among other things, why can't there be some survey done to enable the farmers to grow the crop which will reap benefits for them?" asks an agri expert.
Some wonder if the farmer issue is as grave as is being pointed out. A dangerous argument nevertheless. But Pethe believes that there is a dash of 'romanticism' in the manner in which farmers are treated. "Why is 55 percent of people investing their time and energy in 12 percent of agriculture? Then we have emotions running riot  when farmers commit suicides which largely has nothing to do with inadequate agriculture output but with debts taken for children's education and marriage and for other reasons. Politicians will look bad if they ignore this social ill and then this vicious cycle starts all over again of loan waivers which helps neither the farmer nor the state exchequer," he said.
Prime Minister Narendra Modi flagged off loan waiver with his announcement on 15 February in a campaign rally in Uttar Pradesh stating that if the BJP was voted to power in the state, it would waive crop loans. Since then, the Pandora box of loan waivers has opened and will be quite difficult to be clasped shut for some time in the near future or the next polls.
(Data contribution by Kishor Kadam)