Maggi survived 'near-death experience'; we have emerged stronger: Nestle India MD Suresh Narayanan
With the pan-India launch of the new Maggi variants and the new range 'Hot Heads', Nestle India expects to see more growth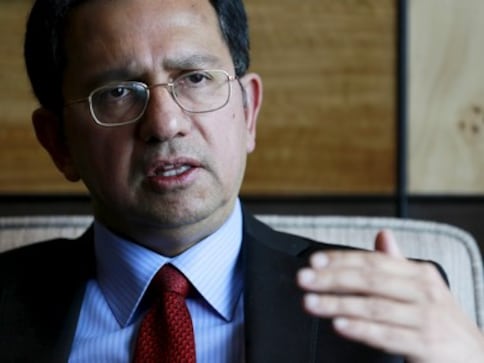 Nestle India's Maggi noodles has bounced back to the market leadership registering 57.1 percent market share within nine months of its relaunch. This is a marked improvement from its 10.9 percent market share in November, when the company relaunched Maggi after a five-month ban by the Food Safety and Standards Authority of India (FSSAI) following a Bombay High Court Order, saying it was 'unsafe and hazardous'.
The company improved its share to 35.2 percent in December, according to a Nestle India presentation made to financial analysts and institutional investors. In March 2016, it climbed to achieve a 51 per cent market share.
Suresh Narayanan Chairman and Managing Director – Nestlé India shared the company's prospects in an email inteview to Firstpost.
Excerpts from interview:
What was the strong strategy that the company adopted to regain lost ground in the noodle category and achieve 57 percent growth?
Maggi pioneered the concept of packaged noodles in India three decades back and despite several brands entering the market, it has managed to retain the leadership. The brand equity and customer trust has been built over generations and this has helped the brand bounce back after a near 'death' experience. We have grown steadily after the re-launch and currently Maggi market share stands at about 57 percent. With the pan-India launch of the new variants and the new range 'Hot Heads', we expect to see more growth. In terms of coverage, we have completed urban India and through aggressive extensions are well on our way to reach our rural outlets as well.
You still haven't regained your earlier market share of 80 percent before the crisis. When do you hope to reach that figure?
Since the comeback,we have received positive responses from all our stakeholders, most importantly our consumers. The entire category had suffered last year. We are trying to address this and are also working towards offering new taste experiences. There is excitement at the moment. We are continuing with our efforts of innovation and renovation with a focus to get the business back on track. I would not like to comment on when we would reach earlier market share since it is speculative and has to do with the competitive intensity and category evolution, which is not entirely in the ambit of Nestle. With the re-launch of Maggi noodles variants, we are really trying to valorize this category through new taste experiences and are currently working on the same.
You have had a setback in business with your biggest product category Maggi noodles. Are you planning to bring in more products in other categories to lessen your dependence on noodles?
With regards to other non-noodles portfolio, some of the recent launches have seen positive response from consumers. We have launched 25 new products in a short span of 2-3 months, which is the largest number of new initiatives we have managed in our history. Products like Ceregrow for children between the age group of 2 to 5, Nestlé a+ Pro-Grow, a protein rich milk, Nestlé Everyday Masala Fusion, Greyko, Munch nuts are all clutter breaking innovations. Some of these have been in the market for a while and the response has been good. We remain committed to strengthen the categories we are in and also launch new products in quick succession. Strategically, we will continue to ensure that the products that we introduce are market winners. We are hopeful that our efforts geared towards consumer-centric innovation and innovation will benefit the overall businesses.
You have brought about changes in advertising and product offering. Why?
We believe that products need to evolve to meet consumers' changing preferences for personal health and better nutrition, to suit their lifestyles and to satisfy the tastes they enjoy. We are expanding the choice available to the consumer and will continue to invest in this direction. As for our advertising campaigns, it is important how we can reach out to our consumers in the most impactful, efficient manner and focus on the efficiency of the ad-spends while integrating with a 360 degree marketing approach.
What are the lessons for you and the company from the crisis that it had go through regarding Maggi Noodles?
The entire episode has helped us come back stronger and all new projects are aimed at that. We are now more focussed on being a fast and flexible company which takes decisions in lesser time and launch products more quickly. We are constantly working on introducing new products for the market in the coming months. In overall terms, we seek to become a stronger and more tenacious organisation as a consequence of our experience.