Lots of opportunities in smart cities mission: NBCC chief Anoop Kumar Mittal tells Firstpost
Our model for redevelopment of cities is based on the principle of generating fund ourselves and then to execute the project, says NBCC (India) Limited chairman-cum-managing director Anoop Kumar Mittal.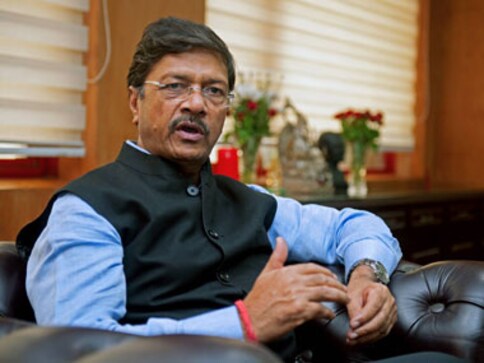 Since its inception in 1960, NBCC (India) Limited, formerly known as National Buildings Construction Corporation Ltd., has come a long way and emerged as a major public sector enterprise in the infrastructure sector, with a strong focus on redevelopment of cities, colonies, government properties and heritage buildings.
The Cabinet Committee on Economic Affairs, chaired by Prime Minister Narendra Modi in July approved the disinvestment of 15 percent paid up equity of NBCC out of government's 90 percent shareholding, which would result in estimated receipts of Rs 1,706 crore approximately to the government.
As a wholly-owned government of India enterprise under the administrative control of the Ministry of Urban Development, with the objective of becoming a leading company in the field of construction, engineering and project management consultancy services, NBCC is now engaged in developing smart cities in the country. Even, during slow economic growth, this Navaratna company has seen no dearth of business.
The chairman-cum-managing director of NBCC, Anoop Kumar Mittal, speaks about developing smart cities, redevelopment plans and unique revenue model to fund its projects, in an exclusive interview to Firstpost.
What is NBCC's plan towards building of smart cities, one of the most ambitious initiatives of the NDA government?
The governments of the northern, eastern, southern and northeastern states are in talks with NBCC. It's in nascent stage and we're identifying five-to-seven cities with different business models for project execution. The project has two components — IT and infrastructure. In July, we signed an agreement with IBM as our partner for designing of IT related works like having a data centre, website, social media presence, ERP applications, vendor grievance management, e-Sewa, digitisation, etc. Under infrastructure, issues like road, sewage system, transportation etc. will be taken care of.
There is a lot of opportunity in Centre's smart cities mission. Funds are the most important component of smart cities and that's why cities are going for re-development and monetisation of properties. Here we have a big role to play. We are already present in few cities in various states. Right now, we're in the process of forming special purpose vehicles (SPVs) for smart cities with state governments and local bodies. We're working on strategic associations with France, Sweden, etc. There have been formal discussions with municipal commissioners of 33 cities on business development.
What is the model being adopted by NBCC towards redevelopment of government residential colonies?
Our model for redevelopment of cities is based on the principle of generating fund for ourselves to execute the project. The fund generated will be pumped in the construction of complexes. Here, the government won't contribute funds and we will monetise these projects. Our first redevelopment project in Delhi was New Moti Bagh, which is also India's first largest Green Home Complex. The mandate was that NBCC would have to generate the cost of the project. By selling three acres of land to Hotel Leela, we generated Rs 650 crore, a part of it was used in redevelopment of the locality of 119 acres. After developing residential units for government employees, we returned Rs 350 crore to the ministry.
We're following a similar model in the case of Kidwai Nagar with a project cost of Rs 5,500 crore. The others are at Sarojini Nagar (288 acre), Netaji Nagar (112 acre) and Nauroji Nagar (25 acre). While, Sarojini Nagar and Netaji Nagar shall have a residential complex as well as commercial space for government and PSU (public sector undertaking)offices, Nauroji Nagar is exclusively for commercial purpose. We'll create freehold commercial spaces for government, private and individuals.
There are seven colonies to be redeveloped, out of which four colonies with a total project cost of Rs 7,000 crore will be redeveloped by CPWD (Central Public Works Department) and three large colonies by NBCC. Fund worth Rs 32,000 crore will be generated by us in all the seven projects.
Kidwai Nagar in Delhi has drawn major attention, as NBCC is redeveloping it, giving it a new face. Can you share the details?
It's a major redevelopment project in terms of scale of operation and the cost is Rs 5,500 crore. In the 86 acre area, NBCC is developing four office towers that will create 50 lakh acre of office space; 78 residential complex towers; and open area space as well. The office space will be given to government and PSUs on a 30-year lease period. The importance of Kidwai Nagar is that once completed, it'll be seven times larger than its original space. It'll change the skyline of area with smart offices. This will be a real smart city without any cost to the government.
Kidwai Nagar project started in December 2014 and it's scheduled to be completed by December 2019. But, we hope to do it much before the deadline.
Apart from Delhi and other metros, which Tier-II cities are you planning to redevelop?
There is immense opportunity in Tier-II cities and we're exploring it. We've entered into a joint venture company (50:50) model with Rajasthan government and are aiming to develop properties in Jaipur and other areas close to it. In Bhubaneshwar, we're developing two big colonies. In Gurgaon, we're functioning as a real estate developer by buying and selling land. Ghaziabad is another area where we are working in this direction. In days to come, we'll be into real estate development in 30 places.
What's your roadmap for the next five years?
There's a lot of opportunity before us in terms of redevelopment work. The older our country is growing, the need for redevelopment increases. NBCC being the only PSU in infrastructure sector, it wants to see itself as a major redevelopment agency for the government. Our focus should be on redevelopment and I hope this legacy would be carried on in future too.
In the next five years, we're aiming at a revenue growth target with CAGR of 25-30 percent. We're expecting to have a revenue of Rs 15,000 crore, with a Rs 1 lakh crore order book.
Besides colonies and cities, do you have plans to enter into any other area of redevelopment?
Yes, we're already into redevelopment of heritage properties and sites. In Kolkata, NBCC renovated and retrofitted two iconic heritage properties of the British Raj — National Museum and Victoria Memorial. On Mumbai's Peddar Road, we renovated the heritage Gulshan Mahal, the site for the National Museum for Indian Cinema. NBCC played a major role in building the first museum at Rashtrapati Bhawan. Besides, we've also done the renovation work for National Police Memorial in Delhi and simultaneously renovating and retrofitting several museums and old heritage buildings across the country.
What is your restructuring plan for Hindustan Steel Works, which the NBCC plans to take over?
It's in the final stage and the deal will be closed this financial year. Hindustan Steel Works (HSW) has expertise in developing steel plants and steel structures, and recently it has diversified into roads and infrastructure. We want to promote the strength and expertise of HSW by using composite structure (steel frame structure) in construction. It'll replace the traditional RCC frame. The composite structure technology has gained worldwide acceptance due to better durability and strength.
What is the status of the agreement that NBCC signed with Air India and the MoU with Goa Shipyard Limited?
Besides developing properties, NBCC will undertake redevelopment work for Air India. However, it's in a very nascent stage. We're going to construct the headquarters for Goa Shipyard Limited, for which we signed an agreement last week.
Your overseas operations...
NBCC ventured into overseas operations in 1977, executing projects of diverse nature in Libya, Iraq, Yemen, Nepal, Maldives, Mauritius, Turkey, Botswana, etc. Presently, we have presence in Maldives, Turkey and Botswana implementing various projects and earning consistent revenue. NBCC has opened an office in Oman and also signed an MoU with Al Naba Services LLC in Oman in order to jointly explore and secure infrastructure projects in Sultanate of Oman and neighbouring countries. Besides, we have also entered into MoUs with companies in Malaysia and Turkey.
What is NBCC's construction order book as of today?
It's Rs 70,000 crore.
What is your take on the disinvestment of 15 percent paid up equity of NBCC, which would result in estimated receipts of approximately Rs 1,706 crore to the government?
The disinvestment would further broadbase NBCC's shareholding. It's too early to comment anything as the actual realisation amount will depend upon the market conditions and the investor interest prevailing at the time of actual disinvestment.
Finally, what are you planning to do with the large land bank you have in your possession?
NBCC has 180 acre of land in 30 different locations. We'll develop real estate at these locations and sell.
World
The economic urgency is the real driver for an industry worth $3.5 trillion in 2019 that the United Nations estimates lost about that much during the pandemic
World
This comes in the wake of a Pakistan minister proposing that people drink less tea on 17 June as the country had reportedly consumed tea worth Rs 83.88 billion in the fiscal year 2021-22
World
Sri Lankan PM says that the economy has collapsed and it has been muddling through mainly supported by $4 billion in credit lines from India