Local acquisitions top priority for Kotak Mahindra Bank
He also listed out rationalisation of subsidies in the energy space and steps to check gold imports as some immediate steps alongside other reforms to bolster the Indian growth story.<br /><br />
Davos: Aiming to transform itself into a bank of global scale, quality and size and an 'ever-young' Indian banking company Kotak Mahindra Bank is looking for acquisition opportunities within India on a top priority basis, its chief Uday Kotak said at the World Economic Forum meet in Davos.
"We are also seriously looking at opportunities for acquisitions within India and if (we) get something appropriate, it would be top of our priority and this is something we are currently focusing on," said Kotak.
On the perception about Kotak Mahindra Bank being a small one and no names other than ICICI Bank and HDFC Bank getting a mention during talks about large Indian private sector banks, Kotak said these perceptions would soon change. "We are certainly trying hard to change the perception. Our aim has always been to maintain the quality and we never wanted to achieve size at the cost of quality. But now, we are working on a quality of size," he said.
Listing out the growth potential India has in the current economic scenario globally, he said on the sidelines of the just-concluded World Economic Forum here that the Kotak Group itself was finding enormous opportunities in the Indian financial sector.
"We will continue to invest and grow in each segment of our operations, whether it is commercial banking, institutional equities, or any other business. Our equity research entity is ranked two in the country and we are the only Indian entity among the top ten equity research firms in India, the rest nine are foreign," he said.
He also listed out rationalisation of subsidies in the energy space and steps to check high gold imports as some immediate steps alongside other economic reforms to bolster the Indian economic growth story.
Asked about the European crisis, which dominated the WEF meeting in a big way, Kotak said: "My view is that Europe would most likely be a muddle, not a crisis, at least for 2012. This would mean a slow growing eurozone economy, but not a blowout situation.
He added that the West will see slow and sluggish growth but not face a major crisis as the central banks in the US and Europe are focused on keeping liquidity very easy."The outcome of this is that, one, if there is no crisis but a slow growth in the Western world, it is an opportunity for India to build itself in this period," he opined. Kotak further said that India can utilise this opportunity to put its reform agenda in place.
According to Kotak, India should go ahead with the rationalision of subsidies in the energy and oil sectors and slow down the import of gold which is notonly putting pressure on current accounts but is also sucking out domestic savings into an unproductive asset.
Expressing his views on stock market trends, Kotak said the market would remain range-bound at a Sensex level of 15,000 on the lower end and 18,000 on the upper end for a while.
"This trend could continue till there is clarity on the global front and also India's reform process. We have a very important election season, which could have a significant impact on the future course of Indian economic reforms," he added.
Besides Kotak Mahindra Bank, Uday Kotak-led group has a presence in insurance, brokerage, asset management, auto finance, investment banking, equity research and a host of other financial services segments.
Kotak said he is optimistic about 2012 giving India "an opportunity once again to build itself and take benefit of this opportunity, which it seems to have missed in 2011."
Kotak Mahindra Bank has over 329 branches and 782 ATMs across India. It posted a revenue of close to Rs 11,000 crore and profit after tax of more than Rs 1,500 crore in the last financial year.
PTI
Explainers
After three US regional lenders failed, UBS swooped in to buy out troubled Credit Suisse in order to avoid a larger crisis. The turmoil began on 8 March, with Silvergate Bank's announcement of liquidation, followed by the collapse of Silicon Valley Bank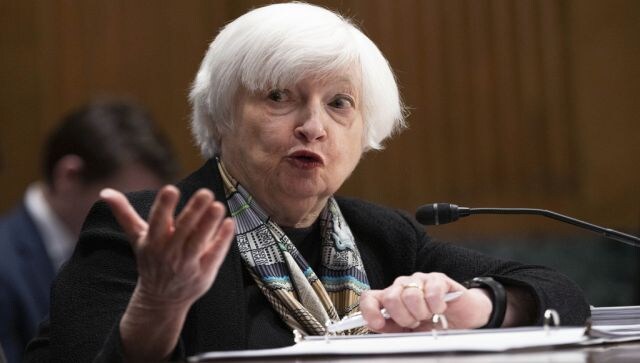 World
Stock markets extended gains with US and European indices closing higher as fears of a financial crisis eased, after the US Federal Reserve and other major central banks kicked off a coordinated effort this week to boost lenders' access to liquidity
World
The 40 branches of Signature Bank will become Flagstar Bank, starting Monday. Flagstar is one of New York Community Bank's subsidiaries