Take a walk around Bandra and you will notice how in a number of private societies and gymkhanas, waste is segregated and composted in a very organized and systematic way. All this to the credit of one man who took initiative and spread awareness on the importance of greening waste.
It all began a few years ago in 2011 when Bandra saw a spike in the number of ALM (Advanced Locality Management) groups. Denzil Rego has been an environmental activist for the past 11 years and was then the head of his ALM. Joining together with others from the area, these ALM's worked as platforms for the discussion of civic issues. Interestingly, it was not long before the group recognized waste disposal and composting to be the need of the hour. "Landfills are saturated, and there's so much of waste being disposed of the wrong way. Fortunately, we were quick to look out for possible solutions to composting and soon found aerobic composting to be the most conducive method."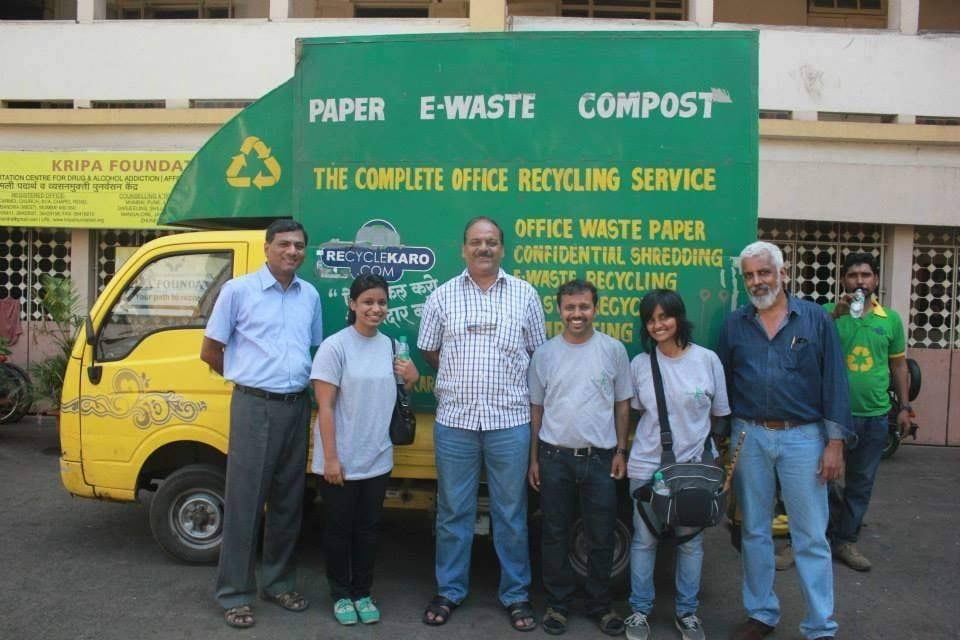 Connecting with people from various groups to conduct waste management activities 
To date, you will often find Denzil Rego speaking of two systems of aerobic composting, one which involves tumblers and another which uses automated drums. The first such set-up of waste management units were installed at Mt Carmel Church & St. Stanislaus High School in Bandra in 2011, and today the good work has spread across societies and gymkhanas across the city. Another good example is the Shree Ram Nagar Society in Andheri which consists of approximately 160 to 170 families. At an average of 500 to 600 grams of waste per family, the society has installed an 80kg composter. "Whenever a family or a society approaches us, the first step is to train them on how to segregate waste from the source, the requirements and how best to get this discipline in place, not leaving out the whole process of composting," shares Rego.
Denzil Rego trains residents of a popular society in Bandra on the workings and use of the bio-digester 
So what are the steps to composting? The first step is to segregate waste into what's biodegradable and non-biodegradable. Waste such as metals, glass, tetra packs, rubber, thermacole, styrofoam and plastics must be kept aside and can be sent for recycling or can be upcycled. The second step is to balance the moisture inside the drum by following an approximate 70% of food and 30% of garden waste (dry leaves) formula; here shredded paper or cardboard, sawdust, etc work as a good substitute for garden waste. Then you rotate the drum at least three to five times a day in order to break down the waste to help aerate it and rid it of moisture. The whole process ideally takes around 28 to 30 days to complete, and by that time your compost is ready.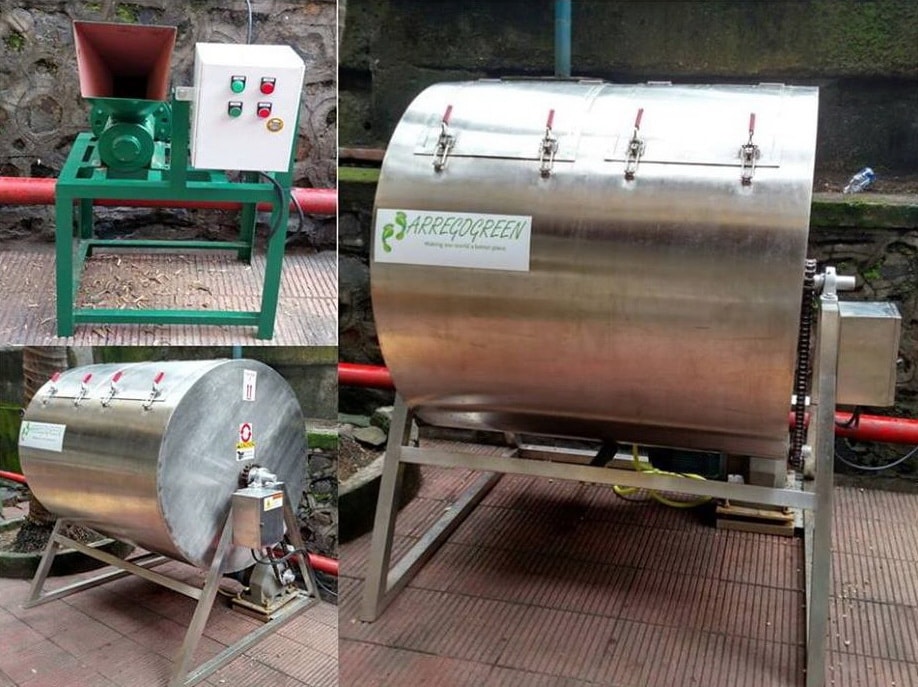 The aerobic bio-digester composting unit (extreme right) along with an automated leaf shredding machine (Top left) 
Though it may sound easy to practice, there is a huge challenge when you are one among the few activists involved in greening waste. Opening up, Denzil Rego shares, "The first challenge is the lack of ownership of waste. The fact that 'I' have created it and it is 'my' responsibility to take care of it is something that is far from our understanding. And the second is that there are still so many people who are unaware of composting." Referring to these challenges as just the tip of the iceberg, Denzil believes that we are far from a clean city, yet he does not let this come in the way of his work. But what does a composting station cost in terms of effort, time and energy? According to Denzil, the expense is minimal if we're not lazy. The lazier we are the greater the cost in the long run. These composting set-ups are a mere one-time investment and the price starts at a few thousand, while the bigger automated set-ups go up to a few lakhs. "This is a one-time investment and hardly any maintenance is needed. The aerobic digester proves to be the most sustainable for big societies. It is not only compact but also does not give out any smell. The lid that covers the composter ensures that rodents don't get to it."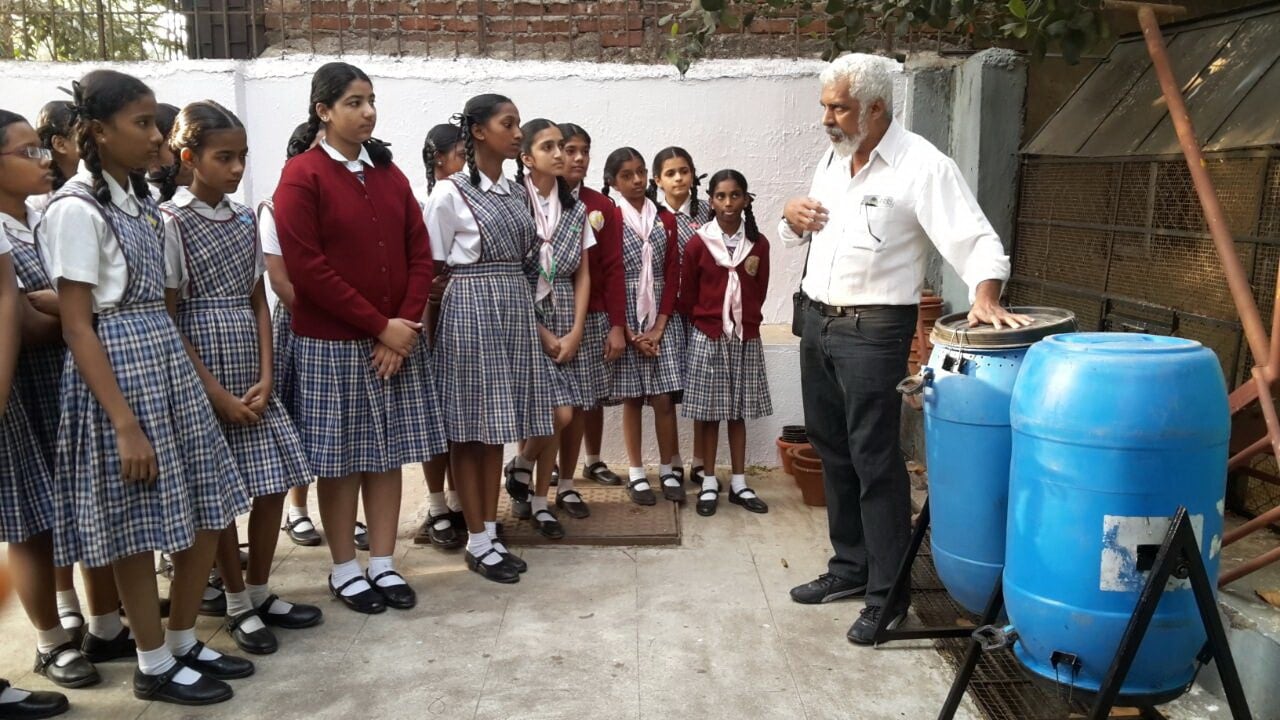 An awareness drive on composting and the 'how-tos' on composting at a school in Mumbai 
While there's always a way around a problem, the question arises, does Mumbai need a well-wisher and someone like Adar Poonawalla who has a vision and intent to transform his city? "Mr Poonawalla's efforts are definitely commendable. Mumbai is a very complex place, and more than anything that we need is a conscious decision on the part of every Mumbaikar to take ownership and responsibility for our waste. Just as how trees find their way and grow, so can we find our way around things, and decide to improve." It is because of such Activists like Denzil Rego that we move towards change. So let's resolve to be better and take ownership of what's ours while we deal and improve our situation to make Mumbai a cleaner and greener city to live in.
This is a Partnered Post. 
Updated Date: Mar 07, 2018 12:44 PM