Libya's NOC says revenue up but fighting poses serious production risk
CAIRO (Reuters) - Libya's National Oil Corporation (NOC) said on Saturday that revenues rose to more than $1.5 billion in March, up 20 percent from the previous month, but that fighting between rival factions posed a serious threat to production. The $270 million rise in revenue was mainly due to the ending of a three-month armed blockade at the south-western oilfield of Sharara, NOC said in a statement. But the state-run firm said fighting around the capital Tripoli, where forces loyal to Khalifa Haftar launched an offensive early this month, put future output at risk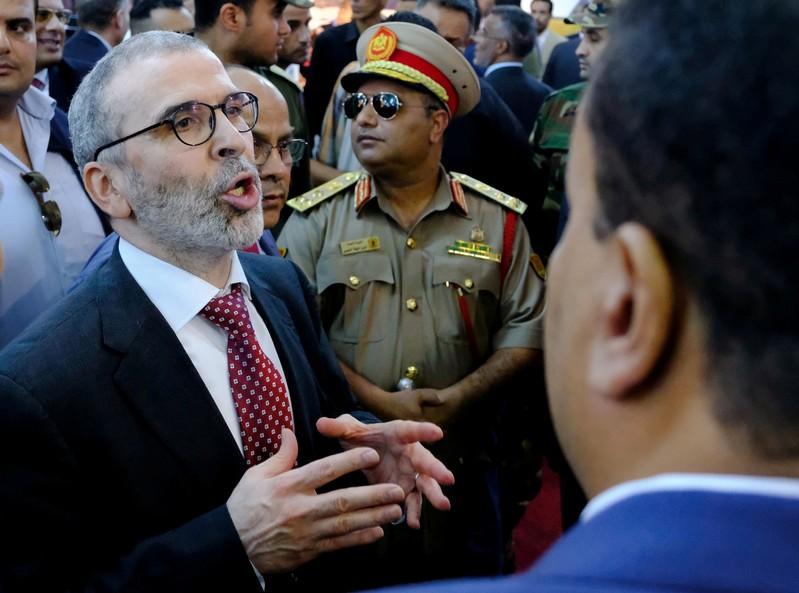 CAIRO (Reuters) - Libya's National Oil Corporation (NOC) said on Saturday that revenues rose to more than $1.5 billion in March, up 20 percent from the previous month, but that fighting between rival factions posed a serious threat to production.
The $270 million rise in revenue was mainly due to the ending of a three-month armed blockade at the south-western oilfield of Sharara, NOC said in a statement.
But the state-run firm said fighting around the capital Tripoli, where forces loyal to Khalifa Haftar launched an offensive early this month, put future output at risk.
"The latest outbreak of hostilities ... poses a serious threat to our operations, production and the national economy," said NOC Chairman Mustafa Sanalla.
"The corporation is gravely concerned about the threat to national energy infrastructure and attempts to use NOC facilities and equipment for military purposes," he added, calling for an "immediate cessation of hostilities".
Possible fuel shortages would impact both the civilian population and NOC operations, Sanalla said.
Non-essential NOC staff living and working near conflict areas have been ordered to stay at home.
OPEC member Libya's oil production has been repeatedly disrupted by conflict and blockades since the 2011 uprising that toppled former leader Muammar Gaddafi.
(Reporting by Aidan Lewis; Editing by Alexandra Hudson)
This story has not been edited by Firstpost staff and is generated by auto-feed.
World
By Andrea Shalal WASHINGTON (Reuters) -The United States said on Thursday it would boost public climate finance to help poor countries reduce greenhouse gas emissions and adapt to a changing climate, doubling funding by 2024 from high average levels hit during the Obama administration. The White House said it was embracing "ambitious but attainable goals" for international aid to developing countries, given the urgency of the climate crisis and to compensate for a sharp drop in U.S. funding during the Trump administration.
World
(Removes extraneous word 'while' in paragraph 3) (Reuters) -Pregnant women infected with COVID-19 and their newborn children face higher risks of complications than was previously known, a study by British scientists showed on Friday. An infection of the new coronavirus in such newborns is associated with a three-fold risk of severe medical complications, according to a study conducted by scientists at the University of Oxford. (https://bit.ly/3tNwkJ7) Pregnant women are at higher risk of complications such as premature birth, high blood pressure with organ failure risk, need for intensive care and possible death
World
MADRID (Reuters) -Anonymous death threat letters with bullets enclosed in the envelopes have been sent to two of Spain's top security officials and the leader of the hard-left Unidas Podemos party, officials said on Friday, adding police are investigating.