Mumbai: Driven by commercial papers, the record low credit growth, it seems, has turned around finally, as outstanding credit in the system till the end of September clipped at 14.6 percent to Rs 80.09 trillion, against 13.6 percent a year ago, according to Reserve Bank and Sebi data.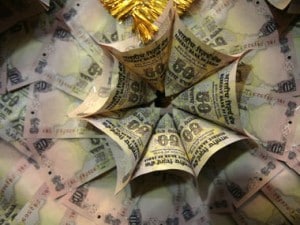 At a paltry 5.08 percent, fiscal 2017 was the worst year in over six decades for bank credit-lowest since fiscal 1953 when it grew at a much lower 1.8 percent.
But this growth is not led by bank credit but by commercial papers. The year-on-year bank credit growth as of 15 September stood lower at 7.5 percent as against a deposit growth of 10 percent, according to RBI's fortnightly data.
Industrial credit rose to Rs 75.45 trillion during the reporting month, up from Rs 66.4 trillion a year ago and Rs 59.36 trillion in September 2016. Corporate bonds during the same period inched up to Rs 25.87 trillion from Rs 21.95 trillion and Rs 18.66 trillion, while CPs rose to Rs 3.93 trillion from Rs 3.43 trillion and Rs 2.86 trillion, respectively according to regulatory data.
As the industry and the economy inches back to normalcy after the GST disruptions, outstanding loans (non-food credit) from banks to the industry and individuals stood at Rs 80.09 trillion as of September 29, while growth in food credit was lower at 13.6 percent, show Reserve Bank data.
But a closer reading of the numbers show that this was not driven by bank credit rather the lenders' active participation in the bonds and commercial papers market.
Outstanding credit-loans and bonds and commercial papers (CPs) grew 14.6 percent on an annual basis by end September. In the same period last year, this segment credit had grown at 13.8 percent only. Net corporate bonds outstanding at end-September was Rs 25.87 trillion, up 18 percent from Rs 21.95 trillion in September 2016, as per latest Sebi data.
Net outstanding on commercial papers stood at Rs 3.93 trillion at end September, up 12.6 percent from Rs 3.49 trillion a year ago, according to RBI data.
Analysts have been attributing the lower bank credit to a slew of factors like higher credit cost with banks, lender's proclivity to keep away from corporate due to the twin balance-sheet issues, and a growing corporate bond market.
As a result most corporate are borrowing from the markets rather than from banks. However, a recent Icra report said that driven by the excess liquidity in the system due to poor credit offtake and also the RBI slashing SLR by another 50 bps to 19.5 percent, the certificate of deposit (CD) volume plunged to a decadal low of Rs 82,400 crore in mid-September on an annual basis. The CD volume stood at a whopping Rs 2.04 trillion on September 15, 2016.
The year-on-year bank credit growth as of 15 September stood lower at 7.5 percent as against a deposit growth of 10
percent. As a result, the CD outstanding declined to Rs 82,400 crore from Rs 2.04 trillion as of 16 September, 2016,
Icra said in a note. The agency also warned that a pick-up is unlikely as there is more liquidity with system after the Reserve Bank lowered the SLR to 19.5 percent in the October policy.
"With weak credit growth for banks and surge in deposit base post-note-ban, banks' reliance on borrowing through CDs has been gradually declining. With recent reduction in statutory liquidity ratio from 20 to 19.5 percent and expectations of 7-8 percent bank credit growth, the CD volumes are expected to remain subdued," Icra said.
The certificate of deposit volumes had peaked at around Rs 4.5 trillion during the period between March 2011 and September 2012 since then it has been falling gradually. In the June quarter, SBI had said around Rs 40,000 crore had moved from the bank's loan book to the markets of which about 70 percent into commercial papers.
Firstpost is now on WhatsApp. For the latest analysis, commentary and news updates, sign up for our WhatsApp services. Just go to Firstpost.com/Whatsapp and hit the Subscribe button.
Updated Date: Oct 20, 2017 13:58:36 IST